South Carolina Church Shooting: Downtown Charleston Shooting Leaves At Least 9 Dead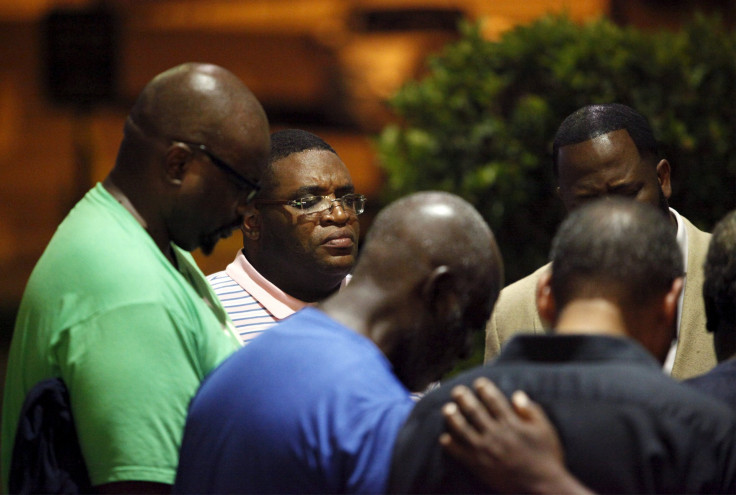 Update as of 1:13 a.m. EDT: Charleston, South Carolina police officials will investigate Wednesday night's church shootings, which left nine people dead, as a hate crime, according to reports.
The shooting attack also reportedly killed State Sen. Clementa Pinckney, a Democratic member of the state's senate, NBC News reported, citing sources. Police are looking for a white man, aged about 21, reports said, citing officials.
"This is a tragedy that no community should have to experience … It is senseless, unfathomable," police chief Greg Mullen reportedly said, according to the Guardian, adding: "We are going to do everything in our power to find this individual, to lock him up, to make sure he does not hurt anyone else."
Update as of 12:58 a.m. EDT: Nine people are confirmed dead so far in the shootings at a South Carolina church, the Guardian reported, citing Charleston police chief Greg Mullen and Mayor Joe Riley.
While eight were killed in the attack at the church, one died at a hospital later, the report added. Officials are currently looking for only one suspect in the shootings, which Riley described it as an "unspeakable tragedy" while speaking to the media, the report said.
A reward will be announced Thursday for information leading to the suspect's capture, Mullen reportedly said.
Update as of 11:40 a.m. EDT: Joe Riley, mayor of Charleston, South Carolina, where a shooting took place at a church on Wednesday night, confirmed that there were fatalities, local media reported.
"We're still gathering information.... I will say that this is an unspeakable and heartbreaking tragedy in this most historic church, an evil and hateful person took the lives of citizens who had come to worship and pray together," Riley said, according to a local news report.
Police are reportedly searching for the suspect, identified as a 21-year-old white man with a slender build, and wearing a gray hoodie, blue jeans and Timberland boots. The Charleston Police Department said late Wednesday that there were no evacuation orders given out following a bomb threat report near the shooting scene.
Jeb Bush canceled his presidential campaign events, which were scheduled for Thursday in the city, due to the shooting.
South Carolina Gov. Nikki Haley reportedly issued a statement, calling the shooting a "senseless tragedy."
"While we do not yet know all of the details, we do know that we'll never understand what motivates anyone to enter one of our places of worship and take the life of another," Haley said, in the statement, the Guardian reported.
Original story:
Police in South Carolina responded to reports of a shooting at a downtown Charleston church Wednesday night, with reports on social media indicating that at least eight people were killed.
The Charleston police department confirmed that its officers were responding to a shooting in a post on Twitter, without providing any immediate information on potential victims.
The shooting occurred at around 9 p.m. at the Emanuel African Methodist Episcopal Church, ABC News reported. Police were said to be searching for a 21-year-old white man with a slender build wearing a gray hoodie, blue jeans and Timberland boots.
Social media reports from the scene appeared to show victims being transported by emergency responders.
Photos circulating on social media indicated that the police took a suspect matching the description into custody, however the Charleston police department has not confirmed those reports.
© Copyright IBTimes 2023. All rights reserved.