South China Sea Dispute 2015: China Says US B-52 Bomber's Flight Over Disputed Region A 'Serious Military Provocation'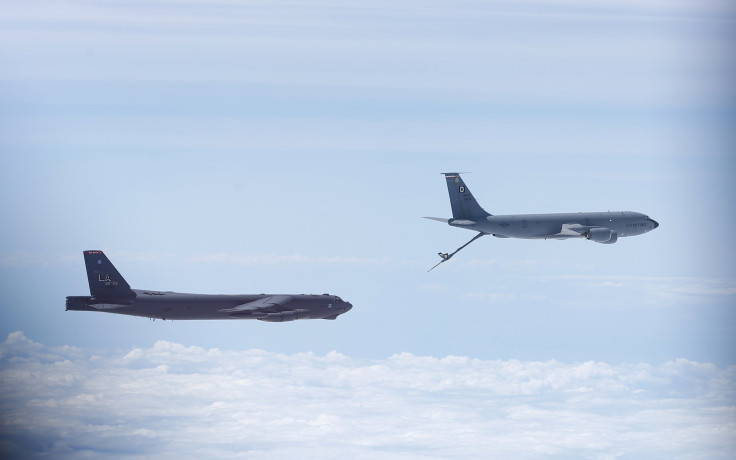 China on Saturday accused the United States of deliberately increasing the tensions in South China Sea after a U.S. Air Force B-52 strategic bomber was spotted flying near Chinese-claimed territory in the disputed region. China alleged that the U.S. committed a "serious military provocation" with its actions.
"The actions by the U.S. side constitute a serious military provocation and are rendering more complex and even militarizing conditions in the South China Sea," the Chinese defense ministry said in a statement, according to the Associated Press. Beijing also demanded Washington to take immediate measures to avoid such incidents that strained the relations between the two countries' militaries.
During the Dec. 10 overflight of the U.S. bomber, Chinese military personnel on the island went on high alert and warned the aircraft to leave, the ministry added in the statement.
Bill Urban, a U.S. Defense Department spokesman, said Friday that the B-52 bomber was not intended to provoke China.
"There was no intention of flying within 12 nautical miles of any feature," Urban said in a statement, according to CNN. "This was not a freedom of navigation operation," he said, adding that the U.S. routinely conducts B-52 training operations over the South China Sea.
"These missions are designed to maintain readiness and demonstrate our commitment to fly, sail and operate anywhere allowed under international law," Urban reportedly said.
Urban acknowledged that China had raised concerns about the flight path of a recent training mission. "We are looking into the matter," he reportedly said.
Earlier in December, the U.S. -- for the first time -- deployed a P-8 Poseidon spy plane in Singapore for "maritime security efforts" amid the ongoing tensions in South China Sea. China's foreign ministry said at the time that America's move was aimed at militarizing the disputed area.
"I think this kind of increase in military deployment by the United States and the push for regional militarization does not fit with the joint long-term interests of the countries in this region," Hua Chunying, a spokesman for the foreign ministry, said. "We also hope the relevant sides will take more actions that would be really beneficial to strengthening mutual trust among regional countries, actions that would benefit the protection of regional peace and development."
China asserts its claims to almost all of South China Sea, through which $5 trillion in international trade passes each year, resulting in territorial disputes with several countries, including Vietnam, the Philippines and Malaysia that have overlapping claims. Beijing is also involved in a separate dispute with Japan over islands in the East China Sea.
© Copyright IBTimes 2023. All rights reserved.