South China Sea Dispute: Chinese Official Warns Of Potential 'Sea Of War' Due To Third-Party Intervention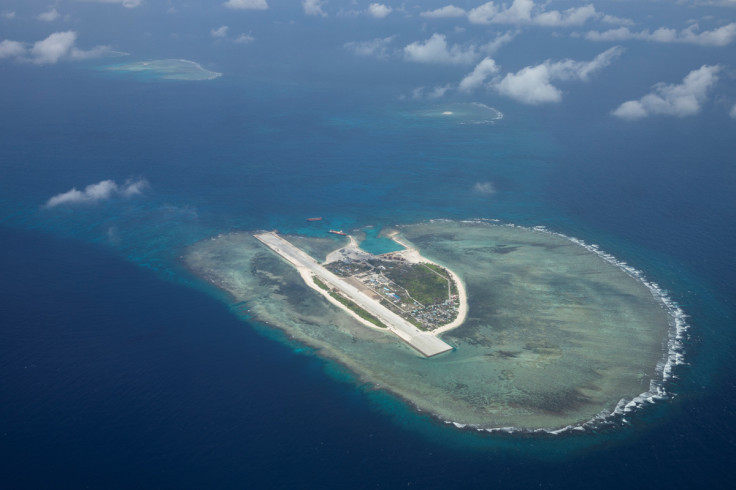 KEY POINTS
The Chinese official expresses confidence in China and the Philippines' ability to manage their maritime dispute
The official raised concern over potential escalation of tensions if a third party gets involved
China, Brunei, Malaysia, Taiwan, Vietnam and the Philippines have overlapping territorial claims in the region
A high-ranking representative from China's foreign ministry has expressed confidence in the country's ability to effectively manage its maritime dispute with the Philippines. However, the official cautioned that the involvement of a "third party" could potentially escalate tensions in the South China Sea (SCS) and transform it into a conflict zone.
Zhou Li, a counsellor in the information department of China's Ministry of Foreign Affairs (MoFA), shared on Twitter that Beijing and Manila have already established an agreement that negotiation is the sole method for resolving conflicts in the South China Sea.
"We have [the] ability to handle it well but have to stay high-alert that South China Sea might be turned into the sea of war by the third party," Zhou said, according to the Manila Times. However, she did not name the third party.
In addition, Zhou Li emphasized that China's objective was for the South China Sea to evolve into a region characterized by peace, friendship and cooperation.
"We are confident about this. China has always resolved its disputes through negotiations," the MoFA official said.
Zhou stressed that China and the coastal nations in the vicinity have taken significant steps in establishing bilateral channels of communication following the implementation of the United Nations Convention on the Law of the Sea (UNCLOS) in 1982. These channels have been specifically designed to facilitate dialogue and resolve disputes in the region.
The South China Sea (SCS) is an area where China, Brunei, Malaysia, Taiwan, Vietnam and the Philippines have overlapping territorial claims. This region is widely believed to hold substantial reserves of gas and oil deposits.
According to recent reports from the Philippine Coast Guard (PCG), Chinese patrol vessels allegedly obstructed two Philippine boats from accessing the contested Second Thomas Shoal, locally known as Ayungin Shoal, in the West Philippine Sea. The PCG described these actions as "highly perilous" or "very dangerous."
Commodore Jay Tarriela, a spokesperson for the National Task Force for the West Philippine Sea, said the incident involving the Philippine Coast Guard vessels BRP Malabrigo and BRP Malapascua took place on June 30. The vessels were reportedly providing escort to two supply ships en route to Ayungin Shoal at the time.
However, Beijing claimed the vessels from Manila intruded into its territorial waters.
The French Embassy in Manila has expressed its concern regarding the recent incidents in the South China Sea. In a press statement released Monday, the embassy emphasized the importance of upholding international law and resolving disputes through a peaceful and diplomatic manner.
"We are resolutely opposed to any use of force or threat to do so. We recall, in this regard, the Arbitration award rendered under UNCLOS on the 12th of July 2016," the embassy said, reported Manila Bulletin.
The Armed Forces of the Philippines reported that over 50 Chinese vessels were observed in the vicinity of Iroquois Reef and Sabina Shoal in the West Philippine Sea.
© Copyright IBTimes 2023. All rights reserved.