South China Sea Territory Dispute: Indonesia Protections For Land And Maritime Borders Ramp Up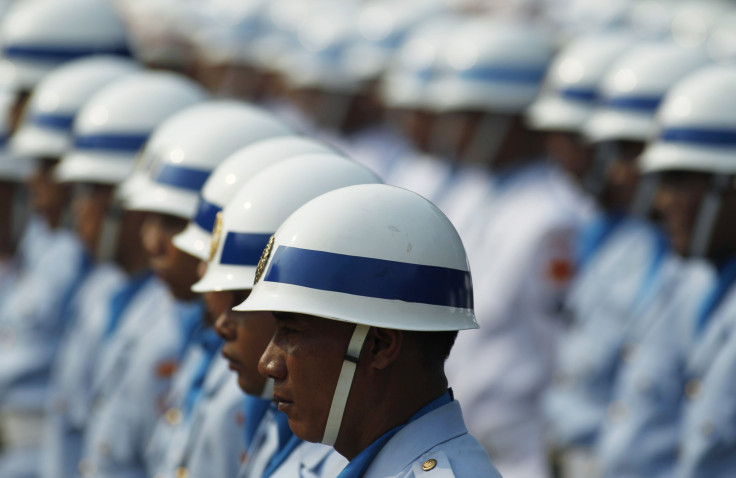 Indonesia is ramping up its military posts and reinforcing its borders as tension in the South China Sea continues to bubble. The country's military authorities said planning was underway to make a comprehensive defense plan in order to protect the archipelago's sovereignty and territorial claims from potential threats.
Border reinforcements were part of a defense plan presented to President Joko Widodo and National Development Planning Minister Andrinof Chaniago, according to the Defense Ministry, as the Jakarta Globe reported. Other features of the plan include building a military base in Tanjung Datuk, an area in North Kalimantan's Tarakan Island. That island is part of the Riau Island province, near waters claimed by China.
Defense Minister Ryamizard Ryacudu has endorsed the border reinforcement plan, insisting it should be one of the country's top priorities as territorial lines on land and sea continue to be debated and contested all around the Asia-Pacific region.
Indonesian Armed Forces Over Time | FindTheData
Malaysian warships were reportedly spotted in Indonesian waters nine times over the past year, according to a Jakarta Post report last month. The Indonesian government issued a diplomatic notice in response, demanding the Malaysian government offer an explanation. The multiple territory violations raised concern in Jakarta, which answered by intensifying monitors of land borders and sea patrols.
Territorial disputes are not new between Indonesia and Malaysia. In 2009, Indo-Malaysian relations took a hit when both countries claimed Ambalat, a resource-rich maritime area off the coast of east Kalimantan that is one of five disputed territories between the two countries, Malaysia's Star Online reported.
China's increased military and civilian presence in the disputed South China Sea waters has become a problem with several Southeast Asian nations, including Vietnam, Brunei and the Philippines. Though Indonesia is not involved in any territorial dispute with China, regional government authorities have become hyper-sensitive of demarcations.
© Copyright IBTimes 2023. All rights reserved.