South Korea Sewol Ferry Disaster: Supreme Court Sentences Ferry Operator Chief To 7 Years In Jail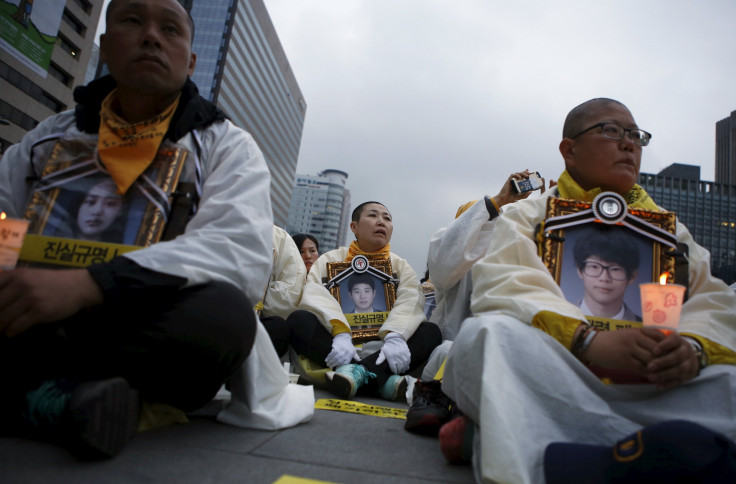 The Supreme Court of South Korea sentenced the chief of a ferry operator to seven years in prison Thursday for the April 2014 ferry disaster that killed over 300 people, the Associated Press (AP) reported. Kim Han-sik, president of Chonghaejin Marine Co., was responsible for not stopping the cargo overload and improper storage on the ferry that caused it to sink, the judges said, according to AP.
The upheld a lower court ruling, in which Kim was sentenced to seven years in prison on charges, including manslaughter, the AP reported. The MV Sewol ferry sinking is one of South Korea's most fatal maritime disasters in decades.
Meanwhile, prosecutors in the capital Seoul indicted a South Korean man Thursday for burning the national flag during a protest rally to commemorate the first anniversary of the ferry disaster in April. The man, only identified by his last name Kim, also damaged a police vehicle at the time, Seoul Central Prosecutors' Office said, according to Yonhap News Agency. Burning the national flag is an offense in South Korea that can result in a five-year prison term or a fine of up to 7 million won (US$6,100), the news agency noted.
Last November, a district court in the northern city of Incheon charged the eldest son and two brothers of business tycoon Yoo Byung-eun, owner of the Sewol ferry, with embezzling funds and sentenced them to prison. Yoo Dae-kyoon, 44, was charged with pocketing funds worth 7.39 billion won ($7.28 million) from ferry operator Chonghaejin Marine and six other affiliates, between May 2002 and December 2013. The younger Yoo was received a three-year prison term. Authorities suspected the fraud might have contributed to the sinking of the ferry.
The Sewol ferry sank on the morning of April 16 last year and was carrying 476 people aboard, mostly students from Danwom High School. The Japanese-built vessel sent a distress signal to nearby South Korean coast guard and naval ships, but small fishing boats and other commercial vessels arrived at the scene 30 minutes before official help arrived. As many as 304 passengers died in the disaster.
© Copyright IBTimes 2023. All rights reserved.