South Korea's Yoon Touts U.S. Tech Partnership, Secures $5.9 Billion Investment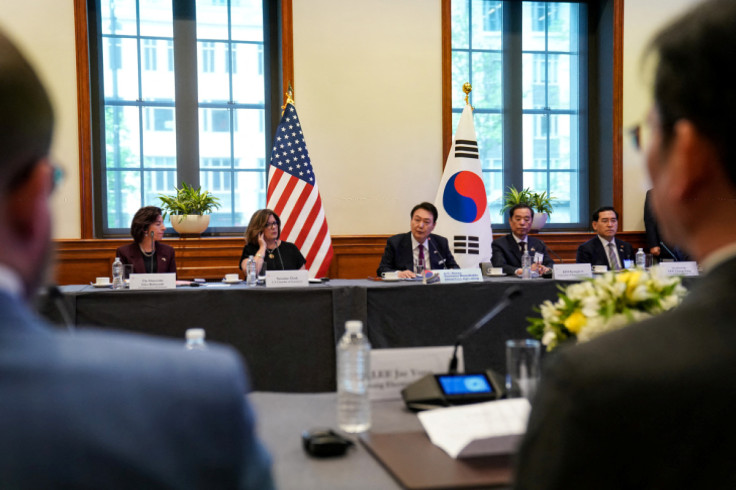 South Korean President Yoon Suk Yeol said on Tuesday the South Korean-U.S. alliance must "leap into a new phase" to jointly overcome complex crises, including slowing economic growth, technology competition with strategic rivals and climate change.
Speaking a day before a Washington summit with President Joe Biden, Yoon told an event hosted by the U.S. Chamber of Commerce the bilateral security alliance should "evolve into a supply chain and future-oriented, innovative-technology alliance."
He said the two countries' economies had been facing new challenges and the economic slowdown was unsettling the investment environment.
"Competition for technological hegemony, energy issues and climate crises are casting more uncertainties on business activity day by day," Yoon said.
Yoon said that from a joint venture involving a South Korean and a U.S. firm in 1965, South Korea had risen to become the global leader in memory semiconductor production, accounting for 60% of global market share.
"This cooperation should extend beyond semiconductors to future emerging technologies such as AI, Quantum, SMR (Small Modular Reactors) and more," Yoon said.
Core technologies from the United States and South Korea's advanced manufacturing capabilities would "create enormous synergies that will benefit both countries," he said.
Yoon said he hoped that during his visit the countries would reaffirm their status as true allies and advanced technology partners to create innovative business opportunities.
"Our bilateral investments need to be expanded both quantitatively and qualitatively, to build more stable and resilient supply chains."
He said the two nations were the ideal partners for "friend-shoring" - a reference to a U.S.-led process of reducing dependence on China for key goods and materials although he made no mention of China by name.
Yoon said his government was working to create a fair and predictable market environment, offer significant tax credits and improve regulations to facilitate bold investments by U.S. companies.
"The Republic of Korea and the United States have been painting a wonderful rough sketch together for the past 70 years," he said. "The next 70 years together will be a journey of filling the rough sketch with well-matched colors."
INVESTMENT DEALS
Yoon has pledged to serve as the country's "No. 1 salesman", making business diplomacy a key element of his overseas trips.
Yoon's senior economic secretary, Choi Sang-mok, said Seoul has secured a total of $5.9 billion in investment from eight U.S. firms so far, including $2.5 billion from media giant Netflix and $1.5 billion from industrial firm Corning Inc.
Six other tech companies which attended the event have together pledged $1.9 billion, including Air Products and Chemicals Inc, Plug Power Inc, ON Semiconductor Corp, Greene Tweed & Co Inc, Purecycle Technologies Inc and EMP Belstar.
"Celebrating the 70th anniversary of the alliance, we were able to see at a glance that an advanced supply chain and technology alliance between the two countries was already being strengthened and established," Choi told a briefing.
Yoon is accompanied by more than 120 executives from South Korea's biggest companies, including Samsung Electronics Executive Chairman Jay Y. Lee and Hyundai Motor Group Executive Chair Euisun Chung, both of whom attended the event.
Earlier on Tuesday, General Motors Co and Samsung SDI announced plans to invest more than $3 billion to jointly build an electric car battery plant in the U.S.
Hyundai Motor Co also said it has finalised a $5 billion electric vehicle battery joint venture in the U.S. with SK On, a battery unit of SK Innovation Co Ltd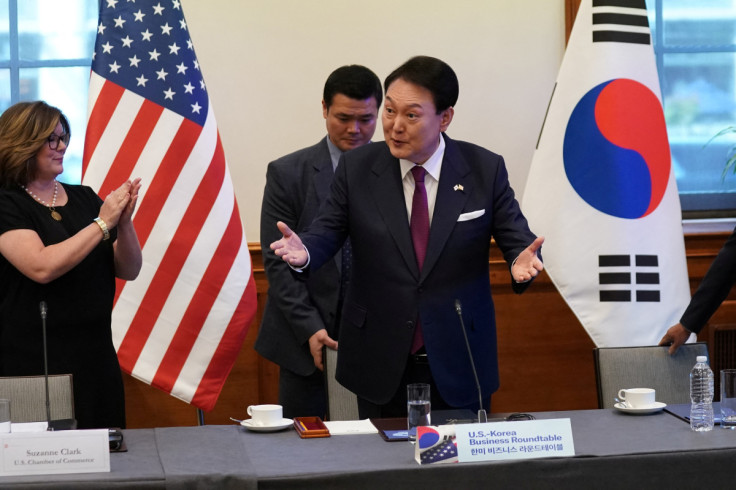 © Copyright Thomson Reuters 2023. All rights reserved.