SpaceX's NASA Mission To International Space Station: Dragon Docking Delayed By A Day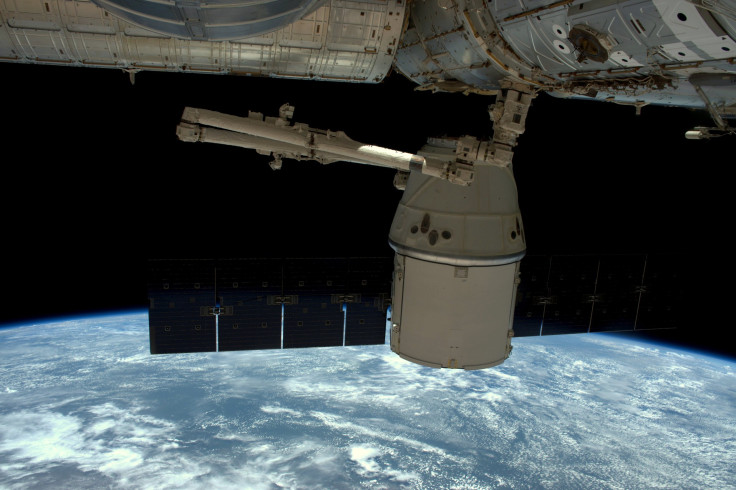 SpaceX's Dragon cargo spacecraft, carrying 5,500 pounds of supplies and scientific experiments to the International Space Station, abandoned its attempts to dock with the ISS early Wednesday after its GPS navigation system had some trouble. The docking maneuver, in which astronauts aboard ISS use the space station's robotic arm to engage Dragon, is now scheduled for 6 a.m. EST Thursday.
During the live coverage Wednesday morning on NASA TV, commentator Rob Navias said: "Dragon aborted its approach to the International Space Station because of an apparent problem with what is called the filter on the Relative Global Positioning System (RGPS) hardware that basically tells the Dragon's on-board computers what its relative position in the sky is to the International Space Station."
When the safety system on Dragon aborted its approach to the ISS, it was over 3,500 feet away. There was no impact to the space station, and crew onboard was in no danger.
Coverage of the docking attempt Thursday will start on NASA TV at 4 a.m. EST.
The commercial mission for NASA is Dragon's tenth for SpaceX, and this is the first time such a wave-off occurred. The mission itself got off to a delayed start, when SpaceX CEO Elon Musk decided to postpone the flight, scheduled for Feb. 18, by a day to investigate a "slightly odd" movement just ahead of the launch.
In related news, a Russian a Soyuz-U rocket carrying a Progress spacecraft took off early Wednesday, a few hours before the Dragon docking was aborted. Launched from the Baikonur Cosmodrome in Kazakhstan, Progress 66 is expected to dock with the ISS on Feb. 24, where it will deliver about three tons of food, fuel and supplies to the astronauts. It will stay docked at ISS for about four months.
© Copyright IBTimes 2023. All rights reserved.