Spain Halts Evictions As Mortgage Crisis Deepens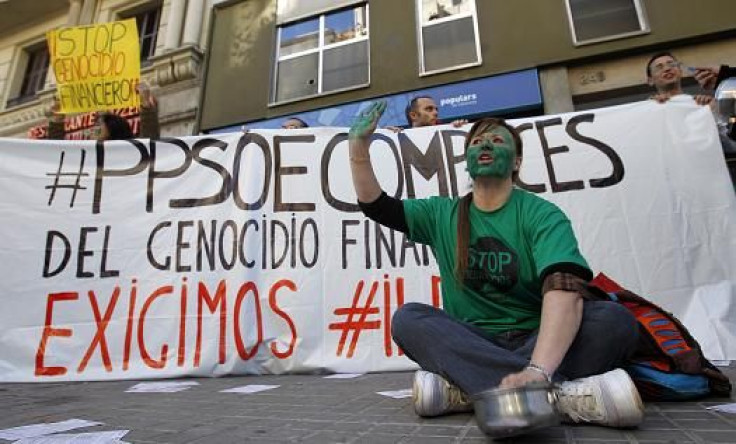 A foreclosure crisis months in the making finally blew wide open in Spain this weekend when, in response to a string of dramatic suicides by people being evicted from their homes, the government declared "a temporary stop to the eviction of the most vulnerable families."
The announcement by president Mariano Rajoy in a political meeting on Saturday was a shock to most, so much so that cynics were calling the action a politically motivated canard.
But regardless of the timing and immediate impetus for the announcement, it's been received in Spain and elsewhere in Europe as a critically important turning point in the Spanish financial and sovereign debt -- and now political -- crisis, which seems to be getting worse each passing day and has no clear end in sight.
In a country racked by huge levels of youth unemployment, imploding banks with questionable balance sheets, and the implementation of painful austerity measures, the foreclosure situation has slowly but steadily turned into the most visible public finance issue over the past few months.
Foreclosures in Spain are a big deal, not only because they threaten to make families homeless at a time of spiking poverty, but because, under Spanish law, people evicted from a property are still liable for nearly the full amount of their remaining mortgage -- tens if not hundreds of thousands of euro -- for the rest of their lives.
To face the crisis, two grassroots organizations have sprouted in communities around the nation. One, the Plataforma de Afectados por la Hipoteca (Joint Committee of Those Affected by the Mortgage, or PAH) has focused on lobbying the current legal framework so that those who are foreclosed upon will not be liable for their mortgage debt once they hand over the keys. That group has been more than talk, however, increasingly participating in occupations of bank branches, legal advocacy and street protest. The more militant Stop Desahucios (Stop Foreclosures) has made a niche of finding volunteers to form human shields around the homes of people about to be evicted, leading to violent confrontations with the police.
Those organizations were able to stop several hundred individual foreclosures. But over the past months, it had increasinglt seemed achieving their man goals would depend on blood being spilled.
Then the bodies started dropping.
During the first week of February, a man in a suburb of Madrid stabbed himself the night before his scheduled eviction, neighbors say, unable to handle the prospect of ending up homeless while having to care for two small children. Two weeks after that, a man in Valencia set himself on fire inside his garage rather than face impending foreclosure proceedings.
In April, a man who had been denied a mortgage modification by the bank went home and, while his wife was out fetching herbs from their garden, hung himself from his kitchen ceiling.
In July, a disabled widow who was awaiting foreclosure rolled her wheelchair to the window of her eleventh-floor flat, called a friend to tell her "she didn't see a way out of it" and threw herself into the void in front of hundreds of neighbors, police and fire department officials. Later that month, an appraiser arriving at a home the day it was slated to be auctioned was surprised to find the remains of the previous occupant blocking the front door.
"Foreclosures kill," a blog dedicated to capturing all reported instances of foreclosure-related suicides in the media counts seven different instances in October. People hung themselves from public lampposts with messages in their pockets decrying the banks. People jumped out windows after buzzing in the police to begin their formal eviction. Shantytowns of foreclosed-upon Spaniards began instituting measures to deal with the increasing number of residents found dead of self-inflicted wounds in their tents.
The archbishop of Madrid, who leads a charity that already provides housing to over 200 evicted families in that European capital, said on the first day of November that the Church was worried and the was going to "pray for those facing foreclosure so that the Lord will help them."
The death this past Friday of a Amaia Egaña, a councilwoman in a small Basque Country town near the border with France, appears to have been the drop that made the cup run over. Massive, angry street demonstrations in her home town saw thousands of people fill the streets to chant about the "murdering banks." Locksmiths began declaring they would not participate in any foreclosures in the state while some local banks, angry mobs outside their doors, noted they would halt foreclosures immediately.
Perhaps most significantly, the top judge in the semi-autonomous state Supreme Court declared that "we cannot allow ourselves to reach situations like the ones we lived here today," signaling his willingness to spark a constitutional crisis if Madrid attempted to overrule him.
National leaders then jumped in. Finance Minister Luis de Guindos, who was in Brussels Monday negotiating with European partners over the conditions for a Spanish bailout, said "no family acting in good faith should be stripped of the roof over their heads as a result of the crisis."
The Spanish Banking Association and the Confederation of Spanish Cajas, which essentially represent the entirety of the country's banking sector, also fell in line, announcing Monday they would stop foreclosures "in cases where situations of extreme need are present."
Tellingly, the action by the government and the banking sector has done little to assuage the populace, many of whom trust neither side to come through. The most cynical in the country have pointed out the whole announcement is a ploy by Rajoy in advance of what are expected to be very emotional elections in the increasingly separatist Spanish region of Catalonia.
Monday, the PAH, rallying on rumors the government's proposed actions would only cover future foreclosures, and not those currently underway, called a massive rally in Madrid.
"The PAH will not accept lesser offers, or half measures stained with electoral populism. We want it all and we want it now," a communiqué issued by the group read. "Our demands are clear, indivisible, and non-negotiable."
A few blocks away from that rally, about a hundred people overwhelmed the security outside the Bank of Spain, the country's central bank, and spent the afternoon shouting slogans against the country's banking sector.
"I would be ashamed to evict a family," the group chanted, according to local El Público.
Of course, not everyone is in favor of helping those facing foreclosures out and some have already pointed that taking an emotional, dramatic decision on how to approach the foreclosure crisis will ultimately backfire.
An anonymous mortgage lawyer cited by business newspaper El Economista explained how he feared that "helping 300,000 families with dogmatic or poorly thought-out decisions could create a larger problem for ther over eleven million that do pay their mortgages, sometimes through great sacrifice, if the mortgage market is wrecked by the action."
It is unknown how the situation's final denouement will affect Spanish banking, which could indeed be saddled with hundreds of thousands of additional non-performing loan if the government seeks a blanket amnesty for foreclosures.
Shares of Banco Santander SA (NYSE:SAN) fell 1.22 percent on Monday in the Madrid Bourse, while competitors Banco Bilbao Vizcaya Argentaria SA (NYSE:BBVA) was down a more modest 1.15 percent.
FOR FREE to continue reading
✔️ Unlock the full content of International Business Times UK for free
offer available for a limited time only
✔️ Easily manage your Newsletters subscriptions and save your favourite articles
✔️ No payment method required
Already have an account?
Log in
© Copyright IBTimes 2023. All rights reserved.