Spurs vs. Grizzlies 2016 Game 2: TV Channel, Start Time, Betting Odds, Prediction For Playoff Game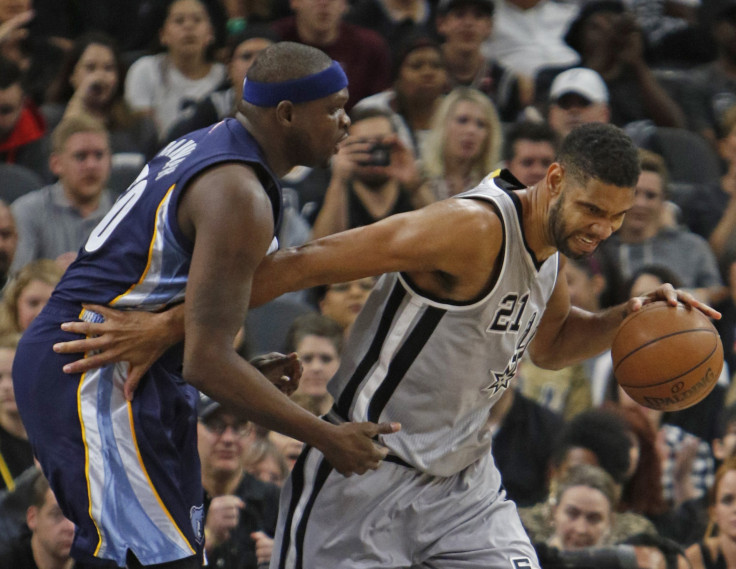 The Memphis Grizzlies entered the first round of the 2016 NBA playoffs with the worst chance of winning their series, so it wasn't surprising when they were blown out by the San Antonio Spurs in Game 1. Tuesday night could be more of the same as the Grizzlies look to avoid another embarrassment in Game 2.
Memphis mustered just 74 points in their loss on Sunday, allowing 106 points to No.2 seed San Antonio. The Spurs finished six games behind the Golden State Warriors in the Western Conference standings, but they were given even better odds than the defending champs to advance to the second round. Following their 32-point victory, San Antonio is an 18-point favorite over the Grizzlies, who limped into the postseason following a barrage of injuries.
Sunday's win over the Grizzlies improved the Spurs' record against Memphis this season to 5-0. The Spurs had three double-digit wins over the Grizzlies in the regular season, in addition to a six-point win on March 25. Now that Memphis is without their two best players—Marc Gasol and Mike Conley—the Grizzlies have little chance of winning in San Antonio, where the Spurs have lost once all year.
The Grizzlies did manage to keep things close for most of the first half of Game 1, but the Spurs took an 11-point lead into halftime and never looked back.
"We've got to be able to stop people and limit them offensively. It just takes a little while," Tim Duncan said after Game 1. "The playoffs start, and you kind of have playoff jitters. It took us a quarter or two to get that rhythm going. Once we got it going, defensively, we were pretty solid the whole way through. Then just some shots started falling. Then we kind of extended that lead. So I think it was just giving ourselves a quarter or two to kind of get ourselves rolling."
San Antonio was up by so much that they were able to give their starters plenty of rest. No one on the team played 30 minutes, and the Spurs could be in for another big win in Game 2. Spurs head coach Gregg Popovich noted that LaMarcus Aldridge and Boris Diaw had been banged up, but they were healthy enough to play a combined 48 minutes.
Vince Carter and Lance Stephenson led the Grizzlies in scoring in Game 1, and they'll have to come up big if Memphis wants to pull off the upset. Carter averaged 6.6 points per game at 39 years old in the regular season, but he scored 10.4 points per game in April with the team missing their best players. Stephenson averaged 14.2 points per game after the All-Star Break, and he scored just 4.7 points per game when he played the first three and a half months of the season with the Los Angeles Clippers.
With the NBA's best defense, the Spurs are more than equipped to handle a team that is relying on scoring from aging veterans. San Antonio ranks first in the league, giving up 92.9 points per game, and Kawhi Leonard was just named the Defensive Player of the Year for a second straight season.
TNT will have coverage of San Antonio vs. Memphis after the Boston Celtics visit the Atlanta Hawks in Game 2 of their series. That contest begins at 7 p.m. ET.
Start Time: 9:30 p.m. ET
TV Channel: TNT
Online Stream: WatchTNT
Betting Odds: San Antonio-18, 187.5
Prediction: San Antonio over Memphis, 100-80
© Copyright IBTimes 2023. All rights reserved.