Sri Lanka Is 'Humbly' Asking Putin For Russian Tourists To Visit Its Capital
KEY POINTS
Sri Lankan President Gotabaya Rajapaksa asked Putin to resume flights between Colombo and Moscow
Both leaders agreed that strengthening relations in sectors such as tourism was "paramount" to reinforcing their nations' friendship
Rajapaksa also asked his Russian counterpart for credit support to import fuel
Sri Lanka has asked Russia for flights between the two countries to resume after Aeroflot, the latter's flag carrier, suspended services more than a month ago.
Sri Lankan President Gotabaya Rajapaksa "humbly" requested to restart flights between Colombo and Moscow during a "very productive" teleconference with his Russian counterpart, Vladimir Putin.
"We unanimously agreed that strengthening bilateral relations in sectors such as tourism, trade and culture was paramount in reinforcing the friendship our two nations share," Rajapaksa said in a statement.
Aeroflot suspended its flights to Sri Lanka early last month after one of the airline's Airbus A330-343 planes was grounded and prohibited from leaving the country over a complaint filed by Ireland's Celestial Aviation Trading Limited (CATL) leasing company.
CATL, which owns the passenger jet, is reportedly seeking to confiscate the plane after Russia failed to return it.
The aircraft was previously registered as VQ-BMY, but it got re-registered as RA-73702 in Russia in April last year.
In their discussion, Rajapaksa also asked Putin for credit support to import fuel in an attempt to curb his country's economic "challenges."
Sri Lanka is currently suffering its worst financial crisis in seven decades, with Prime Minister Ranil Wickremesinghe announcing Tuesday that the country is now bankrupt, CNN reported.
The country has already purchased oil from Russia in recent months to help increase its fuel supplies during the crisis.
Sri Lanka's government has also signaled that is willing to buy more from the energy-rich country, a report by the BBC said.
However, Rajapaksa's attempts to resolve the crisis, which include securing financial support from India and China, have so far failed to end weeks of shortages of food, fuel, power and other essential items.
The country only has 12,774 tons of diesel and 4,061 tons of petrol left in its reserve, energy minister Kanchana Wijesekera said Sunday.
That amount of petrol would only last for less than a day under regular demand, he said
The next shipment of fuel is expected to arrive between July 22 and 23, according to Wijesekera.
While a shipment of diesel is set to arrive this weekend, the country can only supply $125 million out of the $587 million needed for its scheduled imports.
Sri Lanka is currently in negotiations with the International Monetary Fund (IMF), but the talks have become "difficult" since the nation has gone bankrupt rather than a developing one, according to Wickremesinghe.
"Due to the state of bankruptcy our country is in, we have to submit a plan on our debt sustainability to (the IMF) separately. Only when they are satisfied with that plan can we reach an agreement at the staff level. This is not a straightforward process," the official told lawmakers.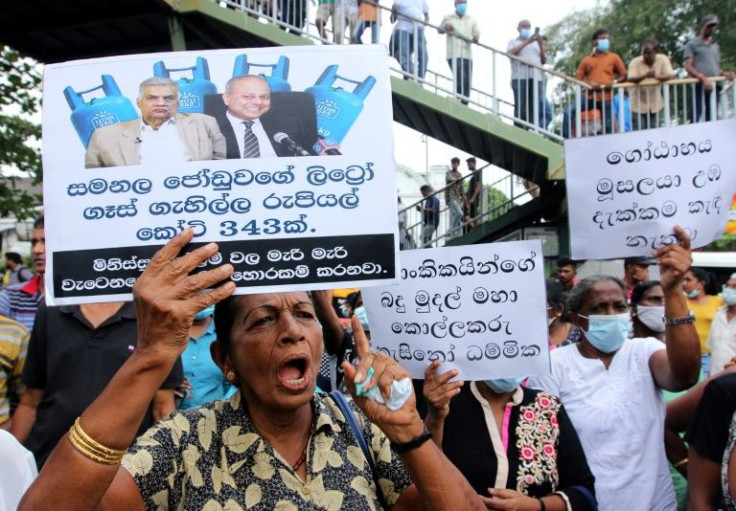 © Copyright IBTimes 2023. All rights reserved.