'Star Wars' Trailer, 'Monday Night Football' Combine For Boon To Disney, ESPN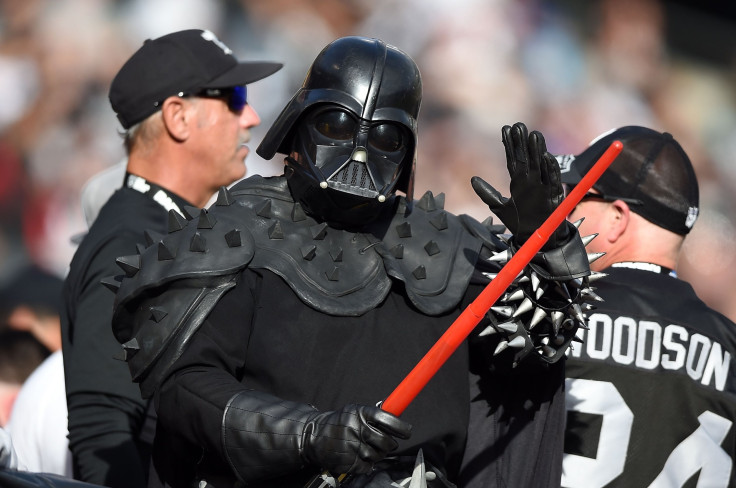 Update, Oct 19, 9 p.m. EDT: Pre-order tickets for "Star Wars: The Force Awakens" went on sale before the expected release time at multiple outlets including Fandango.
Original story: A short, short time ago, ESPN was nearly infallible, raking in revenue for its parent company, Disney, through cable subscriptions and a forceful chokehold on the sports entertainment world. But that feels galaxies away from the current climate, with subscribers down and the network in relative disarray.
In a bit of savvy synergy, however, and perhaps to boost excitement for an ESPN product, Disney was set to premiere the first trailer for its highly anticipated revival of the "Stars Wars" movie franchise during Monday's halftime of the "Monday Night Football" matchup between the New York Giants and the Philadelphia Eagles televised on the Disney-owned channel. "Star Wars: The Force Awakens" is the most anticipated film in recent memory, and screening the trailer on a massive Disney-owned property is a win-win combination of two huge brands, and one that will almost certainly draw added attention and eyes to Monday's telecast.
"This is a trailer that turns the game into something bigger," Paul Dergarabedian, senior media analyst at Rentrak, a global media-measuring company, said. "This suddenly is appointment television."
A Boost In Excitement
A handful of teaser trailers and short clips have been released for "Star Wars: The Force Awakens." Disney will release the first full trailer Monday night during halftime of the game, scheduled to begin at 8:30 p.m. EDT. After the trailer, preorder tickets are expected to go on sale for the film, which is directed by J.J. Abrams and stars Harrison Ford, Carrie Fisher, Adam Driver, Lupita Nyong'o, John Boyega and Daisy Ridley. The latter was featured prominently in the poster for the film release Sunday. The movie is slated for a Dec. 18 cinematic debut and is expected to be a massive boon for Disney.
Sports giant ESPN has stumbled through recent hurdles. It is still the dominant network for sports entertainment and a revenue booster to Disney, but amid increasing competition, an uptick in cord-cutting users who rely on streaming, and falling cable subscriptions, its massive footprint is shrinking. Disney has reportedly told the network its budget is due to be slashed, and some 200 to 300 layoffs could be in the pipeline, USA Today's sports site The Big Lead reported late last month. Big names with significant salaries like former Grantland Editor-in-Chief Bill Simmons, television personality Keith Olbermann and radio host Colin Cowherd have already been let go. Most recently Jason Whitlock, former head of the yet-to-be-launched race and culture ESPN site The Undefeated, unceremoniously departed for Fox Sports. These shifts come after the company was pegged by some to be worth more than $50 billion last year, largely on the back of the cost of its industry-leading subscription fees, Forbes reported in April of 2014.
Still, ESPN has a strong foothold in live sports by owning rights to numerous very expensive sporting events and leagues, including "Monday Night Football," with the NFL and the network agreeing in 2011 to a $15.2 billion contract that runs through 2021. "Monday Night Football" has regularly led all Monday shows in ratings for 2015, but the "Star Wars" trailer for the seventh film in the anthology will almost certainly boost the figures for the matchup between the Eagles and the Giants.
"Only a Star Wars trailer could generate this kind of excitement," Dergarabedian said. "People who don't usually watch football could get locked in to watch the 'Star Wars' trailer and stay for the game. The reflected glory of both brands will feed of each other in a very positive way."
There is so much anticipation for "The Force Awakens" that viewers will likely be willing to watch the game clock at Lincoln Financial Field tick toward the big reveal. Ratings should spike as halftime approaches, with remotes that typically wander Mondays tuned in to ESPN, Brett Sappington, director of research at media market research and consulting company Parks Associates, said.
The Super Bowl Of Trailers
The decision to position the trailer's debut on ESPN is a perfect example of Disney's incredible reach. The company's invisible, if cartoonish and four-fingered, hand reaches most entertainment sectors. An ad on "Monday Night Football" typically costs about $427,685 in 2015, according to Advertising Age. The Star Wars trailer, even if money was exchanged, is all staying within Disney's sizable coffers.
With the release of "The Force Awakens" two months away, marketing efforts are kicking into hyperdrive, with a massive advertising and merchandising blitz underway. Running the ad during "Monday Night Football" could, perhaps, draw in football fans to "Star Wars." But more importantly, the trailer turns the Week 6 matchup between two middling NFC East teams into the opening act for the big debut.
"It almost turns this game into the Super Bowl in a way -- I have my tongue in cheek a bit," Dergarabedian said, adding that the Super Bowl turns advertisements into must-see TV. In a reversal, the Star Wars trailer transforms this relatively pedestrian game into something bigger.
"Hopefully it will be a great game, and on top of that, you get quite the halftime show," Dergarabedian said.
© Copyright IBTimes 2023. All rights reserved.