State Department Issues Venezuela Travel Advisory, Non-Emergency Diplomatic Personnel To Leave Country
The United States government has issued a travel advisory for its citizens who wanted to travel to Venezuela. It has urged U.S. citizens to avoid any unnecessary travel to the South American nation, amid an ongoing diplomatic row leading to worsening of relations between the two countries.
All non-emergency diplomatic personnel too have been advised to leave the country. Citing high crime rate as a reason, citizens were asked to stay away from the roads after dark outside of Caracas, the Venezuelan capital. They were also advised to keep away from certain neighborhoods in the aforementioned city.
"The U.S. government has limited ability to provide emergency services in certain neighborhoods in Caracas as U.S. government personnel and their families are subject to travel restrictions for their safety and well-being," the advisory read.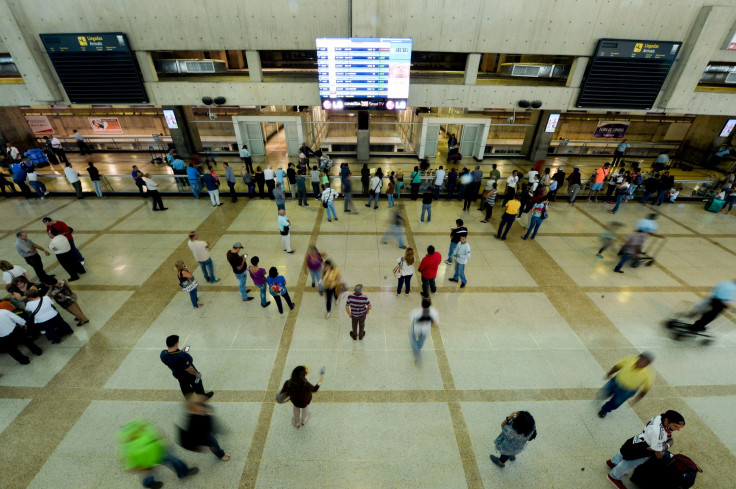 Neighborhoods which are out of bounds for the U.S. personnel are as follows:
Western Libertador- Vista Alegre, San Bernardino, El Retiro, 23 de Enero, Blandin, La Vega, La Rinconada, Las Mayas, Tazón, Oropeza Castillo, Lomas de Urdaneta, Propatria, Casalta, Lomas de Propatria, Carapita, Antimano, Tacagua, Ruiz Pineda, Caricuao, La Quebradita, El Atlántico, Sarria, San Martín, La Yaguara, Coche and El Valle .
Eastern Sucre- Barrio Píritu, Barrio La Rubia, Barrio Altavista, Petare, Caucaguita, La Dolorita, Paulo Sexto and El Llanito .
Few specific places in Baruta- Las Minas, Santa Cruz del Este, Ojo de Agua, La Naya and Las Minitas.
"U.S. personnel are also prohibited from travel outside of the Embassy's housing area between the hours of 11:00 p.m. and 2:00 a.m. in a single, unarmored car," it read. "Additionally, all U.S. personnel are required to be out of public venues and physically located within the Embassy's housing area or another specified secure location from 2:00 a.m. until 6:00 a.m."
Travelers and citizens were also asked to avoid demonstrations as it triggered a strong police response. "Demonstrations typically elicit a strong police and security force response that includes the use of tear gas, pepper spray, water cannons, and rubber bullets against participants and occasionally devolve into looting and vandalism," the government advisory read.
The government has also notified citizens about a breakdown in communication pertaining to detention and arbitrary arrest of U.S. personnel by Venezuelan authorities.
"Security forces have arbitrarily detained U.S. citizens for long periods. The U.S. Embassy may not be notified of the detention of a U.S. citizen, and consular access to detainees may be denied or severely delayed."
The government also cited limited diplomatic ability within 50 miles of the Colombian border and has asked citizens to stay away from the area.
"Drug traffickers and armed groups are active in the Colombian border states of Zulia, Tachira, and Apure. Cross-border violence, kidnapping, drug trafficking, and smuggling occur frequently in these areas. Some kidnap victims are released after ransom payments, while others are murdered," it read.
Travel between Simón Bolívar International Airport and the Venezuelan capital, travel in an unregulated taxi and inter-city travel between 6 p.m. and 6 a.m. are also strongly discouraged.
The row began after the U.S. government formally recognized Juan Guaidó as the Venezuelan president. The announcement irked incumbent Nicolas Maduro, who retaliated.
Maduro accused the U.S. of foulplay and directed his officials to revise relations with the North American country.
© Copyright IBTimes 2023. All rights reserved.