Steelers Injuries: Ben Roethlisberger, Antonio Brown, DeAngelo Williams Status Against Broncos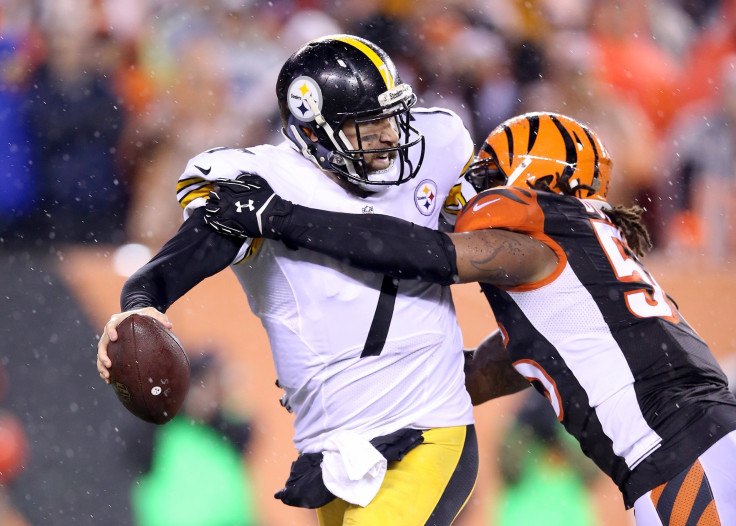 Earlier this week it seemed the Pittsburgh Steelers would miss one member of their superstar tandem against the Denver Broncos in Sunday's AFC Divisional Round matchup.
Now the Steelers and head coach Mike Tomlin have rolled back those expectations, with quarterback Ben Roethlisberger given a "chance" to face the Broncos No. 1 pass rush and top overall defense while receiver Antonio Brown remains in the NFL's concussion protocol. Both are recovering from violent tackles at the hands of Bengals linebacker Vontaze Burfict, who received a three-game suspension beginning next season for his dangerous hit on Brown.
To add more insult to Pittsburgh's expanding injury list, running back DeAngelo Williams isn't expected to return against Denver after he sat out in the AFC wild-card victory over Cincinnati with a foot injury.
The 33-year-old Roethlisberger, who has gone 11-5 with 22 touchdown passes in 16 career playoff games, revealed on his weekly radio show that he's dealing with a separated right shoulder and some torn ligaments in the shoulder as well, according to the Pittsburgh Post-Gazette.
Tomlin also outlined how he plans to proceed with Roethlisberger's recovery throughout the week.
"Ben has a chance," Tomlin told reporters Tuesday. "We will manage him day-to-day. He will probably be a partial participant tomorrow to get his run game readiness ready to go. We will increase his activity as the week goes."
Should Roethlisberger sit out, which remains a possibility given the knee injury and concussion knocks that kept him out of four stats this season, the Steelers may hand duties over to Landry Jones. The third-year former Oklahoma passer went 1-1 in two starts this season, completing 58.2 percent of his attempts for 513 yards and three touchdowns to four interceptions.
It is unlikely Roethlisberger is a full-go in practice until Friday, The Post-Gazette reports, while Brown continues to go through the concussion protocol even though he's told teammates and coaches he feels much better after taking a shot to the head from Burfict.
Named to the first-team All-Pro squad for the second straight year, Brown led the NFL with 136 receptions for 1,834 yards and 10 touchdowns in 16 games this season. The 27-year-old ripped off 10 100-yard games this season, including against the Bengals, and he was especially dominate against Denver in Week 15's 34-27 victory.
Brown recorded 16 receptions for 189 yards, his third-highest total in a single game this season, and two touchdowns while staring down the Broncos talent-laden secondary.
However, unlike at quarterback, the Steelers do have two strong alternatives should Brown be on the sidelines. Second-year wide out Martavis Bryant caught five balls for 29 yards and one of the most acrobatic touchdown catches in postseason history against the Bengals, and during the regular season he totaled 50 receptions for 765 yards and six scores despite missing five games.
And third-year Markus Wheaton has played well as Pittsburgh's No. 3 option all season. Appearing in 16 games and starting eight, Wheaton hauled in 44 catches for 749 yards and five touchdowns while gaining a career-best 17.0 yards per reception.
Williams absence, however, may not hurt as much. Fitzgerald Toussaint and Jordan Todman played very well against the Bengals and they will continue to share carries while trying to break past a Broncos defensive front that allowed a league-best 3.3 yards per carry.
© Copyright IBTimes 2023. All rights reserved.