Steelers Reaffirm Mitch Trubisky's Position Atop Quarterback Depth Chart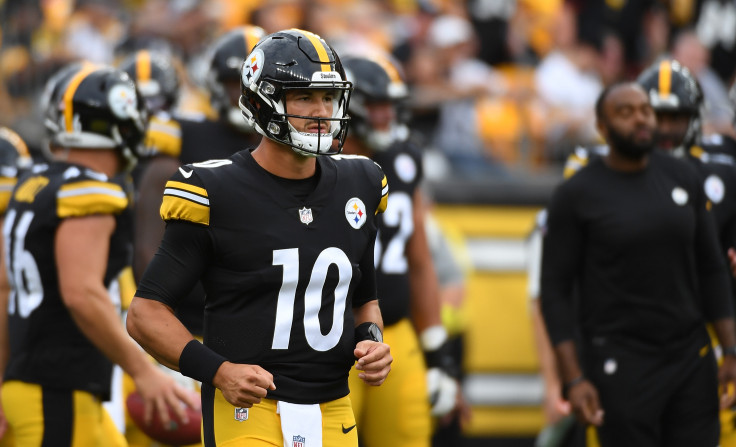 KEY POINTS
Mike Tomlin again confirmed Mitch Trubisky as their No.1 quarterback
Kenny Pickett has succeeded Mason Rudolph on the depth chart
Rudolph's name has been circulating around the trade rumor m ill
The Pittsburgh Steelers committed to Mitch Trubisky as their starting quarterback for the 2022 NFL season early on during training camp, and they are sticking with their convictions.
The quarterback battle has been the most gripping story of the season for the Steelers, and head coach Mike Tomlin himself confirmed their order ahead of their preseason game against the Jacksonville Jaguars.
"In regards to the quarterbacks, we intend to play all three in this game. Mitch [Trubisky] will start, Kenny [Pickett] will be next and then Mason [Rudolph] will finish it off," he said in a press conference.
"Mitch has been around the professional game obviously. And so, this is a big week for him in terms of getting in the first half of this game and getting the opportunity to see frontline defenders for Jacksonville."
Tomlin later noted the Jaguars' pass-rushing game, possibly hinting that the Steelers coaching staff will be carefully monitoring who among their three quarterbacks is more prepared to deal with it.
Last week, the longtime Steelers coach confirmed Trubisky's status atop the depth chart and it is understandable that their upcoming game against the Jaguars will solidify their choice instead of making them double back and rethink about putting either Mason Rudolph or Kenny Pickett to start.
Pickett had himself a solid preseason showing against the Seattle Seahawks in the third quarter as he completed 13 of 15 passes, which were good for 95 yards and three touchdowns that featured the game-winning score by Tyler Vaughns.
Tomlin commented about Pickett having "varsity work" which could see him in an increased role this preseason while Rudolph is forced onto the sidelines.
The fourth-year quarterback commented on his demotion to the third-string.
"I would've liked to have some more first-team reps. You guys have seen how practice is going on. I've made the most of the reps I have gotten. I think I've performed well this camp," he told the media as quoted by All Steelers.
News broke earlier this week when Andrew Fillipponi of 93.7 The Fan revealed that a "former NFL GM" spoke with him about Mason Rudolph potentially being traded "by the end of the week," and many believe that it could be to the Detroit Lions.
Rudolph himself said that he is not concerning himself with the rumors right now as his focus is solely on helping the Steelers find success.
However, Pittsburgh fans could not help but wonder about the Oklahoma State product's future.
Their preseason game against the Jaguars could be the determining factor as to what happens with Rudolph and Pickett as it has become apparent that the coaching staff is betting on Trubisky to lead them this season.
The Jaguars will welcome the Steelers to TIAA Bank Field on Saturday, August 22 at 7:00 PM ET.
© Copyright IBTimes 2023. All rights reserved.