Steph Curry's Personal Trainer Shares Injury Update
KEY POINTS
Stephen Curry is still out of action after injuring his left foot
Curry's personal trainer is confident about his recovery
The two-time MVP wants to be 100% ready when he returns
The Golden State Warriors are expecting to hear some good news about Stephen Curry.
The absence of Curry on the court was immediately felt by the shorthanded Warriors as they lost to the San Antonio Spurs Sunday. As the regular season nears its end, the Dubs hope to have their talisman back as soon as possible.
Curry's personal trainer Brandon Payne recently shared an update on the situation of the two-time NBA MVP, who suffered a sprained left foot ligament. According to Payne, Curry's injury isn't "as bad as it could have been," and they are confident in their rehabilitation procedures.
"We talked through all the different scenarios," Payne told 95.7 The Game's "The Morning Roast." "What ultimately came out of it was, it's not near as bad as it could have been."
"Unfortunately, we're kind of comfortable in this position," he continued. "I know that sounds funny, but we do have a good history and a good track record for preparing quickly coming off of injury. We know what we're doing. For that reason, we're probably a little bit more positive than most people would be in this situation."
Throughout his illustrious NBA career, Curry has never suffered a career-ending injury. With Payne confident about the point guard's recovery, another thing everyone is concerned about is whether Curry can get back swiftly to 100%.
Based on Payne's assessment, it is "the least" of their concerns as Curry was just "a freak of nature."
"The conditioning part, quite frankly, that's the least of our concerns," he admitted. "That's never really a problem. From a cardiovascular standpoint, the guy is a freak of nature. It's crazy how quickly he gets re-conditioned."
"For us, it's just making sure that there's strength and full functionality within the injured area, within that foot," he added.
Prior to Payne's update, Curry spoke to reporters about his condition for the first time since sustaining the foot injury Wednesday.
The eight-time NBA All-Star revealed that he's in the "beginning stages of healing" and he doesn't want to rush things.
"You want to not rush the beginning stages of healing, because that's where you get the most progress, so when you do put the shoe back on, get back on the court and get reps, you're not dealing with any crazy soreness or anything and you give yourself a better shot," he explained.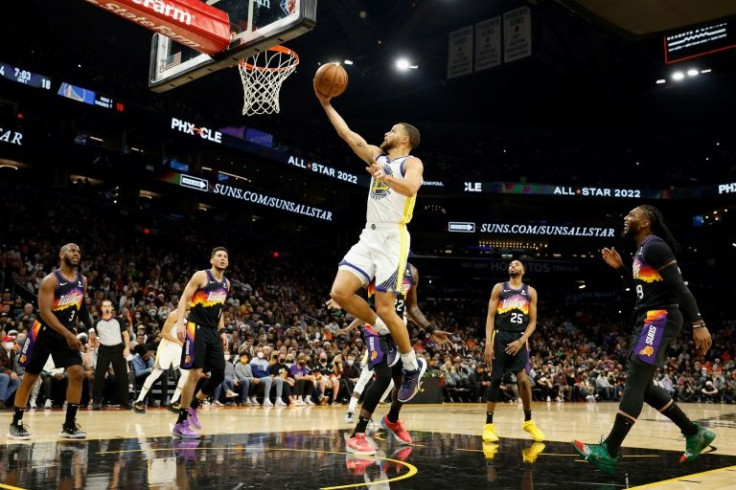 © Copyright IBTimes 2023. All rights reserved.