Stephen Curry Injury: Could Warriors' Star Miss Games In 2022 NBA Finals?
The Golden State Warriors suffered more than just a 116-100 defeat against the Boston Celtics in Game 3 of the 2022 NBA Finals on Wednesday night. The team's best player, Stephen Curry, re-injured the foot that forced him to miss the final 12 games of the regular season, raising questions about his availability in Game 4 and beyond.
Boston's Al Horford landed on Curry's lower leg in a scrum for the basketball with 4:16 left in Game 3. Curry was in noticeable pain afterward and left the game for good two minutes later when the contest was out of hand.
In the postgame press conference, Curry acknowledged being hurt but didn't seem too concerned about missing any time in the series. Game 4 is scheduled for Friday night in Boston.
"Obviously, in some pain, but I'll be all right," Curry said. "We'll see how it responds. Not much other to say. I don't feel like I'll miss a game. Take advantage of these next 48 hours to get ready."
Golden State can't afford any kind of serious injury to the Western Conference Finals MVP. Even losing Curry for a game would likely cost the Warriors a chance of winning the series.
Curry has arguably been the best player on the floor, for either team, in every game during the NBA Finals. After scoring 31 points on 12-of-22 shooting in Game 3, Curry is averaging 31.3 points, 5.0 rebounds, 3.7 assists and 2.7 steals per game against Boston. Curry is shooting 48.5% from the field and has made 18 of his 37 three-point attempts.
Curry initially injured the foot in a regular-season loss against the Celtics on March 16 when Marcus Smart dove for the ball and rolled onto Curry's foot. The Warriors' star didn't play for another month, and he came off the bench in his first four games back to start the postseason.
Golden State went 6-6 when Curry was sidelined with a foot injury. The Warriors are 13-6 in the playoffs since his return, but trails the Celtics 2-1 in the best-of-seven NBA Finals.
The injury comes at the worst possible time during the Finals. The Warriors and Celtics have three full days off in between every game of the series, with the exception of Game 3 and Friday's Game 4.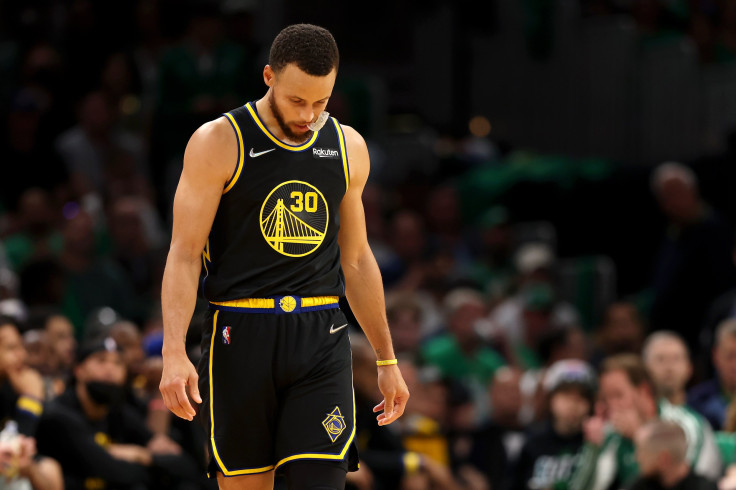 © Copyright IBTimes 2023. All rights reserved.