Stolen Edgar Degas Painting Found In Suitcase On Bus 9 Years Later
French customs officers said French painter Edgar Degas' painting, which depicts singers at an opera, was found in a suitcase placed in the luggage compartment of a parked bus outside Paris, nine years after it was stolen from a Marseille museum.
The painting named Les Choristes, measuring 13 by 10 inches, and depicting the rousing choral finale of the first act of a performance of Mozart's Don Giovanni, was on the night of Dec. 30-31, 2009, from Marseille's Musée Cantini, where it had been on loan from the Musée d'Orsay, Paris.
Les Choristes, translated as "The Chorus Singers," and painted in 1877, was found Feb. 16 by customs agents. They were checking the luggage compartment of a bus parked at a rest area in Seine-et-Marne, outside Paris, when they discovered the stolen painting, the French Ministry of Culture said, according to Forbes.
"In a suitcase, they discovered a work carrying the signature 'Degas' for which no passenger came forward as the owner," the ministry said.
Officials have not indicated whether they have any leads on who might have put the painting on the bus. None of the bus passengers claimed the package when officials asked who it belonged to.
The "disappearance represented a heavy loss for the French impressionist heritage," said French Culture Minister Francoise Nyssen after it was recovered.
The Musée d'Orsay in Paris, which actually owned the work, confirmed the painting's authenticity following an initial examination, officials stated.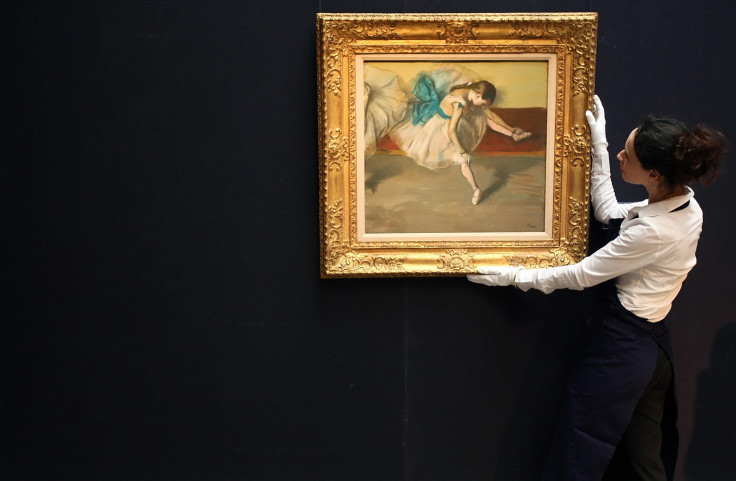 The Musée d'Orsay provided no value for the pastel painting; however, some reports indicated it is worth a sum of about $1 million. The museum said it was delighted by the discovery of the painting, and also very happy to have the unframed canvas back in place within its extensive Degas collection.
Culture Minister Nyssen also hailed the "rediscovery of a precious work belonging to the national collections."
The painting is expected to be featured in the "Degas at the Opera" exhibit scheduled for September 2019 at Musée d'Orsay. The French artist is most famous for his paintings and sculptures of dancers and also has been often associated with the Impressionist movement.
Degas was born in Paris in 1834 and is credited as being one of the founders of Impressionism, the 19th century art movement that is characterized by small thin brush strokes used to portray the visual impression of the moving effect of light and color.
Burglars and thieves have long targeted art. Another work by the French artist was stolen in 2008.
Four masterpieces by Degas, Paul Cezanne, Vincent Van Gogh and Claude Monet had been pilfered by masked raiders at the Buehrle Foundation museum in Switzerland. All the paintings were recovered, including Degas' "Count Lepic and his Daughters" that was retrieved with slight damage in 2012.
© Copyright IBTimes 2023. All rights reserved.
FOLLOW MORE IBT NEWS ON THE BELOW CHANNELS