Structural Racism Against Blacks: Tamir Rice's Mother, Black Lives Matter Activist Call For Justice During UN Panel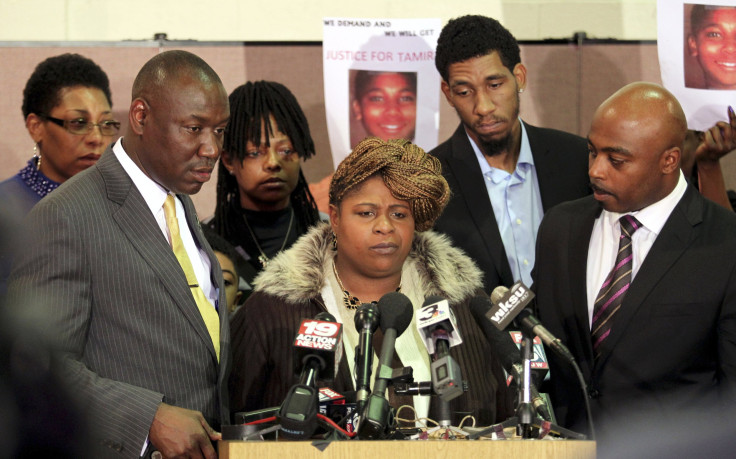 The scant details police knew about Samaria Rice's son -- he was black, male and possibly carrying a handgun -- resulted in the 12-year-old boy's death at a Cleveland playground nearly a year ago, when he was fatally shot by a police officer. Rice shared the story of her son's death Tuesday in a room packed with social justice activists and global experts on racial injustice at the United Nations headquarters in New York City.
Tamir Rice, her son, was playing with a toy gun when a white police officer fired fatal shots at him. Racial profiling killed her son, she said, and she asked the U.N. to pressure the United States to stop the policing practice from resulting in the death of another young black boy.
"I'm hoping that some of these countries [in the U.N.] are willing help us out with this problem," Rice said. "I want the world to know that letting a child go outside to play never to come home is a parent's worst nightmare."
For the first time, the U.N. is addressing U.S. racial inequality, police violence and profiling under the banner of the International Decade for People of African Descent, a political framework adopted in 2013 to address issues of justice and social progress for blacks. Officials of the diplomatic body have said that some progress has been made internationally to prevent and eliminate racism against black people, but panelists who spoke Tuesday said U.S. leaders have held only shallow discussions on deep-rooted structural racism and discrimination that persist. Historic injustices and human rights violations, such as slavery and racial segregation, explain the disproportionate rates of poverty and incarceration among the U.S. black population, but too few remedies have had any lasting impact, the panelists said.
"Let's be clear: In deeply divided multiracial communities, the problem is not one of police and [law enforcement] methodology. The problem is racism," said panelist Gay McDougall, a member of the Committee on the Elimination of Racial Discrimination, a body of the U.N. human rights office. Combating long existing stereotypes of blacks among non-blacks -- that they are poor, miseducated, irrationally angry and violent -- might change the biases of those who shape social and economic policy, said McDougall, an African-American woman who has been a visiting professor of international law at Fordham University in New York City.
"African descendants have made their homes on every continent," she said. "While there are still challenges, the promise is that society will flourish from our presence."
There are an estimated 200 million people who identify as being of African descent living in the Americas, according to the U.N., which launched the International Decade for People of African Descent a year ago to pressure governments that perpetuate racial discrimination through policy and law enforcement strategies. The U.N. has previously issued reports condemning discrimination based on skin color and through law enforcement, but never before directly addressed race problems in the U.S.
The U.N.'s human rights arm this year knocked France for not doing enough to combat racial hatred of North African immigrants and Muslims following a January shooting carried out by two Islamic extremists that left 11 people dead and injured 11 others at the Paris offices of Charlie Hebdo, a satirical magazine that routinely lampooned the Prophet Muhammad in editorial cartoons. Last November, the group of experts found that blacks in Sweden were disproportionately targets of profiling by police, contributing to widespread feelings of "marginalization, invisibility, economic vulnerability and insecurity." A U.N. special rapporteur on xenophobia criticized Japan in 2005 for not addressing the treatment of minorities and foreigners from other Asian countries, especially Koreans.
The focus on structural racism during Tuesday's panel held special significance for Mutuma Ruteere, a U.N. special rapporteur on racism who has investigated police brutality and racial profiling in recent months as U.S. activists raised those and other issues in massive anti-police protests around the country. Racial profiling in the U.S. diminishes black people's "right to live free from incrimination and the right to the presumption of innocence," Ruteere said Tuesday.
He praised countries, including the U.S., that track race and ethnicity in certain law enforcement activities, such as arrests, traffic stops and incarceration, to gauge the problem. But disproportionate encounters with the criminal justice systems among blacks has had dire social and economic consequences, he said.
For example, in the U.S. black men make nearly half the median income of white men and obtain college degrees at lower rates. Black men are also unemployed at more than double the rate of white men and are disproportionately incarcerated for committing the same crimes, according to statistics tracked by the government and nonprofit organizations.
Governments have few acceptable excuses for allowing structural racism to exist for so long without lasting solutions, said Steven Hawkins, executive director of Amnesty International USA, a human rights group. After the Sept. 11, 2001 attacks in New York City and northern Virginia, the U.S. worked quickly to tighten travel regulations and security at airports as a means to prevent another terror attack, he said. A similar swift approach needs to be adopted to address racism, he said.
After a number of police-involved deaths over the last year in the U.S., such as the August 2014 lethal shooting of Michael Brown, a black man in Ferguson, Missouri, and the July 2014 fatal chokehold placed on Eric Garner, a black man in Staten Island, New York, some activists were hopeful that the protests and civil unrest sparked by the killings would change policing in the U.S. But discussions about how to make police more accountable and transparent when they've taken the lives of racial minorities stalled over disagreements between politicians and law enforcement, prompting a need for global pressure, panelists said.
"I believe that we face another crisis in this country -- that's how black youth are treated by police in this country," Hawkins said as a panelist Tuesday. "The federal government can respond so that there are no more Tamir Rice [or] Michael Brown cases. ... [Activists] should call for this government to answer this crisis the same way they answered the [terror] threat."
Tuesday's structural racism panel also included entertainer and civil rights activist Harry Belafonte, a U.N. goodwill ambassador; Alicia Garza, co-founder of Black Lives Matter, an anti-police brutality social justice movement in the U.S. that grew over the last year as a response to race-related incidents; and Samaria Rice, Tamir's mother, who received a standing ovation after her remarks.
"Every morning I wake up, I think of Tamir," she said during the event. "But also, I wake up seeking change across the nation. I wake up seeking justice for my son."
People Killed by Police by Race in 2015 | FindTheBest
© Copyright IBTimes 2023. All rights reserved.
FOLLOW MORE IBT NEWS ON THE BELOW CHANNELS