Suicide Bombing Near Major US Base In Afghanistan Kills Three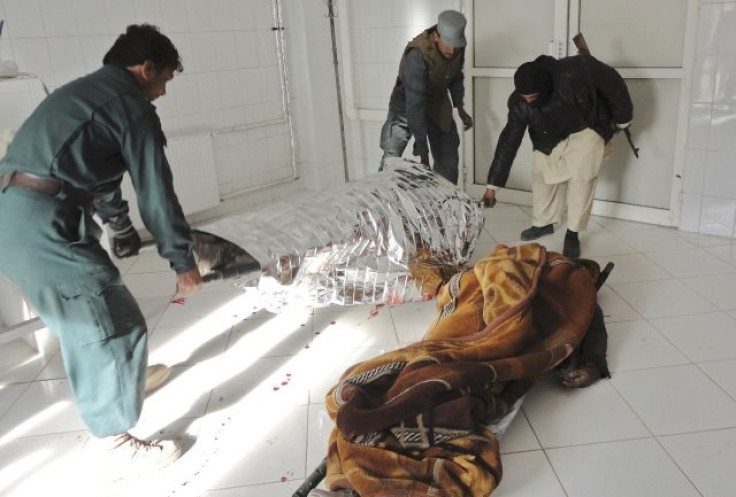 A suicide bomber blew up a vehicle at the entrance of a major U.S. military base in eastern Afghanistan Wednesday, killing at least three people, officials said.
The blast occurred near the gate to the Camp Chapman, a base that is believed to be used by the CIA and located adjacent to the airport near the provincial capital of Khost, which borders Pakistan, the Associated Press reported quoting coalition spokesman U.S. Army Maj. Martyn Crighton.
Calling the attack "unsuccessful," Crighton said the bomber had not got into the base nor breached its perimeter.
The Taliban have claimed responsibility for the attack that killed three Afghans, who were outside the base. "The target was those who serve Americans at that base," Taliban spokesman Zabihullah Mujahid told Reuters.
Meanwhile, Afghan Police Gen. Abdul Qayum Baqizai said the attack was directed at a NATO convoy traveling to the airport, the AP report said.
The al-Qaeda-linked Haqqanis, a network of tribal militants who live along the Pakistan-Afghanistan border, are active in Khost province.
Three years ago, seven CIA employees and a Jordanian intelligence officer were killed in a suicide bombing carried out by an al-Qaeda-linked Jordanian double-agent at the same base, known as Forward Operating Base Chapman.
On Monday, an Afghan policewoman shot and killed a civilian contractor for the coalition forces inside a police compound in Kabul.
The killing was the latest insider attack targeting the foreign troops, carried out by Afghan soldiers and police, or militants dressed like them, but it's believed to be the first carried out by a woman.
On Tuesday, Afghan officials said the woman had an Iranian passport and moved to Afghanistan 10 years ago and might have been recruited by al-Qaeda or the Taliban, Reuters reported. There was no suggestion that Iran was involved in the attack.
© Copyright IBTimes 2023. All rights reserved.