Sunday Night Football Week 6: Denver Broncos vs. New York Giants Prediction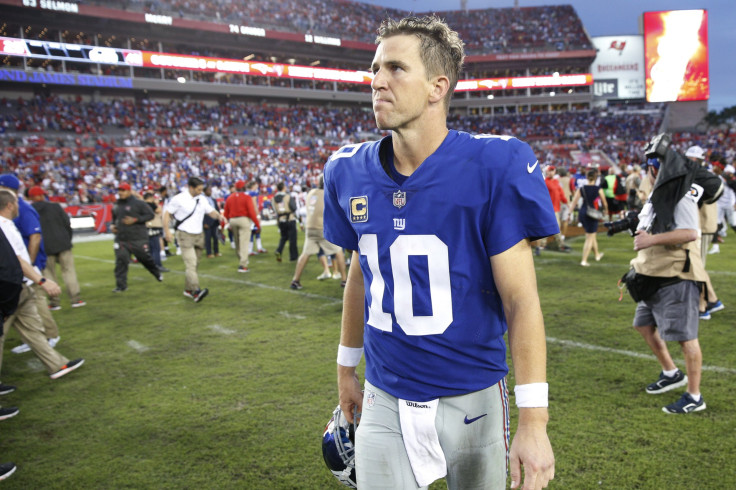 This isn't at all what the NFL expected when they put the Denver Broncos and New York Giants on the "Sunday Night Football" schedule for Week 6.
New York had the NFC's second-best record in 2016 and was considered to be among the top Super Bowl LII contenders. Denver is just two years removed from winning the Super Bowl and a threat to win the AFC West. Odell Beckham Jr. might be the most exciting player in football, and Von Miller is arguably the league's best defensive player.
A showcase between two of the NFL's top teams isn't what fans will be treated to at Sports Authority Field at Mile Hile.
Instead, it will likely be an ugly, one-sided affair that closes out Sunday's schedule of games. The Broncos are 11.5-point betting favorites, via OddsShark, over a Giants team that could be in the midst of the most disappointing season in franchise history.
New York is one of three winless teams in the NFL. The others—the Cleveland Browns and San Francisco 49ers—combined for just three victories a year ago. The Giants have been all but eliminated from contention in the NFC East, trailing the first-place Philadelphia Eagles by 4.5 games.
The conversation surrounding Big Blue has quickly shifted from championship aspirations to thoughts of landing the No.1 overall pick in next year's draft.
It's been a perfect storm of misery for the Giants. From losing games (0-5) to losing players to season-ending injuries (Odell Beckham Jr., Brandon Marshall, Dwayne Harris) to players getting suspended by the team (Dominique Rodgers-Cromartie), nothing has gone New York's way through the first third of the 2017 NFL season.
Playing in Denver isn't going to help.
Coming off a bye week, the 3-1 Broncos are one of just five teams that have fewer than two losses. Denver is particularly difficult to beat at home, where they've gone perfect against the Los Angeles Chargers, Dallas Cowboys and Oakland Raiders. The Cowboys were dominated from start to finish by the Broncos, suffering a 42-17 loss in Week 2.
The Giants had seemingly been inching closer toward getting their first win. It took last-second field goals to defeat them in both Week 3 and Week 4.
The wheels came off in Week 5 when New York blew a fourth-quarter lead at home to the Chargers. New York lost three key players for the year and others for at least the next week, likely destroying any hopes they had of winning in Denver.
We saw what the Giants look like without Beckham. New York could only muster three points in the season opener when an ankle injury forced Beckham to sit, and the Giants were held to 10 points in Week 2 when the wide receiver played on a limited snap count.
Wide receiver Sterling Shepard and Weston Richburg are out with injuries in Week 6, as well.
New York's defense has prevented them from being completely blown out in each game, but the unit won't be close to full strength in Week 6. Aside from losing Rodgers-Cromartie to a suspension, the Giants will be without defensive end Olivier Vernon and linebacker Jonathan Casillas because of injuries.
Maybe New York will play better than expected. Head coach Ben McAdoo wasn't exaggerating when he told reporters that nobody is giving them a "chance in hell."
Trevor Siemian and Denver's offense isn't exactly a scoring machine. The Giants have plenty of talent on defense with the likes of Landon Collins, Damon Harrison and Jason Pierre-Paul still on the field.
But as far as winning goes, New York might have to wait a few more weeks to finally get over that hump.
Denver over New York, 19-10
© Copyright IBTimes 2023. All rights reserved.