Suns Head Coach Blasts Referees For Free Throw Disparity In Game 4
KEY POINTS
Suns head coach Monty Williams belabored the Pelicans' 42-15 free throw average in Game 4
The Pelicans were anchored by Brandon Ingram and Jonas Valanciunas, combining for 56 points
Game 5 will see the Suns try and overcome the Pelicans' newfound offense
The Phoenix Suns were soundly beaten by the New Orleans Pelicans in Game 4, but not without controversy after Suns head coach Monty Williams belabored the refereeing.
A level-headed Williams went to the podium in the postgame press conference and vented his frustrations on how the game was called.
"Coaches shouldn't have to come up to the microphone and feel like they're going to get their heads cut off for speaking the truth," he opened his statement.
"It was 17-2 in the first half and then they [New Orleans Pelicans] end up with 42. That's hard to do in a game like that. It's not like we don't attack the basket. That's really hard to do. Look, they outplayed us, they deserve to win, but that's a free throw disparity that you have to look at," he added.
To Williams' credit, his criticism of the refereeing does have merit since the Pelicans had 42 free throw attempts compared to the Suns' 15, with 25 and 13 attempts in the second half, respectively.
The question arose whenthe Suns had 56 points in the paint compared to the Pelicans' 54, which is where most fouls are called since that area has the most contact.
It can be argued that barely any of the Suns showed up in Game 4 aside from Deandre Ayton, who had 23 points and eight rebounds. Meanwhile the Pelicans had Brandon Ingram and Jonas Valanciunas explode for 30 and 26 points, respectively.
Granted that the Suns looked terrible on the floor, not having the whistle to shoot free throws messed with the players and the team's heads.
Starters Jae Crowder and Cameron Johnson both had four fouls by the third quarter, effectively shutting down the Suns' ability to be aggressive on offense.
All-time great point guard Chris Paul also acknowledged that he had his worst outing in a Suns jersey in his own portion of the postgame presser after tying a playoff career-low in points with just four.
With the series tied up at 2-2, the onus is on the Suns to find their mojo again and a way to overcome the Pelicans' onslaught going into Game 5 on Tuesday, April 26, at 10 p.m. ET.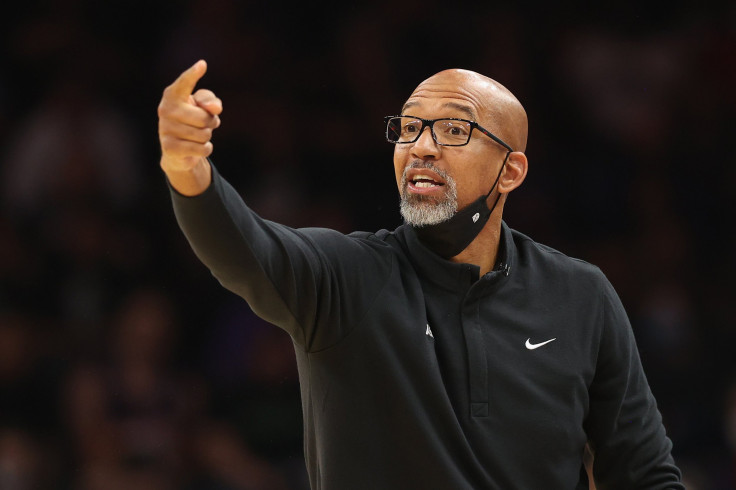 © Copyright IBTimes 2023. All rights reserved.