Super Bowl 2021 Ratings: How Many People Will Watch Kansas City Chiefs vs. Tampa Bay Buccaneers?
Super Bowl LV is poised to be the most-watched television event of 2021. With the Kansas City Chiefs taking on the Tampa Bay Buccaneers, Sunday's game is guaranteed to draw tens of millions viewers.
At least 100 million people in the United States have watched the Super Bowl in 11 straight years. There's a good chance that trend will continue as Patrick Mahomes and Tom Brady face off in a star-studded matchup.
Last year's Super Bowl between the Chiefs and San Francisco 49ers drew 100.45 million television viewers and another 3.4 millions pairs of eyes through streaming, according to Sports Media Watch. The game had a 41.6 household rating, meaning 41.6% of households with TVs were watching.
Brady was last in the Super Bowl two years ago when the New England Patriots beat the Los Angeles Rams 13-3. The contest drew a 41.1 rating and 100.79 million combined viewers through TV and streaming. It was the lowest-rated Super Bowl in 14 years and the least-watched Super Bowl in a decade.
Super Bowl LIII was the lowest-scoring Super Bowl in NFL history.
Close, high-scoring Super Bowls have been ratings winners. More than 105 million people watched the Philadelphia Eagles upset the Patriots 41-33 in 2018. In 2017, more than 113 million viewers tuned in to watch Brady lead the greatest Super Bowl comeback ever as New England outlasted the Atlanta Falcons 34-28.
Super Bowl LI marked the only time in history that the game went into overtime.
More than 110 million people watched the Super Bowl every year from 2014-2017. In 2015, Super Bowl XLIX set a record with 114.44 million viewers as New England beat the Seattle Seahawks 28-24.
Super Bowl XVI set a record with a 49.1 rating in 1982. The San Francisco 49ers beat the Cincinnati Bengals 26-21. Just over 85 million people watched the game.
Super Bowl XXIV in 1990 is the lowest-rated Super Bowl of the last 50 years with a 39.0 rating. The 49ers routed the Denver Broncos 55-10, making it the most lopsided game in Super Bowl history.
Just under 45 million people watched the Bucs beat the Green Bay Packers in this year's NFC Championship Game. Nearly 42 million viewers saw the Chiefs beat the Buffalo Bills in the AFC Title Game.
While viewership for sports fell in 2020, the NFL still managed to dominate the ratings.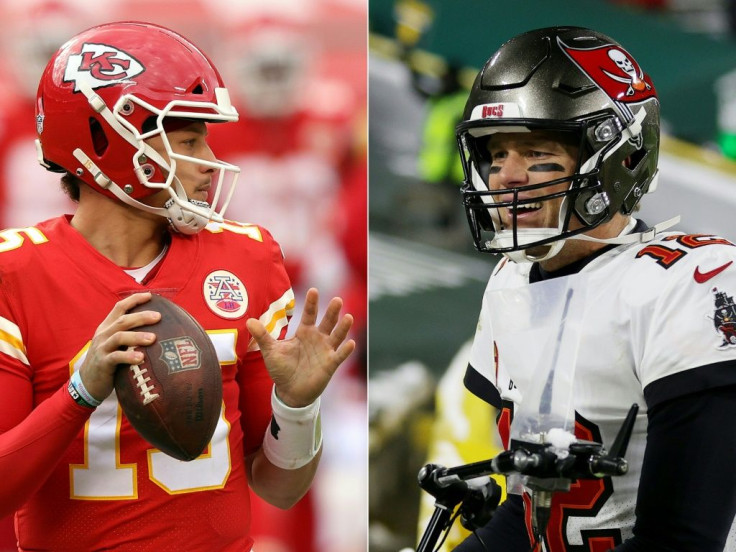 © Copyright IBTimes 2023. All rights reserved.