Super Bowl 2022 Ratings: How Many People Watched Rams Over Bengals?
Television viewership for the Super Bowl increased significantly compared to last year's game. An average of 99.18 million people watched the Los Angeles Rams defeat the Cincinnati Bengals for the NFL championship on NBC, and the game drew close to 112 million viewers on all platforms combined.
The Super Bowl in 2021 had 91.63 million viewers on CBS with the total viewership falling below 98 million. Between the NBC viewership and 1.03 million people who watched on Telemundo, 100.21 million tuned in to the Super Bowl on TV.
The official Super Bowl TV rating dropped, falling from 38.2 last year to 36.9 in the latest contest. The Super Bowl TV rating was the game's lowest since the New York Jets upset the Baltimore Colts 53 years ago in the third-ever Super Bowl.
The Super Bowl TV rating is partially the result of increased popularity of streaming services. Streaming accounted for 11.2 million Super Bowl viewers, according to The Wall Street Journal.
The Super Bowl was the most-watched TV program since the Super Bowl in 2020. The Kansas City Chiefs' win over the San Francisco 49ers generated 100.45 million viewers on Fox and another 757,000 on Fox Deportes.
More people watched the Rams win the title than their previous Super Bowl appearance. When the New England Patriots beat the Los Angeles Rams in the Super Bowl in 2019, fewer than 99 million people watched on TV. It was the lowest-scoring Super Bowl of all time.
In 2017, 111.32 million people watched the Patriots mount a historic 25-point comeback to defeat the Atlanta Falcons for the championship on Fox. An additional 1.72 million viewers streamed the game.
The Super Bowl in 2015 still owns the record for viewership. Nearly 116 million people watched the Patriots hold off the Seattle Seahawks in a 28-24 thriller.
The competitive nature of this year's Super Bowl likely helped viewership. Matthew Stafford's 1-yard touchdown pass to Cooper Kupp with 85 seconds remaining put Los Angeles ahead 23-20. It appeared that Joe Burrow might lead the Bengals on a game-tying drive, but Cincinnati's quarterback was hit by Aaron Donald and failed to complete a pass on fourth down with 39 seconds left on the clock.
No team ever led by more than 10 points in this year's Super Bowl. The contest was either tied or a one-score game for all but seven minutes.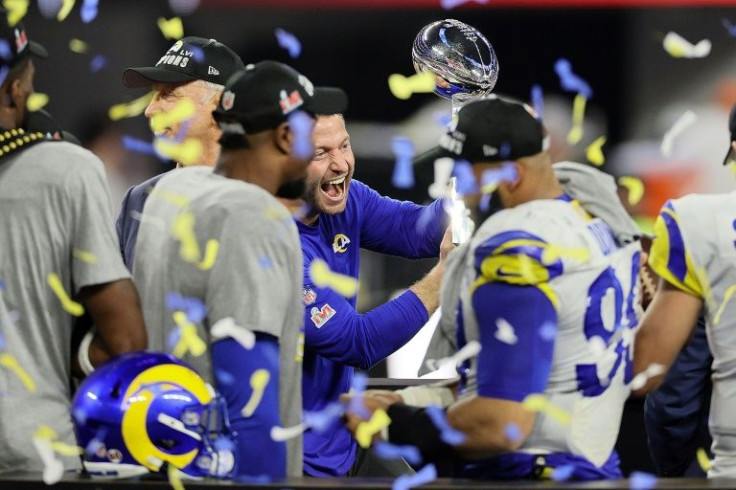 © Copyright IBTimes 2023. All rights reserved.