Super Bowl 50: Broncos, Panthers Advance To NFL's Championship Game With Conference Wins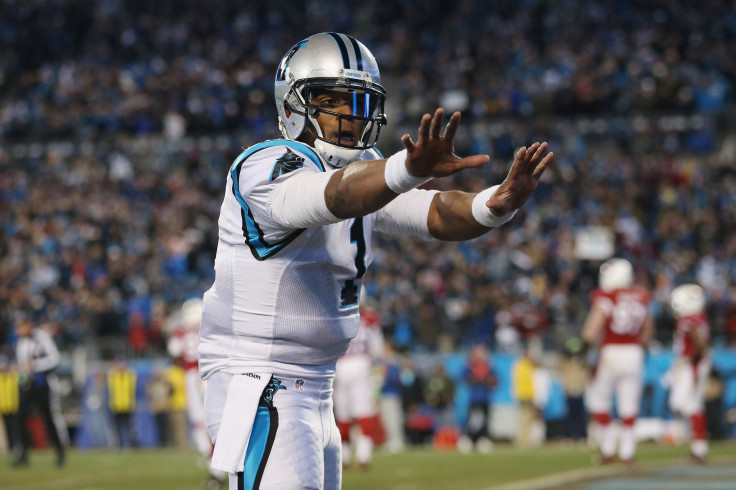 The Carolina Panthers (17-1) crushed the Arizona Cardinals (14-4) 49-15 for the NFC Championship Sunday, setting up a Super Bowl 50 matchup with the AFC champion Denver Broncos (14-4) on Feb. 7 from Levi's Stadium in Santa Clara, California.
Carolina and Denver, both No. 1 seeds when they entered the postseason, will next square off for the championship in two weeks on Super Bowl Sunday, meeting for the first time in the title round. Denver returns to the Super Bowl for the second time in three seasons and eighth time overall, tying Pittsburgh, Dallas, and New England for most all-time appearances.
After starting the season 14-0, Carolina makes its second overall trip and first since the 2003 season.
Carolina quarterback Cam Newton helped the Panthers jump all over the Cardinals from the outset, and never looked back after an impressive first half onslaught that Panther fans have become accustomed to. Newton passed for 311 yards and two touchdowns and rushed for two more, connecting with tight end Greg Olsen six times for a game-high 113 yards.
The Panthers, masterfully working both sides of the ball, built a 17-0 first-quarter advantage behind Newton's 86-yard touchdown pass to Corey Brown and receiver Ted Ginn Jr.'s 22-yard reverse rush for a score, while Arizona could muster only 58 total offensive yards in the opening period.
Carolina especially frustrated Cardinals quarterback Carson Palmer, holding him to five complete passes off 12 attempts and a fumble during Arizona's first four possessions. All told the Panthers would force seven Arizona turnovers, including three picks off Palmer.
In the second quarter Arizona would chip into Carolina's lead with a 10-play, 79-yard drive that rookie running back David Johnson finished with a one-yard score, but cornerback and return man Patrick Peterson would muff a Carolina punt and then commit a pass interference penalty to set up Newton for a soaring rushing touchdown over the Cardinals defense at the goal line for a 24-7 halftime advantage.
Peterson would redeem himself by picking Newton off and returning it 73 yards to the Carolina 22-yard line, but Palmer would toss an interception in the end zone.
Before that, Denver held off the New England Patriots' (13-5) fourth-quarter comeback attempt and claimed its second AFC title and Super Bowl trip in the last three seasons with a nail-biting 20-18 victory at Mile High Stadium.
A monstrous and dominating performance by the Broncos defense led the way while quarterback Peyton Manning silenced critics after a season of injury and hardship left many pondering whether he would hang up his cleats.
Manning went 17-for-32 for 176 yards and two touchdowns, notching his sixth all-time victory against New England's Tom Brady.
Brady nearly forced overtime on the Patriots final possession, hitting tight end Rob Gronkowski for a 40-yard strike to set up their four-yard connection for a touchdown, but New England couldn't convert the two-point try and failed to defend last year's title.
Denver's No. 1 defense forced turnovers, and Manning didn't commit any as the Broncos built a 17-9 lead heading into halftime. Manning tossed two touchdowns to tight end Owen Daniels, while defensive back Darian Stewart and linebacker Von Miller each recorded interceptions to stymie New England's typically explosive offense.
Going 9-for-20 to start, Brady took two sacks and another eight hits from Denver's top ranked pass rush in the first half alone, resulting in two interceptions when throughout the regular season he tossed altogether two picks in the first half. Brady finished 27-for-56 for 310 yards, one score, and two interceptions, and he was sacked four times.
The Patriots managed to squeeze together one scoring drive in the first quarter, capped by running back Steven Jackson's one-yard rushing touchdown, but kicker Stephen Gostkowski shanked the extra point attempt right.
A first-team All-Pro this season, Gostkowski went 52-for-52 on extra point attempts during the regular season to lead the NFL in accuracy.
© Copyright IBTimes 2023. All rights reserved.