Super Bowl Ratings 2017: How Many People Watched The Patriots vs. Falcons? NFL Game Sets Viewership Records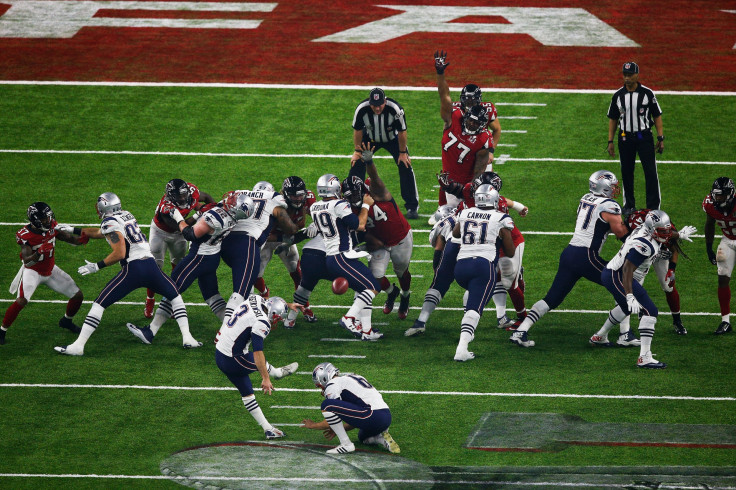 With the New England Patriots and Atlanta Falcons playing the first overtime game in Super Bowl history, it isn't surprising that the contest set viewership records. Super Bowl LI wasn't among the highest-rated games in recent memory, but it did make history in a few different ways.
The 2017 Super Bowl registered the largest total audience in United States TV history, as 172 million Americans tuned into the game at some point. It also set a record with 25.9 billion "minutes viewed."
An average of 111.3 million Americans watched Super Bowl LI, which is a decline from the last few years. Super Bowl 50 averaged 111.8 million viewers, and the game two years ago between the Patriots and Seattle Seahawks set a record with 114.4 million viewers, via sportstvratings.com. Not since Super Bowl XLVII in 2013 has the game drawn a smaller average viewership.
Drawing a 45.3 rating, Super Bowl LI drew the game's lowest number since 2009. The Carolina Panthers and Denver Broncos drew a 46.6 rating in a 14-point game last year. New England and Seattle had a 47.5 rating in 2015, marking the Super Bowl's highest rating since 1986.
Super Bowl XVI set a record with a 49.1 rating that still stands today. Nearly half of American homes were tuned into the contest between the San Francisco 49ers and Cincinnati Bengals in 1982, watching Joe Montana win his first of four Super Bowls.
Viewership for Super Bowl LI increased as the contest went on. Both teams failed to score in the first quarter, and Atlanta took a 28-3 lead midway through the third quarter. The game's final 21 minutes and four seconds saw New England score 31 unanswered points.
The NBA and MLB achieved terrific ratings in their most recent championship games, but they don't come close to competing with Super Bowl LI. Game 7 of the 2016 NBA Finals between the Cleveland Cavaliers and Golden State Warriors was seen by an average of 31 million viewers, and an average of 40 million people watched the Chicago Cubs beat the Cleveland Indians in Game 7 of the 2016 World Series.
© Copyright IBTimes 2023. All rights reserved.