Super Tuesday: What Do Romney's 6 Wins Mean?
Analysis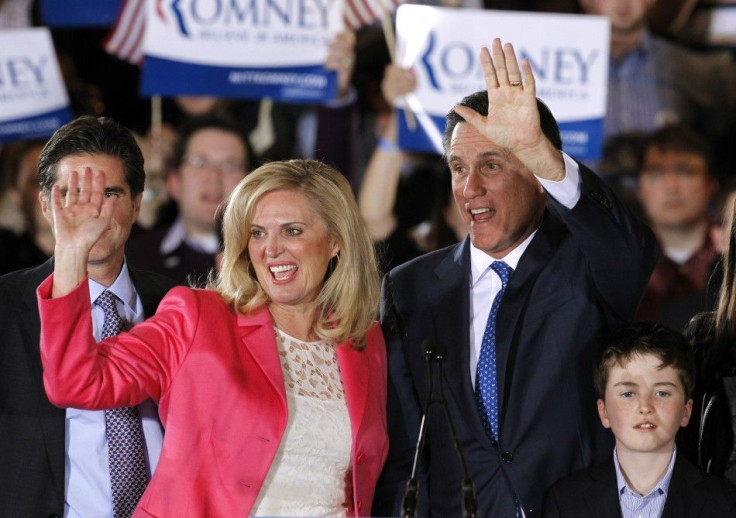 Mitt Romney won Tuesday's Republican primary in Ohio, edging out Rick Santorum by a single percentage point to take the state after a tight two-way race.
With 100 percent of results in, Romney was declared the winner with 38 percent of the vote. Santorum finished second with 37 percent, Newt Gingrich ranked third with 14.6 percent and Ron Paul, who made no campaign visits to Ohio, got 9.3 percent.
Romney's hard-fought win in the Buckeye State came on the tail of five other victories on Super Tuesday -- in Alaska, Idaho, Massachusetts, Vermont and Virginia. Santorum triumphed in North Dakota, Oklahoma and Tennessee, and Gingrich won his native state of Georgia.
Santorum's Pull With 'Reagan Democrats'
Santorum had several advantages over Romney in Ohio going into Super Tuesday.
As a group, Republican voters who cast ballots in Ohio were expected to be less wealthy, less educated, likelier to live in rural areas and likelier to be evangelical Christians than GOP voters in Michigan, according to Fox News -- all demographics that tend to favor Santorum over Romney.
Michigan, where Romney was born, was the site of a Feb. 28 primary that he should have carried easily. Instead, he barely managed to beat Santorum, edging out the former senator from Pennsylvania by just 3 percentage points.
In the same state, Santorum beat Romney by 16 percentage points among Republicans earning less than $100,000 a year, where that chunk of voters is a point higher than it is in Ohio.
In 2008, the share of people with no college education was also 8 percentage points higher in the Ohio primary than in Michigan. Last week, Santorum beat Romney by 6 percentage points among that group.
The share of rural voters relative to the state's total voting pool was 3 points higher in Ohio than it was in 2008. Santorum fared well in that category in Michigan.
Santorum also beat Romney by 16 percentage points in Michigan among evangelical Christians. In Ohio in 2008, the share of voters who identified themselves as evangelical was 5 points greater than in Michigan.
More importantly, according to Ohio Attorney General Mike DeWine, Santorum was able to connect with Ohio voters in a way Romney simply couldn't.
Rick Santorum ... has a real connection, I think, to average Ohioans, DeWine told Fox News' Greta Van Susteren on Monday.
I've been with him as we have traveled around the state, time and time again, he added. His crowds have been two or three times as big as Governor Romney's. ... There's a tremendous amount of energy in this campaign.
DeWine pointed out that many Ohio voters could be cast as Reagan Democrats, and he expressed doubts that Romney has the charisma to capture those voters.
I don't think he'll do well in the general election, DeWine said of Romney. I don't think he can reach out to the people we have in Ohio.
In the end, money was the crucial deciding factor in Ohio, both in terms of how much each candidate spent and the degree to which economic issues factored into voters' decisions.
While both candidates spent a lot of time stumping in the state, Santorum was able to spend only $389,000 there. Romney, on the other hand, spent about $1.4 million, according to NBC News.
Much of that money went toward getting the candidate's message out, but a good portion of it also went to face time for the former Massachusetts governor.
As of March 1, the Romney campaign was outspending Santorum in TV and radio advertising in Ohio by a 6-to-1 ratio, according an analysis compiled by an anonymous Democratic advertising buyer.
But economic concerns also played a role for Ohio voters, and Romney reigned in this area.
Ohio was one of the first states to be hit hard by the recession, but it was also one of the fastest to recover. Michigan has a 9.3 percent unemployment rate, but Ohio's is only 7.9 percent, well below the national average.
Nonetheless, economic issues such as balancing the budget proved more crucial to most voters than social issues such as abortion or same-sex marriage.
A recent Suffolk University poll showed that Ohio voters put more emphasis on the economy than on social issues, by 78 percent to 16 percent, respectively, and overall they considered themselves far more fiscally conservative than socially conservative.
This trend held true due to Ohio's open primary system, which allows independents and Democrats to vote in addition to registered Republicans, with the first two groups far less likely to be socially conservative than their GOP counterparts.
A New York Times exit poll showed that, among voters across the two major parties, Romney succeeded in appealing not only to high-income, college-educated voters but to less-educated and less-affluent groups as well, though Santorum still had a slight edge among poorer and less educated voters in Ohio.
Romney's success as a businessman has been among his chief talking points since the campaign began, as well as his handling of the Massachusetts economy as governor. That background helped him surge ahead by 17 points in Michigan among voters who considered the economy the most important issue in the race.
It is likely to be what contributed to his eventual success in Ohio as well, especially with independents and Democrats allowed to vote.
I know the economy, Romney said while on a factory tour Monday in Canton. I've been in it.
Romney's Win: The Delegate Issue
Symbolically, Ohio is a crucial state in the primary race. It is generally considered the most important one up for grabs in Super Tuesday 2012, especially after a month that saw Romney fighting Santorum for what was once his largely undisputed status as GOP front-runner.
No Republican has ever won the general election without winning the swing state first. The predominantly white, middle- and working-class families that make up much the state represent several key voting blocs for the GOP.
But the symbolism of Romney's Ohio victory was lessened by the fact that it took him so long to achieve the victory as the vote tallies were counted, and that he achieved it by so small a margin.
Luckily for him, Ohio's delegate count is also part of the prize, and a significant one at that.
This year, Ohio held a proportional primary, part of a move initiated by the Republican National Committee to avoid winner-take-all contests.
It was designed to drag out the primary process so it wouldn't end in South Carolina, former Ohio Republican chairman Bob Bennett, who helped change the new delegate-selection rules, told the Dayton Daily News.
You wouldn't have a presumptive nominee after the first few states voted.
As a result, dividing the state's 66 delegates becomes somewhat more complicated than usual.
Fifteen of the state's delegates will be awarded through a formula based on the results of the popular vote. Three unpledged delegates (high-level party officials such as state party chairman Kevin DeWine) are allowed to support a delegate of their choice.
In Ohio, 48 delegates are divided 16 congressional districts, and here, again, Santorum's lack of organizational prowess has put him at a distinct disadvantage.
The former senator failed to file a complete delegate slate. As a result, the candidate is ineligible to win as many as 16 of the 48 proportionally allocated delegates, meaning that even if he had won the popular vote in Ohio, he still likely would have lost out on a large portion of the delegates up for grabs in the state.
The whole dynamic has shifted. It's not about winning states. It's about winning delegates, Christopher Maloney, spokesman for the Ohio Republican Party, told the Dayton newspaper.
Santorum Backlash: 'Not Ready for Prime Time'
That shift in the race doesn't help Santorum, but it does help Romney.
Because he won in Ohio by such a slim margin, Romney's symbolic victory is not nearly so potent as it could have been, or indeed would have been just a month and a half ago. Along with a significant portion of Ohio's delegates, however, Romney will end Super Tuesday having proven that he has a chance, at least, to win the state in the general election.
That is the belief reflected in early exit polls, which showed that 42 percent voters, regardless of who they supported, believed that Romney would end up winning Ohio in November.
Santorum's slip-up meanwhile, along with denying him delegates, provides fodder for the Romney campaign to show that Santorum is not a serious candidate in the race, something his campaign will need to downplay.
According to Romney's national counsel, Ben Ginsberg, Santorum's ability to field a full delegate slate in competitive state is a true test, especially for Republican primary voters to look at, whether a candidate is ready for prime time.
In the Fall, we know whoever the Republican nominee is will be going against one of the best, well-oiled political machines, Hamilton County Commissioner Greg Hartmann added in a statement to Talking Points Memo, noting that Santorum also failed to get onto the Virginia ballot for Super Tuesday.
This kind of ball drop at this stage of the campaign [also] shows he's not ready for prime time.
© Copyright IBTimes 2023. All rights reserved.