Susan G. Komen Foundation Defunded Planned Parenthood, but Not Penn State: Why?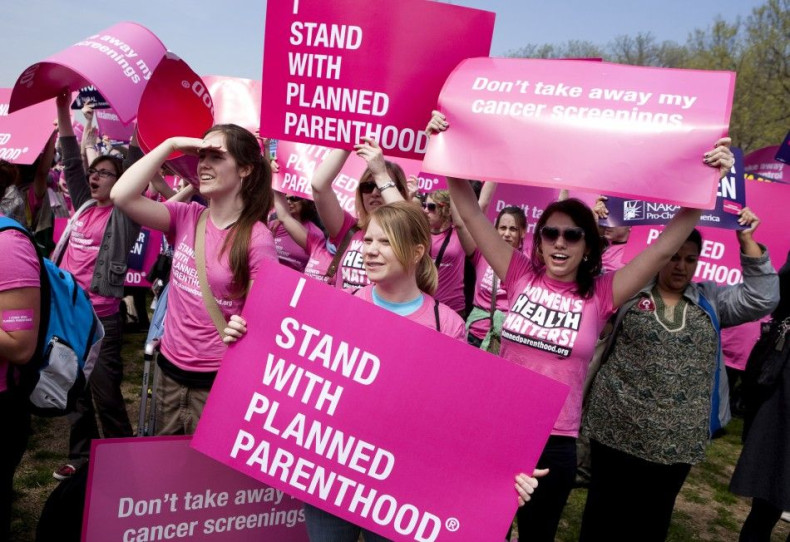 When the Susan G. Komen Foundation for the Cure announced on Tuesday that it was revoking its grant to Planned Parenthood for breast cancer screenings, officials cited a new internal policy that makes any organization under official investigation ineligible for grant money. But the foundation has not revoked its grant for cancer research at Penn State University, even though Penn State is under federal investigation, too.
This information -- first reported by Mother Jones magazine -- is sure to exacerbate the controversy surrounding the Komen Foundation's decision to defund Planned Parenthood, which critics believe was motivated by political pressure from anti-abortion groups. Komen officials insist the decision was made solely to comply with the foundation's new grant eligibility rules, but it appears those rules may have been applied unevenly.
In response to the initial backlash over the decision to defund Planned Parenthood, Komen founder and CEO Nancy Brinker told MSNBC that it was not a political decision. But Komen officials did not respond on Thursday to a request for comment on the Penn State discrepancy.
The new policy, which became effective on Jan. 1, was described in an internal memorandum obtained by The Atlantic. The relevant section reads: Should Komen become aware that an applicant or its affiliates are under formal investigation for financial or administrative improprieties by local, state or federal authorities, the applicant will be ineligible to receive a grant. An organization may regain its eligibility once the investigation is concluded if the organization and its related affiliates are cleared of any wrongdoing.
Planned Parenthood lost its Komen grant money, which had funded breast exams and mammograms for low-income women, as a result of a congressional investigation launched in September by U.S. Rep. Cliff Stearns, R-Fla., into whether the family-planning organization has used federal funding to provide abortions in violation of the 1976 Hyde Amendment. This fell under the financial improprieties section of the new Komen regulation, although, as supporters of Planned Parenthood pointed out, the investigation is sponsored not by a nonpartisan government agency but by a group of House Republicans who oppose any federal funding for Planned Parenthood.
Penn State, meanwhile, is under investigation by the U.S. Department of Education for suspected violations of the Clery Act, which requires university officials to issue a timely warning if a reported crime represents a threat to the campus community. The investigation began in November, shortly after the child abuse allegations against former football coach Jerry Sandusky were made public, and a Penn State spokesperson told Mother Jones that it is continuing. This presumably falls under the administrative improprieties section of the Komen regulation -- but Komen has not revoked its five-year, $7.5 million grant for cancer research at Penn State's Milton S. Hershey Medical Center.
In her MSNBC interview, Brinker said the Komen Foundation operate[s] from one set of standards every day, and it is to our mission. But critics are already calling the Penn State discrepancy a double standard and citing it as evidence that the Planned Parenthood decision was politically motivated, and that the new rule was created as an pretext to defund Planned Parenthood.
The Atlantic reported, based on interviews with three sources with direct knowledge of the Komen decision-making process, that the rule was adopted in order to create an excuse to cut off Planned Parenthood. The article also noted that, while Komen gives grants to 2,000 organizations, Planned Parenthood is the only one that has lost its funding under the new regulations. Komen President Elizabeth Thompson told Politico on Thursday that the group was re-evaluating several of its grant recipients, but did not go into specifics.
According to the three sources who spoke to The Atlantic, the rule was created at the behest of Komen's senior vice president for public policy, Karen Handel, who joined the organization in April 2011 and whose anti-abortion views are well known. In fact, when Handel ran for governor of Georgia in 2010, she wrote a blog post on her campaign Web site that read in part: Since I am pro-life, I do not support the mission of Planned Parenthood. During my time as chairman of Fulton County, there were federal and state pass-through grants that were awarded to Planned Parenthood for breast and cervical cancer screening. ... None of the services in any way involved abortions or abortion-related services. In fact, state and federal law prohibits the use of taxpayer funds for abortions or abortion related services and I strongly support those laws. But, even though the grants were for cancer screening and not for abortion, she wrote, Since grants like these are from the state, I'll eliminate them as your next governor.
Another Komen board member, Jane Abraham, is general chairman of the anti-abortion Susan B. Anthony List, and Brinker served in the George W. Bush administration and has donated more than $175,000 to the Republican National Committee and to individual Republican candidates since 1990.
Reactions to Komen's decision have been split to a large degree along party lines. Several Republicans, including U.S. Sen. David Vitter of Louisiana, have praised the decision. On the other side, 22 senators -- 21 Democrats and one independent -- have signed a letter urging the Komen Foundation to reinstate Planned Parenthood's funding.
But the issue is not purely partisan. According to PolitiPulse.com, just 25 percent of online conversations about Komen were supportive of the decision to defund Planned Parenthood. This is not a scientific poll -- the numbers may be skewed if more Komen critics than Komen supporters choose to talk about it online -- but it does provide a loose picture of public opinion.
Another indication of public opinion is that, while the Komen Foundation has seen a slew of donors withdraw their support in protest of the decision, Planned Parenthood has raked in $400,000 in donations in less than two days from individuals and organizations that support its cancer prevention efforts.
The silver lining is that more people than ever are aware that Planned Parenthood provides breast exams, and we're seeing more people calling us today to make an appointment, Tait Sye, a spokeswoman for Planned Parenthood, told The Huffington Post. Politics should not get in the way of women's health, and people respond powerfully when they see politics interfering with women's health.
And, perhaps most interestingly of all, even some local Komen affiliates oppose the national organization's decision and, in fact, are defying it outright.
The decision regarding the funding of Planned Parenthood was made by Susan G. Komen for the Cure National Headquarters, the Connecticut branch of Komen wrote on its Facebook page. Susan G. Komen for the Cure Connecticut enjoys a great partnership with Planned Parenthood and is currently funding Planned Parenthood of Southern New England. We understand and share in the frustration around this situation. We hope that any investigation prohibiting Planned Parenthood from receiving Komen grants is promptly resolved.