Sweeping 'Stingray' Surveillance Technology Has No Restrictions, Despite Serious Privacy Concerns: Police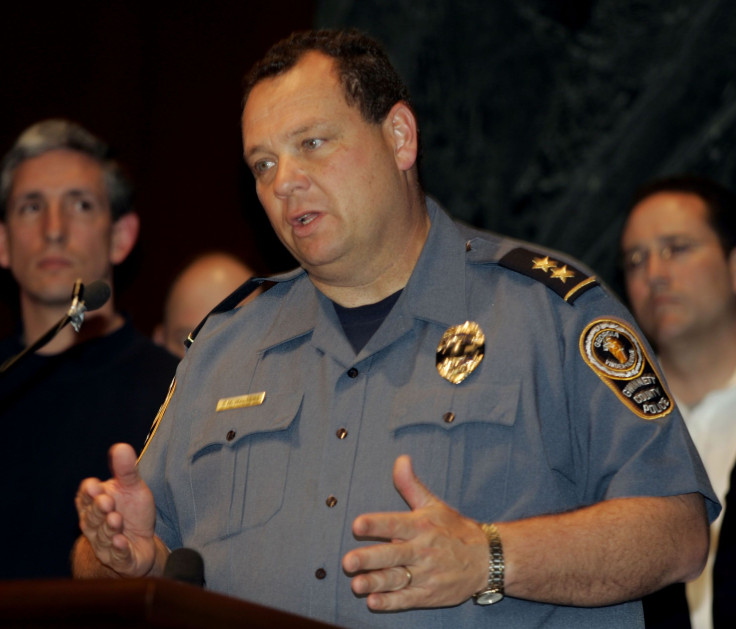 Dozens of state and municipal police departments are using controversial cell phone surveillance technology to carry out a variety of criminal investigations despite telling federal officials that the device, known as the "Stingray," is only meant to investigate terrorism, according to a new report.
Privacy and civil liberties advocates have long sought to warn the public about the Stingray, which is capable of tracking the location of all cell phones in a given area. The device mimics the signals sent out by cell phone towers, which receive "pings" from cell phones within a certain area every few seconds. Police use of Stingray technology has been a major point of contention for groups like the Electronic Frontier Foundation (EFF) and American Civil Liberties Union (ACLU), which claim that it gives authorities unprecedented power over cell phone users without the need for a warrant.
Regions across the country from Florida to Colorado to California use Stingrays, with LA Weekly reporting that the Los Angeles Police Department noted on its request for a Stingray that the device would be used only for "regional terrorism investigations." Instead, police frequently used the fake cell phone tower for burglary, drug and murder investigations, yet the LAPD is just one of several departments to lie about its activity, according to the EFF.
"The government uses 'terrorism' as a catalyst to gain some powerful new surveillance tool or ability, and then turns around and uses it on ordinary citizens, severely infringing on their civil liberties in the process," the digital rights group explained. "The Stingray…allows police to point a cell phone signal into all the houses in a particular neighborhood, searching for one target while sucking up everyone else's location along with it. With one search, the police could potentially invade countless private residences at once."
Police agencies have also been caught trying to mislead the public and outright lying to judges about the power Stingrays have. Last month the ACLU obtained five emails exchanged between Florida police officers and members of the U.S. Marshals Service discussing the best way to cover up their use of Stingrays, with members of the Marshals Service advising local officers to tell a judge they learned about a suspect's location from a "confidential source" instead of admitting a Stingray provided that information.
"Concealing the use of Stingrays deprives defendants of their right to challenge unconstitutional surveillance and keeps the public in the dark about invasive monitoring by local police," the ACLU wrote in a blog post. "And local and federal law enforcement should certainly not be colluding to hide basic and accurate information about their practices from the public and the courts."
This week, for what appears to be the first time ever, a police agency has admitted to using the Stingray for non-terrorism investigations. A Gwinnett County (Georgia) Police Department spokesman told journalist Matthew Keys of TheBlot.com that the tool is used "in criminal investigations with no restrictions on the type of crime."
It was also revealed that Gwinnett County officials spent $199,700 on a Stingray and a portable stingray device called a Kingfish from the Harris Corporation, the Florida company that manufactures the devices.
This revelation is significant not only because it's likely the first time an official has admitted the Stingray isn't being used strictly for terrorism investigations but also because it breaks the wall of secrecy surrounding the Stingray. Harris advises police departments to enter into non-disclosure agreements, with both parties agreeing to avoid saying anything specific about the technology or how it's used to members of the public.
"I think what happens is the police agencies use 'homeland security' to get grant funds from [the Department of Homeland Security] and other agencies to purchase the device, explain to city councils why they need the device and how it can be paid for, and get around open bidding laws," EFF staff attorney Hanni Fakhoury told TheBlot. "But once they get the device, they use them pretty much for whatever they want, including regular domestic crime investigation."
FOR FREE to continue reading
✔️ Unlock the full content of International Business Times UK for free
offer available for a limited time only
✔️ Easily manage your Newsletters subscriptions and save your favourite articles
✔️ No payment method required
Already have an account?
Log in
© Copyright IBTimes 2023. All rights reserved.