Syrian Christians Face Difficult Decisions As Refugee Crisis Grows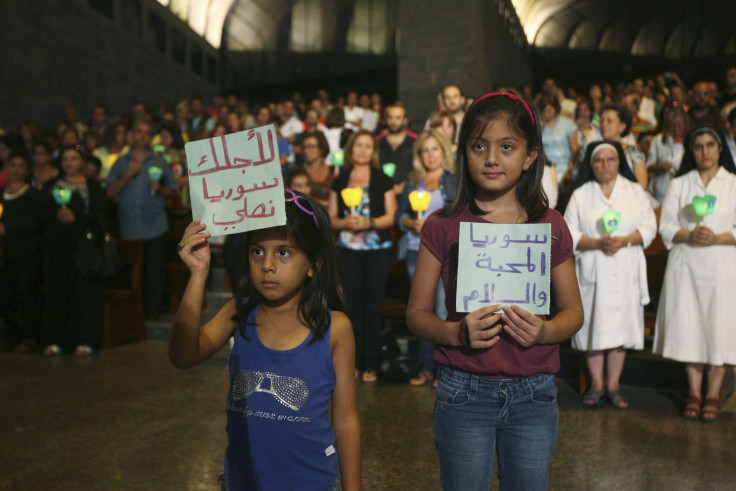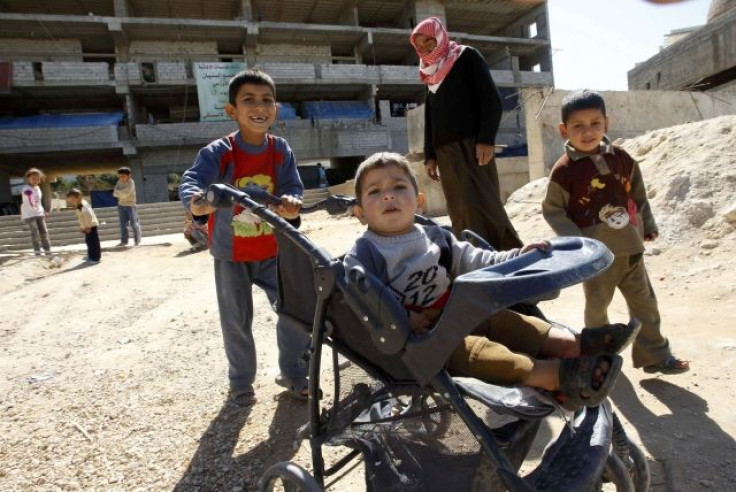 As Syria's civil war rages on, the conflict's refugee crisis, already one of the worst in the region's troubled history, is escalating madly. As many as two millions Syrians have fled the country; that's about the same number of people who escaped Iraq in the wake of the war with the U.S., yet Syria's population is only about two-thirds of its much larger neighbor to the East.
Among those Syrian refugees are about 500,000 Christians who felt that they could no longer face the excruciating day-to-day risks of life in Syria for a religious minority with dwindling prospects for a good outcome. Inside Syria, Christians find themselves in a no-man's land – torn between supporting President Bashar al-Assad, who has been amenable to their community's concerns during most of his brutal reign, and pushing for democratic elections, which could bring to power a much less friendly Islamist government that might drive them out of the nation en masse.
But no matter how bad the conditions in Syria, leaving home is never easy. Indeed, the difficult decisions facing Christian families caught in the Syrian crossfire were made plain to Father Gabriel Adde during a recent trip to Sweden, which has been willing to accept thousands of Syrian refugees and their families while many other nations (including the United States) have been much less accommodating.
Visiting with the refugees, Adde heard tales of persecution and ruthless attacks on Christians and at the same time he heard plaintiveness.
"They have mixed feelings," said Adde, who serves as reverend at both the Hicksville and Brooklyn, N.Y., parishes of the Syrian Orthodox Church of Antioch. "Number one, they were thankful to the Lord that they were able to get refugee status to bring their families to safe haven. Number two, they lost their country. All in all, at least they're in a safe haven."
Christian Flight
As of 2006, the U.S. State Department estimated that about 10 percent of the Syrian population -- or 1.7 million people -- was Christian; by 2012 the department estimates that the figure had fallen to eight percent due to emigration, though there is no reliable new population data available due to the ongoing conflict.
Large groups of Christians have been driven out of many of their traditional enclaves across the country from the decimated city of Aleppo to the biblical town of Maaloula, which famously still speaks Aramaic, the language of Jesus Christ, and has been the site of intense fighting in recent weeks.
Syria played a significant role in the history of Christianity, and was once home to a massive community of Christians, but Muslim forces conquered the nation in the seventh century A.D., and the Christian tradition never quite returned to its former glory.
Still, Syria's many monasteries and Christian places of worship flourished, and the religion remained an important force in the nation until the war began. Christians have considered President Bashar al-Assad -- a member of the Shiite-offshoot Alawite sect -- as a "protector" of Christians, a man who despite his glaring flaws and dictatorial regime has been more attentive to their concerns than they might reasonably expect the Sunni Muslims who oppose him -- and would likely take over if he were driven from power -- to be. Further complicating matters: Opposition groups are taking revenge on Alawites and Christians alike as a result of the perception that they're sympathetic to his regime and, by extension, endorse its atrocities, from massacres of civilians to the chemical attacks on residential suburbs of Damascus allegedly carried out by regime forces.
Asylum Abroad
The plight of the Christian refugees is inextricably linked to the much dicier question of which countries will be willing to open their borders to Syrians fleeing the civil war. The United Nations predicted Monday that 5.2 million Syrians -- nearly a quarter of the nation's population -- will attempt to escape their homeland by the end of 2014 if the conflict continues unabated. The U.S., along with European nations including Sweden, Germany and Holland, recently agreed to take in a total of only about 10,000 Syrian refugees, but Middle Eastern neighbors Iraq, Lebanon, Jordan and Turkey have accepted the vast majority thus far. Western countries -- in particular, the U.S., which has long been a beacon for people seeking asylum from wars around the world -- are seen by many Syrians and Syrian-Americans as not doing enough for the desperate group of people.
The Very Rev. Raban Fady Abdul Ahad, who serves the Saint Aphram Church parish of the Syrian Orthodox Church of Antioch in Alexandria, Va., says the world should accept Syrian refugees with open arms.
"The refugees are finding it difficult to get asylum outside of Syria… We would love them to open the doors for refugees here in the United States," he said. "I think they would be great citizens here. The Syrians are very progressive people. We have a great nation, a great history."
A State Department official with knowledge of refugee issues noted that the U.S. accepts more refugees than any other nation in the world, and took in 69,980 of 70,000 refugee slots allotted by President Barack Obama's administration last fiscal year. Syrians, he said, are free to apply for asylum in America. "The U.S. has the biggest pipeline, and I have no doubt that in the end we will resettle the most Syrian people," the official, who spoke anonymously because he was not authorized to talk on the record, explained.
But other obstacles have confounded Syrian refugees looking to come to America, as the specific laws surrounding refugee's options in the U.S. are often more restrictive than those of other nations. Al Jazeera reports that only 90 Syrian refugees have been taken in by the U.S., and that there are only up to 2,000 possible openings for Syrian refugees hoping to come to America this fiscal year.
"We don't resettle temporarily. When we bring you to America, we bring you here for good, and that's not for everyone," the State Department official said. "The pathway to resettlement is a long one in the U.S.… I wouldn't expect to see an appreciable uptick in Syrian refugees coming to America until mid-2014."
In the meantime, the United Nations High Commissioner for Refugees has put together a list of the most vulnerable Syrians, including the elderly, children separated from their parents, and people with severe medical issues. People in this high risk groups will be given higher priority when applying for asylum to countries across the globe, and a number of governments including the U.S. are considering the creation of special visa programs for Syrians fleeing violence.
Means To An End
Any conversation surrounding Syria and its frightening refugee crisis eventually comes around to the topic of what the end game will be for the crumbling, deeply divided nation. Opinions about that vary widely, not surprisingly, but most Syrian and Syrian-American Christians don't have a succinct, easy answer to the question. Many oppose the dictatorial regime and its barbaric brutality, yet fear the potential rise of Muslim fundamentalism. They are worried about Syria turning into Egypt, where a post-revolutionary democratic election brought the Muslim Brotherhood -- the controversial Islamist movement that backed President Mohamed Morsi's government -- to power before it was overthrown by the Egyptian army, leading to unrest and violence that continues to this day.
"It's not that I support the regime," Adde said of Assad. "We all look forward to and wish and hope to see democracy and peace and love and respect for all citizens and for peace to reign over the country. We're not saying this regime is the best and that it respects everybody, but if we overthrow the regime, what do we want? The fanatic Muslims to rule the country with Sharia? No, we don't. We can learn a good lesson from what happened in Egypt."
Some Syrian-American Christian leaders are more optimistic about the future of their country, saying that they do not believe that Syria would choose an Islamist government. "What I wish to happen is that there will be an end of any kind of military support of any kind to all the parties in Syria -- to the regime, the opposition, anyone, to allow the Syrian people to deal with their problems, and allow the people to elect whatever kind of government they want there," Ahad explained.
"I don't believe myself that if there was a free election in Syria that they would elect a Muslim brotherhood type of government," he added. "I believe most Syrians want a moderate leader."
© Copyright IBTimes 2023. All rights reserved.