Syrian Kurds Flee To Turkish Border As ISIS Attacks Villages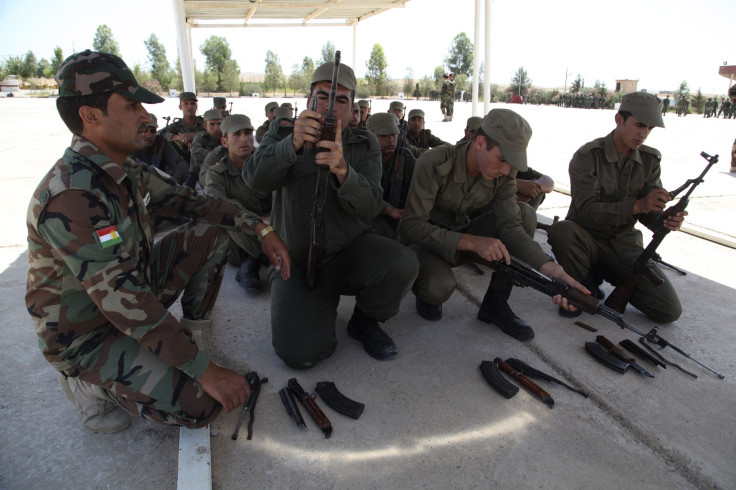 With an attack Thursday on villages in northern Syria, the Islamic State moved to broaden its control of the Turkish border, enabling it more easily to smuggle oil and other lucrative resources across regional borders. The attack by the Islamic State, also known as ISIS, on more than 16 Syrian villages caused thousands of Kurds to flee to Turkey.
ISIS militants attacked Kobane and more than a dozen other villages around it, according to the British Observatory for Human Rights, a monitoring group in Syria. Kobane is Syria's third-largest Kurdish town after Qamishli and Afrin. Residents of Kobane told local media outlets
they feared ISIS
would systematically attack their people as they did the Yazidi population in Iraq.
If the Sunni militant group gained full control of Kobane, it would control a greater stretch of the Turkish border. ISIS already controls a checkpoint outside of Jarabulus, west of Kobane. The group has also made advances in northern Aleppo province over the past two months in an attempt to take the Bab al-Salama and Bab al-Hawa border crossings.
Turkey has been accused of
helping ISIS militants
with the smuggling operations that help fund their regional ambitions. Smugglers on the border of Syria in Hatay province living near the border crossings said Turkish officials do little to stop ISIS militants from crossing the border. On Thursday, the Istanbul Security Directorate received a notice from a citizen that 15 men were
preparing to leave the city in a minibus
to join ISIS in Syria and Iraq, but the police did not get the message in time to stop it. There are an estimated 3,000 foreign fighters in Syria, most of whom are thought to have arrived via the Turkish border.
Turkish officials said Thursday that Turkey is attempting to stop the flow of European extremists trying to join the group, according to the Associated Press, and has a no-entry list with 6,000 names.
President Recap Tayyip Erdogan said on Thursday during his speech at the Turkish Industrialists and Businessmen's Association that the New York Times report accusing Turkish residents of recruiting ISIS soliders in an Ankara mosque is untrue.
"The reputation of this country will never be damaged if three fake reports were published in the U.S. or European media. We know well what they are trying to do," Erdogan said.
© Copyright IBTimes 2022. All rights reserved.
FOLLOW MORE IBT NEWS ON THE BELOW CHANNELS