Syrian Refugee Crisis: US, Obama Likely To Reach 10K Admission Goal Amid Donald Trump's Divisive Rhetoric On Immigration
When Faisal Al Rawashda first arrived in Dearborn, Michigan, he would go out in the mornings and look for a job. The Syrian refugee who had completed his law studies at Damascus University ultimately landed work as a butcher at a grocery store, where he has learned how to trim prime cuts of meat, including his favorite rib eye steak.
"It's a new culture, a new country, a new people, a new language," Rawashda said recently speaking some English and also using the translation help of a case worker at the U.S. Committee for Refugees and Immigrants (USCRI). "It's a modern country and people respect the law. Work is very good now. I get a high salary."
Rawashda is one of the 7,689 Syrian refugees who have been admitted to the U.S. since Oct. 1, 2015, having arrived in early January of this year. President Barack Obama announced in September that the U.S. would increase its numbers and admit 10,000 Syrian refugees by Sept. 30, 2016, the end of the fiscal year, in an effort to help alleviate the massive refugee crisis caused by Syria's war that has entered its sixth year and left well over 250,000 dead. While Republican presidential nominee Donald Trump has vehemently spoke out against accepting refugees and even proposed a ban on Muslims entering the U.S., the U.S. appears to be on its way to quietly achieve the goal.
Rawashda, 26, decided to leave Syria in 2012 after a bomb struck his home and injured him. Life had been difficult before then, despite completing his legal studies he was not given his certificate because he refused to join the Syrian army.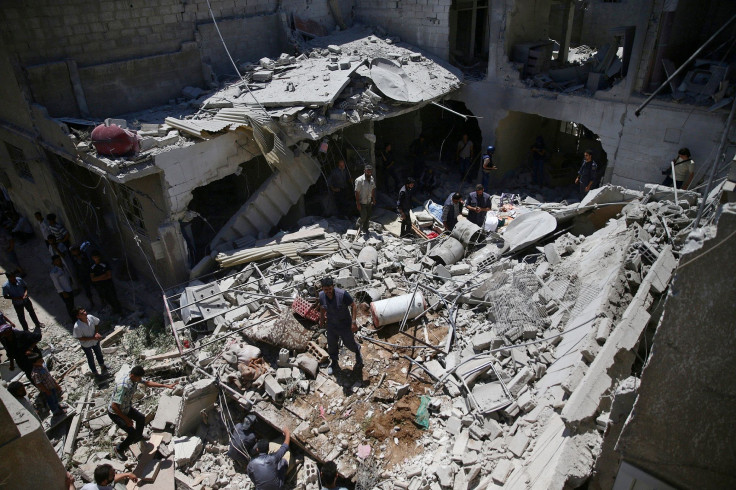 Rawashda fled to Jordan where he was treated for his injuries and also diagnosed with multiple sclerosis. Over 4.8 million Syrians have fled to Jordan, Turkey, Lebanon, Egypt and Iraq while over 1 million refugees have made dangerous and sometimes illegal journeys into Europe, something Rawashda said he was unwilling to do.
While in Jordan, Rawashda met an employee from the International Organization for Migration who suggested he apply for resettlement in the U.S. The United Nations refugee agency provides the U.S. government with refugee referrals before undergoing a rigorous background check and health and security screening process that usually takes 18 months or more. The UN focuses on the most vulnerable populations when making referrals and of the 7,689 Syrian refugees admitted to the U.S. so far, 3,729 have been under 14 years old. Of the adult men admitted, the majority are part of a family unit, the Wall Street Journal reported.
After spending more than three years in Jordan where he worked in a supermarket, Rawashda found out in December 2015 via a text message that he would be leaving Jordan in 20 days and heading to the U.S.
Nine national refugee resettlement agencies work to help process cases and place refugees across the U.S. USCRI handled Rawashda's case. Six of those organizations have religious roots. Despite Trump's comments on banning Muslims from entering the U.S., resettlement organizations with religious roots in Christianity and Judaism have seen an uptick of interest in helping Syrian refugees, the majority of whom are Muslim.
"Because of the controversy on refugees who have never really been controversial before we've seen a greater number of church volunteers coming out and saying, 'we want to work with refugees," said Jenny Yang, the vice president of advocacy and policy at WORLD Relief, one of the nine resettlement groups. "The interest is higher than we would have expected."
Throughout the election season, Trump has repeatedly argued for halting immigration from Syria to the U.S. saying militants and fighters from groups like the Islamic State, also known as ISIS, could enter the U.S. disguised as refugees. "We have no idea who these people are, we are the worst when it comes to paperwork," Trump said in November 2015. "This could be one of the great Trojan horses."
On the local level more than 30 governors across the U.S. have tried to block refugees from resettling in their states, something they cannot legally do, Reuters reported. Kansas's decision to withdraw from resettlement plans in April is just one of the latest examples. Gov. Sam Brownback argued that the federal government has "failed to provide adequate assurances" about the refugees it is resettling. Despite the governor's announcement, resettlement agencies will continue to work in Kansas and refugees can choose to move there. Michigan, California and Illinois have resettled the most Syrian refugees.
Democratic nominee Hillary Clinton has called for the U.S. to continue accepting Syrian refugees and increase the number to 65,000. "I want the United States to lead the world," she said last year.
"Yes I've heard people talk about Islam in America but I don't like politics," Rawashda said. He has been ignoring American election politics and focusing on building a life in Michigan falling into a routine of going to work, coming home and eating and then going to the mosque for prayers.
Rawashda has also registered to begin paralegal classes in a few months at Henry Ford College in Dearborn hoping to complete his dream of becoming an attorney. In addition to help from USCRI, members of Dearborn's large Arab-American community have helped ease his transition to life in America. Roughly a third of the city's population of 95,000 residents identifies as having some Arab heritage.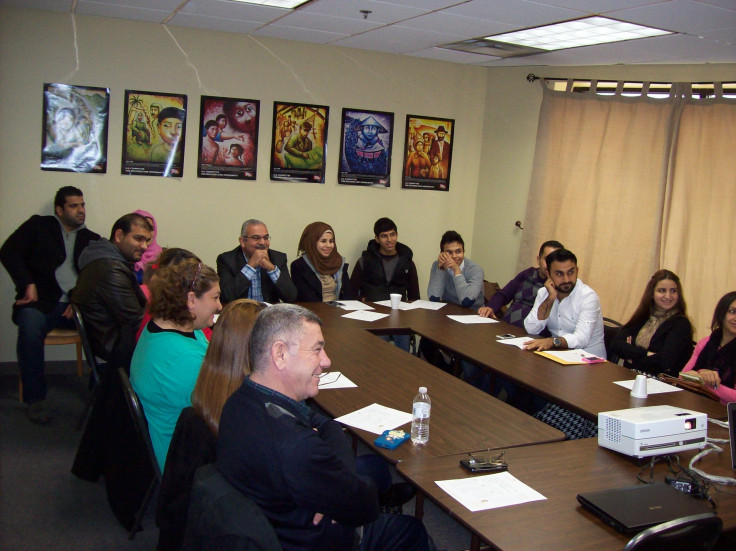 While the U.S. acceptance rate of Syrian refugees has increased in recent months, the resettlement groups would like to see more done. America's neighbor to the north has accepted almost 30,000 Syrian refugees since November 2015 and Canadian Prime Minister Justin Trudeau has made a point of welcoming new arrivals in a public manner.
"[Reaching 10,000] would be a wonderful outcome for this year. However, last year we advocated for 100,000 Syrians to be resettled and we continue to stand by that expectation given the gravity and the enormity of the situation," said Stacie Blake, the director of government and community relations for USCRI.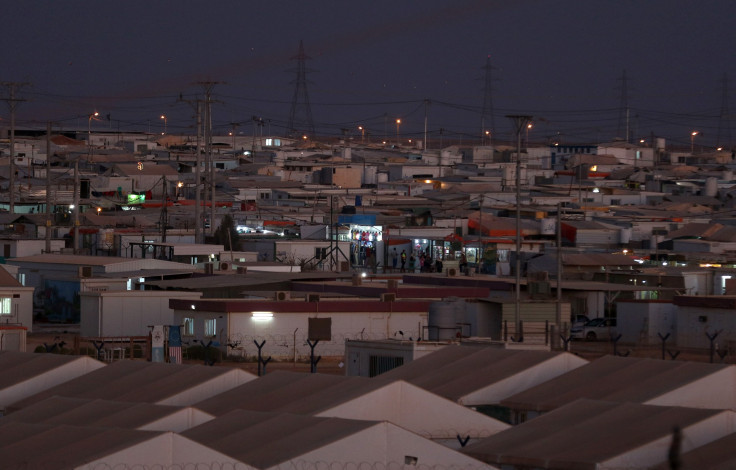 The media attention on the refugee crisis has also helped the resettlement agencies find new partners. Syrian refugees receive a stipend for three months to cover their housing, but the U.S. resettlement process puts the focus on refugees finding jobs and becoming self-sufficient quickly.
Sonia Hehar, a landlord who owns property in Dearborn, was approached by USCRI and asked if she would be willing to rent to Syrian refugees. After meeting with the agency, Hehar and her husband decided to give it a try.
"At first I was a bit apprehensive because I usually do a credit check and ask for work history and refugees coming in don't have any of that," she said over the phone recently. "But just hearing all the stories on the news, I felt like I wanted to, to see how it goes and I thought it would be helpful…so far it has honestly been a great experience."
A large Syrian family has rented Hehar's two units in Dearborn. While she needs the help of USCRI staff's help to communicate with the family, she said her interactions with them have been pleasant, including being served tea and chocolates when she went to the units to deal with an electricity issue. For Hehar who came to the U.S. from India when she was only 2 years old, the hospitality has evoked memories of her own family and how hard her parents worked when they first arrived 34 years ago.
She is now telling her parents, who also own property, to consider renting to refugees. While Hehar would like to see the continuation of thorough background checks for all refugees coming to the U.S., she does not agree with any of the divisive comments made by Trump regarding refugees.
"We could definitely take in more people. If other countries are doing it I think we do have a responsibility to take in more refugees," Hehar said. "I know it's hard being trustworthy as a landlord especially when they don't come through with income verification, but I think we all just need to chill out a bit and trust people more."
© Copyright IBTimes 2023. All rights reserved.