Syrian Regime Urges Opposition To 'Surrender' Ahead Of New Offensive In Homs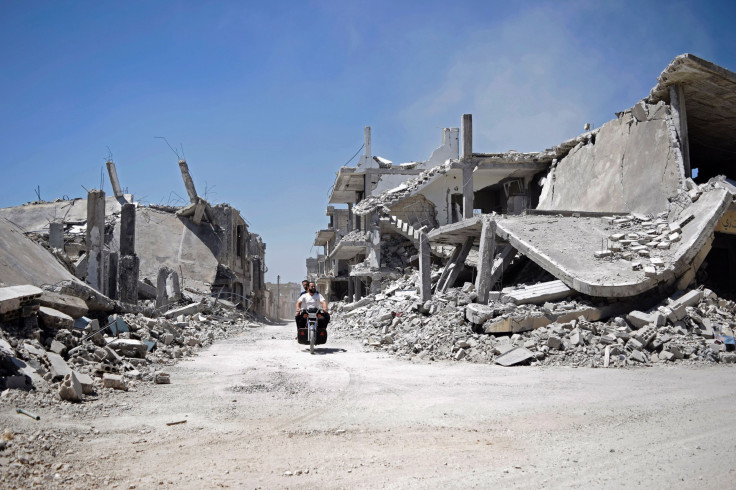 BEIRUT— Residents in rebel-held areas of Homs province in western Syria woke up Thursday to the sound of Syrian regime aircraft overhead. But instead of dropping bombs, the warplanes were releasing a confetti of paper warnings that held one message: "Surrender now."
Syrian army warplanes dropped at least five different leaflets in opposition-controlled areas, each one threatening an upcoming offensive in Homs. One leaflet claimed that the regime possessed and intended to use a technologically advanced new weapon that is capable of destroying an entire building and penetrating residents' shelters.
But this kind of threat is nothing new.
Nidal, the media liaison for the Homs branch of the Syrian Civil Defense, who declined to give his last name to protect him from regime reprisals, told International Business Times that this wasn't the first time Syrian government forces have dropped paper warnings on the province, urging opposition fighters to surrender.
As for the veracity of this particular threat, he said, "The regime uses new weapons almost every day. Let's just hope not [again]."
For Homs residents, such warnings are not unusual.
"It is a normal thing to be threatened by the regime," said Abu Ahmad, a medical worker in a field hospital in Homs. "We are accustomed to that."
But pamphlets aren't the only method forces loyal to Syrian President Bashar Assad use to instill fear in civilians. The paper air drop followed an increase in aerial bombardments in the same areas: Over the past two days, the Syrian regime and allied troops carried out at least 15 airstrikes and 10 barrel bomb attacks in the province, according to the Syrian Observatory for Human Rights.
#Syria regime warplanes dropped 3 barrel bomb on Teir Maale in #Homs province pic.twitter.com/sObz9HvOe3

— Putintintin (@putintintin1) April 20, 2016
When leaflets were dropped on Homs before, some residents did heed the regime's advisement to flee the area, but others were instantly arrested when they attempted to escape. As a result, "the Syrian people in [opposition] areas don't trust the regime any more," Nidal said.
The regime's looming Homs offensive follows a collapse of the ceasefire — which was implemented across several regions in Syria at the end of February — after major opposition groups began a new operation against the Syrian regime in Assad's coastal stronghold of Latakia.
Residents of Homs are bracing for renewed fighting.
"Since six days ago, [the conflict] has been the same as before [the ceasefire]," Ahmad said. "There were some dead and many wounded."
© Copyright IBTimes 2023. All rights reserved.