Syrian War Sparks Gender Violence, Strains Support Networks In Neighboring Lebanon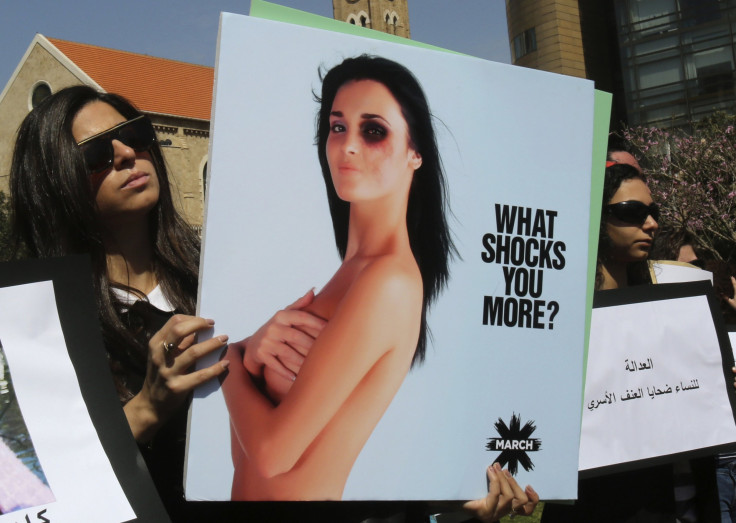 BEIRUT, Lebanon -- After being forced from her home during the Syrian civil war, abandoned and left destitute by her husband, then ostracized by her in-laws, Leila faced an unimaginable ratcheting up of her travails -- being raped by her brother-in-law while her two children cried in the next room over what they observed.
That trauma occurred in February, and now Leila and her children are staying in a private women's shelter in Beirut, one case among an overwhelming number involving domestic and sexual violence among Syrian refugees. Each is an intensely personal tragedy added to the carnage and displacement brought on by the country's civil war, yet aside from NGOs and shelters such as the one known as Abaad, where Leila and her children live, Lebanon is a refuge only in relative terms.
It is difficult to ascertain the number of women who have suffered fates similar to Leila's, but the staff of Abaad (Arabic for "dimensions") estimates that 80 percent of their services are directed at Syrian refugees, which presents a major challenge at a time when Lebanon is struggling to provide basic services to its own citizens.
Similar numbers involving Syrian refugees can be found in other social-support services and in Lebanese schools, which makes it impossible to quantify or even to say with certainty that the war has directly led to increased violence against women. But the anecdotal evidence seems to indicate that it has. Beyond the preponderance of Syrian cases at shelters such as Abaad, the sad truth is that the war has spawned large numbers of angry, sometimes desperate men and vulnerable women who in many cases have lost their protective support networks. Sexual assault seems an inevitable consequence.
And among both Syrian and Lebanese women, incidences of gender-based violence are complicated by the fact that women have few legal protections in Lebanon. Women's-rights activists say the reason is that family law adheres to conservative religious law (both Muslim and Christian), which tilts heavily in favor of males. Crimes such as theft and murder are treated differently; in Lebanon, as in most Arab countries, such crimes are handled under a civil penal code, much the same as in Western countries. Activists have been pushing to have cases of domestic violence prosecuted under the country's civil penal code, away from the influence of religious institutions. But last month the Lebanese parliament, which has two women among its 128 members, passed a domestic-violence law that activists say maintains the status quo, and potentially criminalizes women for refusing sex with their husbands. Under the new law, marital rape is not a crime; only the physical violence that might accompany the rape is punishable. And while the abuser in a domestic-violence case is subject to legal penalties, the victim receives little protection, mainly because she is essentially held hostage by religion-based child-custody laws, activists say.
Rima Abi Nader, head of victim support at another women's support NGO, Kafa (Arabic for "enough"), said her group pushed for meaningful amendments to the domestic-violence law, but lawmakers on April 1 "just passed the law without any of our amendments, even though many of them had promised to support us."
"It was like an April Fool's Day," she said.
Lebanon's diverse population consists of 18 different sects (40 percent are Christian and some 55 percent are Muslim), and Lebanese family law has at least as many variants, with each community following its own canon. The Maronite Christian Church, for example, does not recognize divorce but in cases of "abandonment" gives custody of children older than 2 to the father. Shia Islam has a similar rule for male children but keeps a girl in the custody of her mother until the age of 7. Sunni Islam transfers custody to the father at age 12 regardless of sex. Each sect also has its own interpretation of such things as marital rape and mutual property within a marriage.
Lebanon has no available statistics on domestic and sexual violence, though in Syria, which is culturally comparable, pre-war government-sponsored surveys found that one in four women had experienced some form of violence from a male relative, usually a husband. During the past three years, international organizations have also documented rape as a weapon of war in Syria, as well as widespread sexual exploitation in refugee camps and among vulnerable women who are separated from their families.
Violence against women is typically rooted in a desire to dominate, and factors such as alcohol and substance abuse, war, displacement, unemployment and cultural conflicts over changing gender roles can fuel the problem, which according to the World Health Organization is a global epidemic. Nearly one in three women worldwide experiences sexual violence, and even the most progressive, gender-equal countries (such as in Scandinavia) are not immune.
But what differs in the Arab world is the way domestic violence is handled by law and society. Many blame the macho, male-dominant culture for falling short of addressing the problem, something that Anthony Keedi, a psychologist who works with Abaad, decided to confront head on. Two years ago, Keedi founded a Beirut outreach project called the Men's Center to help men work through gender issues that he believes contribute to sexual and domestic violence. Keedi said that although Lebanon appears modern and comparatively liberal among Arab countries, gender roles tend to be entrenched in traditional culture.
"That's the problem," he said. "People come to Lebanon and see that women wear what they want, and many go to work, and we have nightclubs and all those TV shows and music videos, and people think: 'Oh, Lebanon is the Las Vegas of the Middle East. It's liberal and 'Westernized.' But it doesn't mean we have gender equality," he said.
Keedi, who describes himself as a "reformed macho man," said the center provides therapy and anger management for dozens of men each month, helping them overcome what he calls antiquated gender socialization.
"The overbearing dominant abusive stereotype as the archetype of the alpha male is something that many cultures have been trying to break away from, like in the West starting in the 1950s," he said. "But men in our culture are still struggling with it."
During the therapy Keedi provides to his clients (many of whom have never resorted to violence), he focuses upon such cultural norms as men being socialized never to cry and to avoid any behavior that signifies being "soft."
"They come to us because they feel frustrated with their own anger, and we teach them ways of communicating," he said.
But for women like Leila, 28, whose war trauma and sexual victimization are rolled into one, such outreach programs are not enough. She needs protection, and due to Lebanon's weak laws in that regard, she and other survivors of gender-based violence have only NGOs and activists to rely on for help.
Leila's move to Abaad was precipitated by her abandonment by her husband two years ago, when he left her and her sons in the care of his parents in their hometown, Daraa, Syria, one of the birthplaces of the country's uprising. Her husband, she said, promised to find work in neighboring Lebanon and send money back to the family, but instead found another woman and started a new family, shirking his financial obligations to Leila and the boys.
As money grew tight, so did the generosity of Leila's in-laws, and in February, after she and her two children had moved from one relative's home to another, she ended up at the home of her brother-in-law and his family. It was there that the rape allegedly took place one morning when no other adults were around.
Though the preponderance of Abaad's cases currently involve Syrian refugees such as Leila, Lebanese women do not fare much better in their own country. Over the past few months, Lebanon has seen several high-profile cases of domestic violence in which women were killed by their husbands, including a suspected poisoning in which the husband was recently released for lack of evidence.
Other high-profile cases pending in the courts involve a husband who allegedly bludgeoned his wife to death with a pressure cooker, and a husband who allegedly fatally shot his wife -- cases that sparked outrage and an unprecedented public debate about such violence. Activists say in all of those cases, domestic abuse had been increasing incrementally for long periods of time, but the women had no legal mechanisms to stop it.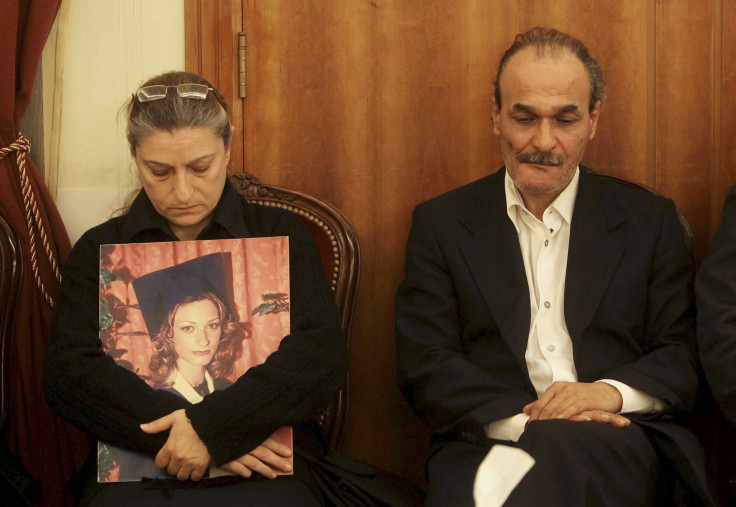 Another abuse victim, Sara, 37, knows the scenario all too well, and although she is trained as a lawyer, has limited legal options She is currently undergoing therapy at Kafa.
Born into a large family with traditional parents, Sara recalls growing up observing her father, who had no formal education, verbally abusing her mother. Eventually, she convinced her father to allow her to attend college, and afterward she married a man her family had introduced her to, who she said "turned out to be very much like my father -- overbearing and emotionally abusive, only he is highly educated. And he wanted me to be just like my mother -- compliant and submissive."
As with many victims of domestic abuse, in the Arab world and elsewhere, Sara felt trapped. But owing to the lack of legal protections in Lebanon, walking away from her marriage would mean losing custody of her boys when they turn 12, and no guarantee of alimony or a place to live. She would have to move back in with her parents -- an option she said she loathes -- or support herself on her own, which is something very few single women can afford to do in Lebanon, due to low wages, high rents and unemployment.
Recognizing that the law is not on her side, Sara said she recently gave her husband a choice: He could take custody of the boys and she would leave, or they could remain together yet essentially lead separate lives. He chose the latter, she said. She has since gotten a new job and is pursuing a doctorate in law.
For Leila, the road ahead may be more arduous. She is unsure when she could return to Syria, and how she will support herself and her children between now and then (or after), and she recently learned that her husband, who has a baby by the second woman, has been jailed for reasons she does not know. Asked what she would like to see happen in the near future, she smiled and said, "I hope my husband will come back to us and we can live our life like before. He's a good man, and I still love him."
© Copyright IBTimes 2023. All rights reserved.