Taiwan Earthquake: Death Toll Rises To 112 As More Victims Are Pulled Out Of Collapsed Building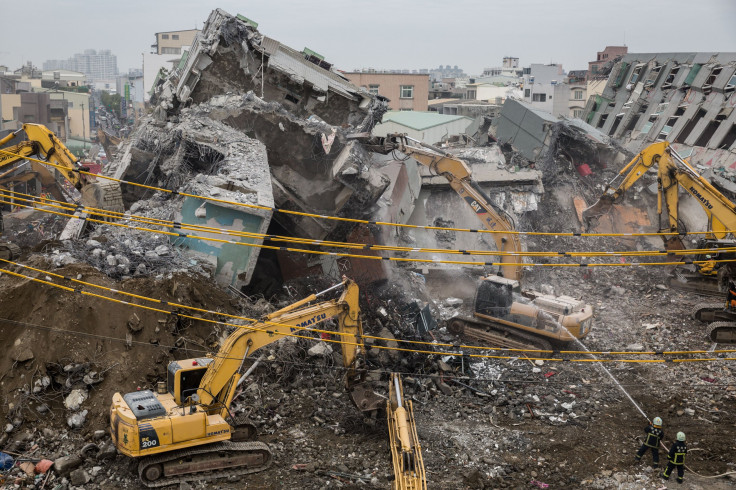 The death toll from the earthquake that struck Taiwan a week ago, rose to 112 on Saturday as officials found more victims buried in the rubble of a collapsed building in the southern coastal city of Tainan. A 6.4 magnitude earthquake struck the city last Saturday, leading to the collapse of more than 10 buildings and injuring over 500 people.
Of the 112 people who died, 110 were found in the Weiguan Jinlong (Golden Dragon) apartment complex, Tainan City Government said, according to Taiwan's Central News agency. The city's government added that five people are still believed to be trapped in the rubble of the 17-storey building that collapsed during the massive quake.
However, according to a report by the Associated Press (AP), 113 people have been killed in a week since the earthquake while four still remained missing. The report added that 327 people in the building survived the collapse.
Taiwan's Interior Ministry said, according to AP, that several bodies were retrieved from the building on Saturday.
Meanwhile, authorities have detained the building's developer Lin Ming-hui and two architects on suspicion of negligent homicide after accusations arose saying that the construction quality of the building, which was reportedly made in 1989, was not proper. The earthquake had completely destroyed only Weiguan Jinlong building as others only reported damages.
A recent report from Reuters said that the residents in the building had often complained of problems like tiles falling from the walls, malfunction of lifts and blocked pipes before the earthquake.
Taiwan was hit by another earthquake of 3.8 magnitude Wednesday while the rescue operations were ongoing.
© Copyright IBTimes 2023. All rights reserved.