Taiwan Says It Needs Long-Range, Precise Weapons To Stop China Amid Heightened Tensions
KEY POINTS
Taiwan proposes extra spending of $9 billion to upgrade weapons over the next five years
Chiu said China may target Taiwan's command and communications centers first during a war
PLA sent 24 warplanes into Taiwan's air defense identification zone on Sept 23
Days after China intimidated Taiwan by sending jets and bombers to its air defense zone, the island nation has stressed the need to have long-range, accurate weapons to deter China.
Taiwan Defence Minister Chiu Kuo-cheng told Parliament on Monday that the "development of equipment must be long-range, precise, and mobile so that the enemy can sense that we are prepared as soon as they dispatch their troops."
This comes as Taiwan proposed extra spending of almost $9 billion over the next five years to upgrade weapons, including on new missiles, in the light of the "severe threat" from their giant neighbor, reported Reuters.
According to Chiu, Taiwan needs to let China know that it can defend itself.
In a report presented to Parliament, the defense ministry said both medium-and long-range missiles were being used in intercept drills at a key test facility on Taiwan's southeastern coast. However, no details were given as to how far its missiles could reach now.
Chiu added that the Taiwanese people need to be aware of the danger facing them. On whether China would attack in the event of a war, Chiu said it would be Taiwan's command and communications abilities.
"On this, the Chinese Communists' abilities have rapidly increased. They can disrupt our command, control, communications, and intelligence systems, for example with fixed radar stations certainly being attacked first," he said. "So we must be mobile, stealthy, and able to change positions," he added.
Recently, Taiwan had presented an annual report to Parliament raising alarm over China's improved ability to fully monitor its deployments and "paralyze" its defenses."
The report added that China can launch "soft and hard electronic attacks," which included blocking communications across the western part of the first island chain, the string of islands that run from the Japanese archipelago, through Taiwan, and down to the Philippines.
Tensions have heightened in the region as China sent 24 warplanes into Taiwan's air defense identification zone (ADIZ) on Sept 23. This was reportedly the third-largest incursion in the past two years.
Reports said the People's Liberation Army (PLA) aircraft, including bombers, fighter jets, anti-submarine planes, and airborne early warning and control planes, entered Taiwan's ADIZ in two groups. While a group of 19 planes came first, the second cohort of five jets came later in the day.
Taiwan's Defense Ministry also released a map that showed some Chinese aircraft, including H-6 bombers, flying around the southern part of Taiwan, and angling up to the island's east.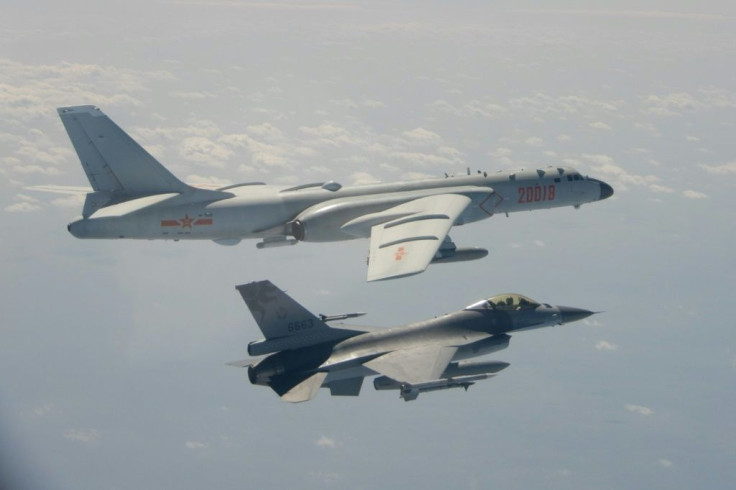 © Copyright IBTimes 2023. All rights reserved.
FOLLOW MORE IBT NEWS ON THE BELOW CHANNELS