Taiwan Strait Tensions: Troops Fire At Intruding Chinese Drones, But Face 'Severe Challenges'
KEY POINTS
Last month alone, Taiwan documented 23 sightings of Chinese drones over its airspace
President Tsai Ing-wen has warned of taking "necessary and strong countermeasures"
Taiwan defense ministry says it faces "severe military challenges" due to the surge in Chinese military activity
U.S. warns it will not recognize China's attempts to change the status quo in the Taiwan strait
Taiwanese troops Wednesday fired on three Chinese drones that intruded over three different islands in Kinmen County — the second such incident, coming a day after they fired warning shots at Chinese drones over Erdan Island.
Taiwan News, quoting a Kinmen Defense Command (KDC) statement, said that on Wednesday three "civilian" Chinese drones intruded into the country's airspace over the Lieyu, Dadan and Caoyu islands. Taiwanese troops responded by firing live rounds and signal flares to repel the UAVs. The drones flew away and headed towards China's Xiamen, the statement added.
The incident gains significance as it is the second time that Kinmen troops have fired live ammunition at intruding Chinese drones. On Tuesday it was reported that three batches of three "civilian" drones each were detected flying over Dadan Island, Erdan Island and Shi Islet, when troops fired live ammunition to chase them away in the direction of Xiamen. Tuesday's incident marked the first time when Taiwan's troops used live ammunition to scare off Chinese drones.
U.S. National Security Council Coordinator John Kirby condemned China's sending the drones near Taiwanese airspace and warned that the U.S. will not recognize nor abide by China's efforts to alter the status quo in the straits.
As China continues to send warships and jets across the median line dividing the waterway between the two countries, Bloomberg reported that the Taiwan defense ministry in an annual report to lawmakers said it faces "severe military challenges" due to the surge in Chinese military activity as Beijing tries to change the status quo in the Taiwan Strait.
A report by Reuters quoting Taiwanese defense officials said the "high intensity" military patrols conducted by the Chinese in the region are aimed at making Taiwan Strait its "inner sea." IBT had reported that Beijing on Tuesday dismissed the drone incursions stating there is nothing "surprising" about "Chinese drones flying over China's territory." IBT earlier reported of an angry exchange between a Chinese warplane and a U.S. military aircraft near the east coast of China. PLA Air force demanded that the U.S. aircraft "leave immediately" or risk being "intercepted," whereas the U.S. aircraft pilot responded that he was operating in "international airspace." China considers Taiwan to be a part of its territory.
Tuesday's action by Taiwan against intruding Chinese drones came soon after the country's President Tsai Ing-wen said she had ordered her country's army to take "necessary and strong countermeasures" against what she termed Chinese provocations. During a visit to Penghu islands, Tsai criticized the Chinese for its drone and other warfare activity.
"I want to tell everyone that the more the enemy provokes, the more calm we must be," Tsai told naval officers during her visit. "We will not provoke disputes, and we will exercise self-restraint, but it does not mean that we will not counter," she said.
Echoing the president's warning, Taiwan's deputy chief of the general staff for operations and planning, Lin Wen-Huang, told media that the national army will exercise right to self-defense and counter-attack without exception at aircraft and ships that entered into Taiwan's sea and air territory of 12 nautical miles.
The Tuesday encounter is not the first time the Taiwanese military has had to drive a Chinese drone away. According to reports, last month alone, the Taiwanese military has documented 23 sightings of Chinese drones flying over its airspace in Kinmen County. Last week, the video of Taiwanese soldiers throwing stones at a drone close to their military outpost in Lieyu Township went viral on Chinese social media platform Weibo.
Although it is not clear if the drones that have intruded into Taiwanese airspace are controlled by the Chinese military, both countries have been terming them as "civilian." Chinese state-owned tabloid Global Times in a report Tuesday called the drones "civilian" and said its "excursion" exposed Taiwan's weak defense.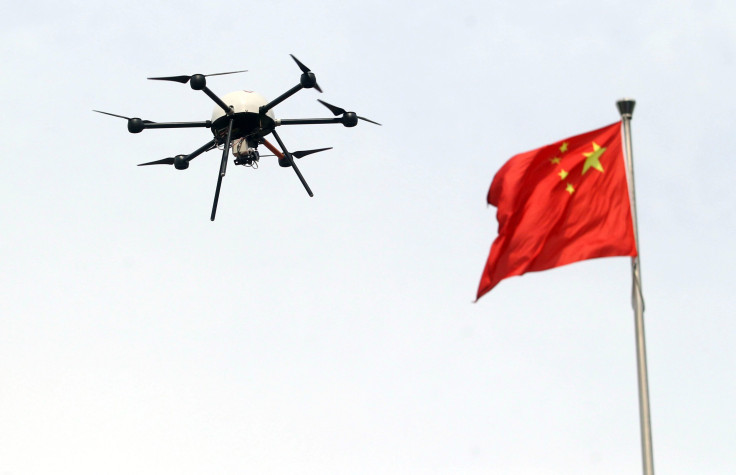 © Copyright IBTimes 2023. All rights reserved.