Tamir Rice Shooting Justified? Outside Reports Say White Policeman Had Right To Shoot 12-Year-Old Black Boy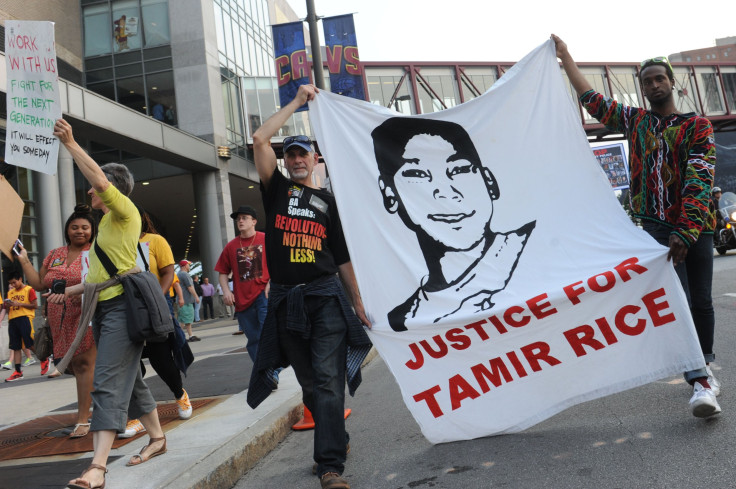 Two reports have said Timothy Loehmann, a white Cleveland police officer, was justified in shooting Tamir Rice, a 12-year-old black boy wielding a toy gun, in Cleveland last November. The Cuyahoga County Prosecutor's Office released the reports Saturday night but said they were simply part of evidence-gathering, ahead of a grand jury that will decide how and if to charge Loehmann.
The reports, carried out by a retired FBI agent and a prosecutor in Denver, found Loehmann's use of force as reasonable because Rice could have been perceived as a genuine threat.
"We are not reaching any conclusions from these reports," Cuyahoga County Prosecutor Timothy J. McGinty said in a statement. "The gathering of evidence continues, and the grand jury will evaluate it all."
The authors of the newly released reports were given surveillance video of the shooting. The report by the retired FBI agent said the rookie officer "had no information to suggest the [toy] weapon [held by Rice] was anything but a real handgun." The Denver prosecutor similarly concluded Loehmann and his partner would have had no way to discern whether Rice's gun was real or fake, the Associated Press reported.
Loehmann fatally shot Rice twice in the torso outside a recreation center in Cleveland Nov. 22, 2014, after a 911 caller said someone who appeared to be a juvenile was waving a pistol. "It's probably fake, but he's pointing it at everybody," the caller said. Rice's gun shot plastic pellets but lacked coloring or markings clearly designating it a toy.
Arriving at the scene with his partner, Officer Frank Garmback, Loehmann sprung out of the police car and within two seconds had fired twice with his handgun, a report by the Cuyahoga County Sheriff's Department, released in June, found. No verbal warning appeared to have been issued before Loehmann fired, according to witnesses, the report indicated.
A municipal court judge said in June there was probable cause for Loehmann to be charged with murder, but his opinion has no legal bearing on whether Loehmann will be charged by a grand jury.
Rice's death contributed to a growing national fury over the deaths of black boys or men at the hands of white police officers, sparked by the death of Michael Brown, in Ferguson, Missouri, in August 2014. Other deaths after Rice's that set off protests and riots include those of Walter Scott, in North Charleston, South Carolina and Freddie Gray in Baltimore, both in April.
© Copyright IBTimes 2023. All rights reserved.