Tamir Rice Shooting Update: Family Delivers 60,000-Signature Petition Asking Prosecutor To Charge Police Officers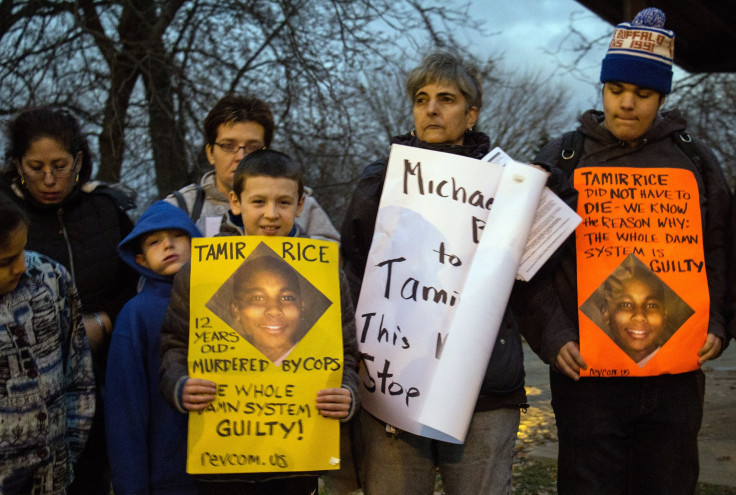 A group of family members and supporters of Tamir Rice, the unarmed black 12-year-old killed by police in Cleveland last November, marched to a city courthouse Thursday to demand the officers responsible be arrested and charged. Organizers delivered a petition with 60,000 signatures to the Cuyahoga County Justice Center requesting the prosecutor take action, WKYC reported.
No decision has been made yet whether to indict Officers Timothy Loehmann and Frank Garmback, who responded to a complaint about a boy in a local park waving around a gun that a 911 caller said was likely a fake. Police said that when they got there, Tamir had the gun in his waistband, and when he reached, Loehmann fired. The whole episode took 2 seconds to unfold.
The Cuyahoga County Sheriff's Office put the officers on leave and opened an internal investigation into the incident. They turned over their results to prosecutor Tim McGinty last month. McGinty has not yet completed his probe, and says he plans to turn the evidence over to a grand jury, Fox affiliate WJW reported.
Tamir's cousin, Latonya Goldsby, started a change.org petition in the interim. "We have waited much too long, but we won't be silent until justice is brought forth. People from our area and around the country want these officers arrested," Goldsby said in a statement to the Plain Dealer. "The time has come for action. The officers must be charged, arrested and forced to defend their actions in a court of law."
She lead protesters Thursday from Willard Park to the Justice Center.
Goldsby's petition wasn't the first time people have taken action to demand the officers be held responsible. Last month, a group of Cleveland community leaders -- called the Cleveland 8 -- used a law from the 1960s to file citizens' affidavits with the municipal court and request arrest warrants.
Judge Ronald Adrine responded by saying there was probable cause to charge Loehmann and Garmback with charges that included murder, reckless and negligent homicide and dereliction of duty, but he didn't order their arrests. The Cleveland 8 appealed the decision but lost on July 10, the Plain Dealer reported.
© Copyright IBTimes 2023. All rights reserved.