Tamir Rice Investigation Released: Conflicting Accounts Of Police And Witnesses, Cleveland Sheriff's Department Report Reveals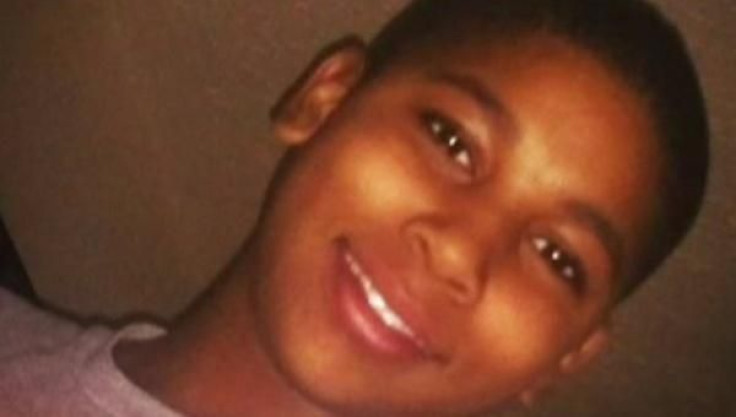 The Cuyahoga County Prosecutor's Office released on Saturday a 224-page redacted report of the investigation into the shooting death of 12-year-old Tamir Rice in November by Cleveland police officer Timothy Loehmann. The report's release comes after Judge Ronald B. Adrine's ruling on Thursday that there was probable cause to charge Loehmann, but not Frank Garmback, his partner at the time of the shooting, with murder.
The investigation includes often conflicting testimony from more than two dozen people, including police officers, dispatchers, firefighters and EMS responders, neighbors and witnesses, according to Cleveland.com. Investigators also looked at hours of security footage and autopsy reports collected from the FBI.
The primary conflicts revolve around whether or not officers made verbal commands to Tamir before shooting. Witnesses say they heard shots first, followed by commands. Officers claim they yelled "Freeze!" before shooting.
Adrine wrote in his opinion released Thursday that the video of Tamir's death was difficult to watch. "After viewing it several times, this court is still thunderstruck by how quickly this event turned deadly," he wrote.
The investigation reiterates several times that the Sheriff's Department would not render any opinion on the legality of the officers' actions, but that those decisions "are in the sole purview of the Cuyahoga County Prosecutor's Office (CCPO) and/or the Department of Justice." The Sheriff's Department took over investigation of the case on Jan. 2, and delivered it to the county prosecutor on June 3. The prosecutor's office has reviewed it and may conduct more investigative work before presenting a case to a grand jury.
"We are now in the process of reviewing this report and deciding what additional investigation is needed," Prosecutor Timothy J. McGinty said in a statement. "That is the way that every significant investigation works: The Sheriff's investigation is a good solid foundation that will support the grand jury's own investigation. Tamir's family, the people of this community and the officers involved deserve nothing less than the most thorough investigation and analysis possible."
The Events
On Nov. 22, 2014, Tamir was playing outside the Cudell Recreation Center with an airsoft pellet gun. Someone called 911 to report that a person of indeterminate age was pointing a gun at people. Although the caller indicated that the person might be a juvenile and that the gun might be a toy, the dispatcher did not relay that to officers Loehmann and Garmback.
Officers on the scene described Tamir as 18 - 20 years old, 200 pounds, and said the toy gun looked real up close.
Investigators reviewing surveillance footage of the shooting estimate that Loehmann fired twice "within an approximate time frame of 1 to 2 seconds after Officer Loehmann exited the vehicle." Tamir was struck once, and Loehmann, who shot the boy from approximately 4.5 to 7 feet away, tripped backward and injured his ankle. Loehmann told a police officer after the shooting, "He [Tamir] gave me no choice, he reached for the gun and there was nothing I could do."
The officers called EMS three and a half minutes after arriving on the scene, and did not perform first aid on Tamir because neither had medical training nor medical equipment, they said. An FBI agent trained as a paramedic heard about the shooting on the radio and told investigators he did basic first aid on Tamir, who, although responsive, had exposed intestines from his wound.
An ambulance took Tamir to MetroHealth Medical Center, where he died early the next morning. The Cuyahoga County Medical Examiner's Office ruled his death a homicide. An autopsy showed the bullet had perforated a major blood vessel and intestines, and fractured his pelvis.
The Toy Gun
Several witnesses said they saw Tamir with a gun outside the recreation center, saying that he was pointing it at tires and at a woman's head. The 911 caller said it was "probably a fake gun" but the officers who responded to the call say they only heard that there was a man with a gun.
Detective Daniel Lentz said that he realized the gun wasn't real after noticing a green pellet near the gun. One of Tamir's friends had apparently removed the softpellet gun's orange tip to repair it, which would have marked it as a pellet gun. The boy had traded the gun without the orange tip to Tamir for a smart phone. He later told investigators he had warned his friend to be careful because the gun "looked real."
The boy told investigators that although he first blamed himself for Tamir's death, he "no longer believes that what happened that day was entirely his fault," investigators reported.
Rice Family Reaction
Police officers and paramedics at the scene described Tamir's sister, brother and mother minutes after the shooting. The Rice family chose not to speak to investigators.
The FBI agent who gave Tamir first aid had said that his mother, Samaria Rice seemed "nonchalant" after getting in the ambulance and thought she would look a "little more concerned." He also said that a man who was thought to be Tamir's brother threatened police.
There were conflicting accounts of what happened to Tamir's sister. Police officers said they detained her as she attempted to rush to her brother. Witnesses, who said that Tamir's sister was yelling that Rice was only 12 years old, told investigators that officers slammed her to the ground and then put her in the back of the police cruiser.
Firefighter Patrick Hough, who drove the ambulance that took Tamir to the hospital, said his mother, Samaria, was "hanging out the door screaming at the officer" about her detained daughter before the ambulance could leave, and he said she yelled, "I'll have all your jobs, I'll see all you mother f------ at Pelican Bay," a reference to the 2001 movie about a bad police officer.
Sgt. Janell Rutherford, a police supervisor who went to the scene of the the shooting, said she could hear people saying "F the police," and Samaria yelling, "I'm going to have all your jobs, and if you think they got 3 million, just wait!"
Witness Testiomy
More than two dozen witnesses to the shooting spoke with investigators.
One woman who lives across the street from the recreation center told investigators she saw two "little boys" playing outside that afternoon. She told them she was getting into a friend's car when she heard two shots followed by someone yelling "Freeze! Show me your hands," followed by another gunshot.
Another witness described hearing three shots. No witnesses said they heard any verbal commands or warnings being given before shots were fired.
© Copyright IBTimes 2023. All rights reserved.
FOLLOW MORE IBT NEWS ON THE BELOW CHANNELS