Taylor Stuns Idowu to Win Triple Jump Gold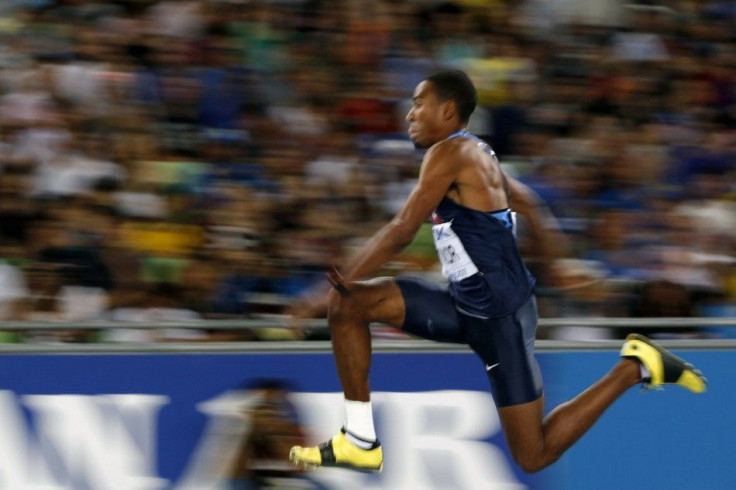 American Christian Taylor stunned defending champion Phillips Idowu with a world leading leap of 17.96 meters to win triple jump gold at the world championships on Sunday.
The 21-year-old Taylor powered down the runway on his fourth attempt and landed just shy of the 18 meter mark, leaping out of the sandpit and slapping his chest in delight at becoming the fifth best triple jumper of all time.
Briton Idowu was a strong favorite in the absence of the previous world leader Teddy Tamgho of France, who missed the championships after breaking his ankle, and had reinforced his position with an opening leap of 17.56 meters.
The flamboyant 32-year-old Olympic silver medallist then found third and fourth jumps of 17.70m and 17.77m, his best of the year, to look set for victory until Taylor's stunning leap.
I did not expect to jump this far (but) I was definitely going for the win, the American said.
It feels great to get the world title back to the U.S. It means the world to be here, on top of the world. Today was my day, but I will stay calm and keep working hard. This is a work in progress.
TWO JUMPS
Idowu was unable to better the American's mark in his final two jumps and had to settle for silver ahead of Taylor's compatriot Will Claye, who won bronze with a leap of 17.50m.
I wish I was happy but I'll take that medal, said Idowu. I will go back home and work hard. I had no feelings at all during the competition, I focused on my competition and tried to move forward, jump further.
Idowu is one of Britain's brightest hopes of athletics' gold on home soil at the Olympics next year and the showman said he would be ready for the contest in his home city.
I am looking forward to that, he said. Today I tried to be on top, it was not for today but it will be next year.
Claye, a college team mate of Taylor at the University of Florida until both turned professional last month to prepare for the Olympics, was delighted.
The result is great, bigger than me, he said. I am very pleased and happy also for Christian's awesome jump.
Taylor said his new coach Rana Reider had played a major role in his improvement to world championship contender status.
This breakthrough is due to a change of coach, he said. He is very technical now, focused on speed and jump dynamics as a whole. When you have that and I have a strong faith in God, those things together. You really cannot lose.
© Copyright Thomson Reuters 2023. All rights reserved.