The Tea Party's Dilemma: Georgia Voters Want New Roads, But Said No To A Plan To Fund Them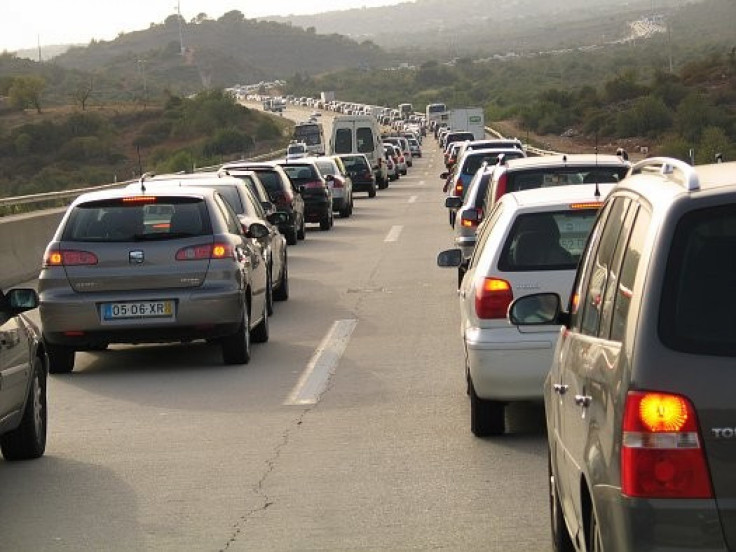 Georgia residents, particularly those in the Atlanta metro region, know they're in desperate need of new roads and infrastructure to help fix its growing traffic congestion problem. But on Tuesday, voters rejected a ballot initiative that would have found the money to do just that.
A majority of voters said no to a $7.2 billion transportation plan that would have created infrastructure to relieve overcrowding at key highway chokepoints, in addition to 29 miles of new light rail tracks. The plan, formally known as the Transportation Special Purpose Local Options Sales Tax (T-SPLOST) would have been funded by a 10-year, one-cent sales tax increase that was apparently too much for state residents to bear.
Sixty-three percent of metro Atlanta voters alone rejected the proposal, according to CBS News, compared to only 37 percent who favored it. A majority of those who voted against the initiative cited their distrust of government as the main factor that dissuaded them, declaring they could not trust that lawmakers would actually use the money gained from the tax toward transportation projects.
"Let this send a message," said Debbie Dooley, a Tea Party leader who early on organized opposition to the measure, after the vote. "We the people, you have to earn our trust before asking for more money."
The thing is, there is currently no remedy in place to address the state's burgeoning traffic problem. And the Tea Party supporters who campaigned against T-SPLOST don't have any solutions either.
There was no contact information for Dooley available on the Tea Party Patriots website. However, last September the fact-checking website Politifact gave Dooley a "false" rating on her accusation that 85 percent of the funds collected in each county under T-SPLOST would not be spent in the county in which they are collected.
In fact, the website confirmed that each county would receive a minimum return of at least 77 percent on what is collected from the tax in those jurisdictions.
So what's Georgia to do? That's what Gov. Nathan Deal is trying to figure out.
Chris Riley, the governor's chief of staff, told the Atlanta Journal-Constitution on Wednesday that Deal called his first session with the state's top transportation officials to discuss "Plan B." Traffic planners in regions across the state will be asked to resubmit lists of road and rail proposals requiring state and federal funding. Deal is prioritizing essential projects in the Atlanta metro area, Riley said.
But the newspaper reports there is currently no funding for those projects. While the most direct route toward securing funds would be instituting a small tax increase, asking for such a measure from the state's Republican-controlled legislature is reportedly "off the table."
© Copyright IBTimes 2023. All rights reserved.