Tee Higgins Garners Fan Support As Bart Scott Claims Damar Hamlin's Hit Was Intentional
KEY POINTS
Damar Hamlin suffered a cardiac arrest during Monday Night Football
Bart Scott said Tee Higgins' hit on Hamlin should be penalized
The exact cause of Hamlin's cardiac arrest remains under wraps
Cincinnati Bengals wide receiver Tee Higgins is caught in the aftermath of Buffalo Bills safety Damar Hamlin's hospitalization. ESPN's Bart Scott leveled a wild accusation against Higgins, alleging he lowered his helmet and threw himself on Hamlin's chest.
Hamlin collapsed on the field during Monday Night Football after tackling Higgins toward the end of the first quarter at the Paycor Stadium.
According to video footage of the incident, Hamlin sustained a hit in the upper chest area, after which he fell to the ground, got up, and collapsed seconds later. The 24-year-old athlete received CPR on the field for several minutes while players from both teams surrounded him, some kneeling in prayers while others weeping for him.
Hamlin had suffered a cardiac arrest on the field and had to be resuscitated twice on the night, his family said. "His heart had went out so they had to resuscitate him twice. They resuscitated him on the field before they brought him to the hospital and then they resuscitated him a second time when they got him to the hospital," Hamlin's uncle, Dorrian Glenn, told CNN.
The exact cause of Hamlin's cardiac arrest remains under wraps. However, Scott still went ahead to make the unfounded claims that the hit on Hamlin was intentional on the Tuesday episode of ESPN's "First Take."
"Right before the tackle, he (Higgins) lowers his helmet, and he kind of throws his body into his (Hamlin's) chest," Scott said, SportsIllustrated reported. "He's (Hamlin) standing up because he's thinking he's got to take Tee Higgins at an angle to make a tackle. So, he didn't expect Tee Higgins to launch his body back into him. A lot of times you see it as a linebacker. Running back comes through the hole and he knows that contact's coming, so he lowers his helmet and you can't get underneath him. He's able to get into you and your chest is exposed. So they've taken that out of the game, but they don't really regulate it as much as possible. I expect the league will be a lot more vigilant when it comes to that and using that penalty."
"The NFL has tried to take the head out of the game," Scott said before making the wild claims. "We almost don't think of the violent hits — we always associate that with the defensive players in targeting and lowering their head."
"But they did put in the rule maybe five years ago, that offensive players can't use the crown of their head, helmet as a weapon, which is kind of what Tee Higgins did and I'm not trying to put the blame on Tee Higgins, but that's something that they tried to take out. ... They never make that call."
In the video, Higgins does not appear to aim for Hamlin's chest with his helmet. The wide receiver tweeted, My prayers and thoughts go out to @HamlinIsland the Hamlin Family. I'm praying that you pull through bro. Love."
While there is a huge outpouring of love and support for Hamlin, who remains critical at the hospital, Higgins, too, hasn't been left behind. Fans rallied for him after the incident, and after Scott's bizarre claims, the support got stronger.
"On ESPN, Bart Scott blamed #Bengals WR Tee Higgins for the incident with Damar Hamlin. That is totally ridiculous, what happened was a freak accident," NFL reporter Dov Kleiman tweeted.
"ESPN's Bart Scott blaming @Bengals Tee Higgins for Damar Hamlin's injury is appalling. He led with his right shoulder and was bracing for the hit. Look at the video @BartScott57" tweeted another.
"Bart Scott gets on National TV and blames Tee Higgins for injuring Damar Hamlin. On an incredibly rare event that is 1000% in reality a freak accident - no one is at fault. Unbelievable," opined another.
"Bart Scott really blaming Tee Higgins for "lowering his head". Disgusting," tweeted a user.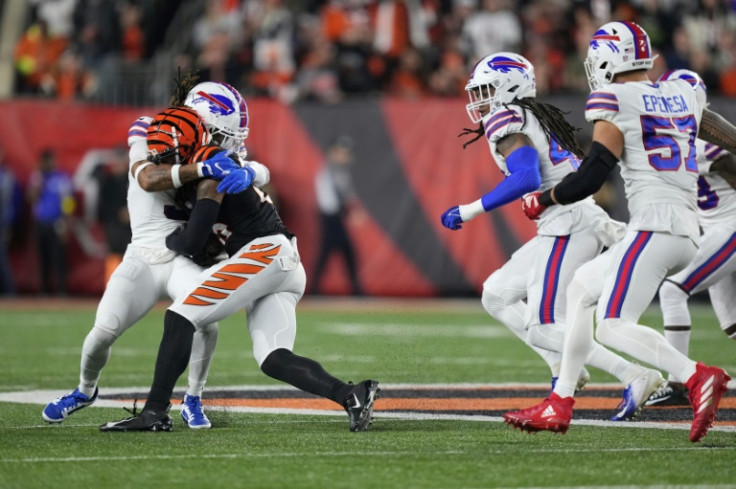 © Copyright IBTimes 2023. All rights reserved.