Teen Choice Awards: 'Teen Wolf' Star Tyler Hoechlin Wears Meaningful Shirt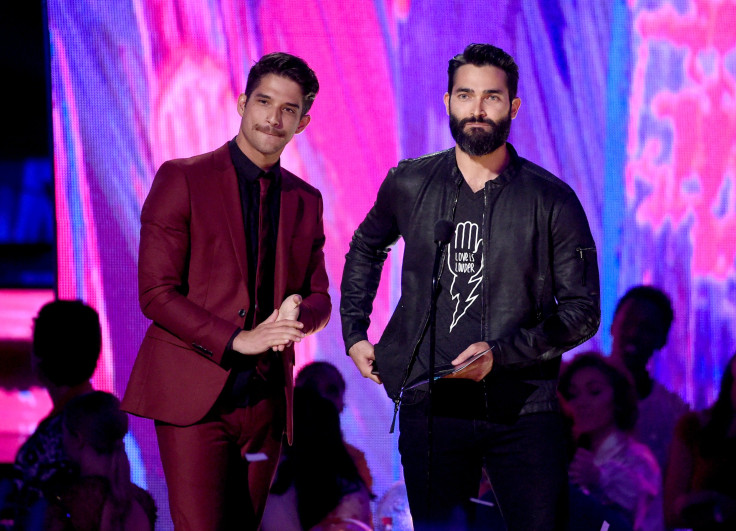 "Teen Wolf" stars Tyler Hoechlin and Tyler Posey presented the award for best drama at the 2017 Teen Choice Awards Sunday night, but it was Hoechlin's shirt that really caught viewers' attention.
Hoechlin, who plays Derek on the MTV drama, was wearing a Love is Louder t-shirt during the ceremony, which aired on Fox. The sale of the t-shirt supports an organization started by The Jed Foundation, MTV as well as Hoechlin's ex-girlfriend Brittany Snow ("Pitch Perfect"). The Love is Louder movement aims to create a community where people feel more supported and connected.
To get their message out, supporters take pictures of the words "Love is Louder" written on their palms and post photos online. Plenty of celebs including Demi Lovato, Anna Kendrick, Ricky Whittle and more have taken such photos. That's what inspired the design of Hoechlin's Teen Choice Awards shirt, which features a palm that turns into a lightning bolt.
Hoechlin isn't the only "Teen Wolf" star to rock a Love is Louder shirt. His co-star J.R. Bourne (who plays Chris Argent) is featured on the organization's Facebook page in a shirt with a different design.
While the "Supergirl" actor didn't mention the organization during his bit with Posey at the Teen Choice Awards, many fans likely took notice of his shirt. Love is Louder sells the unisex t-shirt for $22 on their website.
When Hoechlin was presenting Sunday night at the Galen Center at the University of Southern California, he was focused on his bit with Posey. They kept reading their lines on the teleprompter in unison since both share the name Tyler. When Posey asked for his lines to be changed to "Tyler from Teen Wolf," Hoechlin pointed out that it didn't clear up the confusion.
"I was on 'Teen Wolf' with you," Hoechlin pointed out. "We were roommates."
"Oh, yeah. Right," Posey recalled.
Though the bit was clearly scripted, it's true that they were roommates. Before moving filming to Los Angeles after the first couple seasons, the cast all relocated to Atlanta to shoot the series. Posey, Hoechlin and Dylan O'Brien lived in an apartment together.
"Teen Wolf" fans certainly got a kick out of Posey "forgetting" that Hoechlin had been on the MTV show. While Posey has been in every episode of the series, Hoechlin left the series at the end of Season 4. He has, however, returned for the final 10 episodes of the series.
In the "Teen Wolf" Season 6B premiere, Hoechlin appeared briefly in surveillance footage. Stiles (O'Brien) was at his pre-FBI program when his teacher informed the class that they'd be working on open cases, including homicides. The instructor showed footage of Derek running shirtless through the woods and described him as a "feral" suspect for mass murder.
Though Derek hasn't shown up since the premiere, the trailers have already revealed that audiences can expect more Derek throughout the season. After nearly three years without him, that's great news for longtime viewers.
"Teen Wolf" Season 6 airs Sundays at 8 p.m. EDT on MTV.
© Copyright IBTimes 2023. All rights reserved.