'Teen Wolf' Season 6 Spoilers: Stiles Has A Scary Problem In Trailer For Final Episodes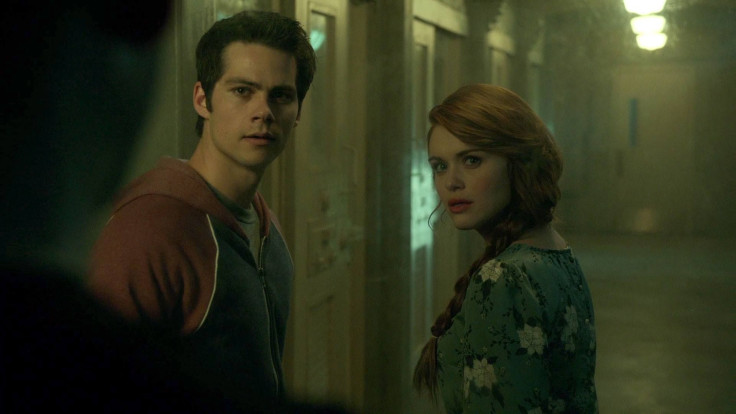 "Teen Wolf" fans knew something was going to happen to Stiles, but they certainly didn't expect everyone to forget about him. The Season 6 trailer, which debuted at San Diego Comic-Con Thursday, reveals that the MTV drama's human character is going to fight to not be erased from history.
The trailer for the final season of "Teen Wolf" teases the arrival of the Ghost Riders, the new villains in Beacon Hills. They are part of the Wild Hunt mythology that started last year. "The legend has always been that the Wild Hunt takes people," Deaton (Seth Gilliam) tells Scott (Tyler Posey). "But the truth is much worse: They erase people from reality."
Stiles (Dylan O'Brien) quickly realizes that he is the next victim of the Wild Hunt. The trailer shows Malia (Shelley Hennig) and even Stiles' father, the Sheriff (Linden Ashby), forgetting who he is. Lydia (Holland Roden), however, is determined to remember him. They hold hands as she promises not to let him out of her mind.
It looks like Peter Hale (Ian Bohen) is a victim of the Ghost Riders as well. He tells Stiles that they've both been forgotten. "Somebody's going to remember me. They'll come for me," Stiles says.
Watch the trailer for "Teen Wolf" Season 6 below:
It looks like Stiles will be spending plenty of time with everyone's least favorite Hale. "We have some great scenes with Peter and Stiles!" showrunner Jeff Davis told the audience at Comic-Con.
While it's reassuring that Stiles is heavily featured in the trailer, it does make fans wonder how much of Season 6A he is actually in. The actor wasn't at SDCC to talk about it, but "Teen Wolf" had to write O'Brien out for at least a little while to film "Maze Runner: The Death Cure." O'Brien was injured on the movie set and filming was postponed while he healed. It isn't clear if he returned to film "Teen Wolf," though. The new trailer seems to confirm the rumors that Stiles gets taken, but viewers will have to tune in to find out if he is missing for long.
As previously reported, this will be the final season of "Teen Wolf." Though the supernatural drama is canceled, it still has a while before its swan song. Season 6 will be 20 episodes, so the series finale (which will be the 100th episode) won't air until 2017.
"Teen Wolf" Season 6 will air on MTV this fall.
© Copyright IBTimes 2022. All rights reserved.
FOLLOW MORE IBT NEWS ON THE BELOW CHANNELS