Teens Smoking E-Cigarettes: Marketing May Be To Blame For Increase In Number Of Vaping High School Students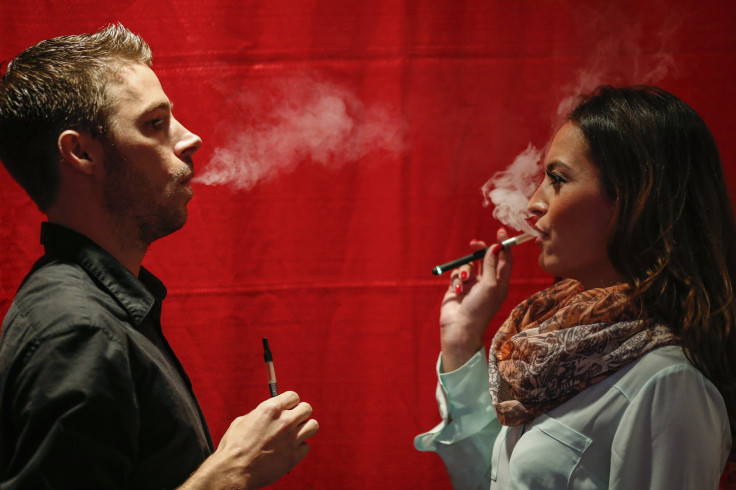 High school students in the United States are increasingly puffing e-cigarettes amid an aggressive marketing campaign that includes candy-flavored vapors, according to new research from the Centers for Disease Control and Prevention. With no federal regulations limiting how the e-cigarette industry appeals to new customers, companies are pulling out all the stops to entice children: sex, independence, glamor, rebellion. To tobacco critics, it's the new Wild West.
In all, 4.5 percent of high school students told the CDC they'd used e-cigarettes within the past 30 days. The number of students smoking e-cigarettes has tripled since 2011. The newly released data has reignited arguments about ramped-up advertising of hazardous products aimed at teenagers. "Adolescent and young adult use just goes up in parallel to the marketing," said Stanton Glantz, the director of the University of California, San Francisco's Center for Tobacco Control Research and Education.
Companies can advertise e-cigarettes on TV, even though commercials for cigarettes were banned in 1971. E-cigarette commercials increased 256 percent between 2011 and 2013, and more than three-fourths of teens' exposure to e-cigarette ads happened on cable channels. AMC aired the most, followed by Country Music Television and Comedy Central, according to a study published this summer in Pediatrics.
These and other advertisements are not intended for kids, said Kristin Noll-Marsh, vice president of the Consumer Advocates for Smoke-free Alternatives Association. Celebrity endorsements tend to come from older, less relevant stars like Stephen Dorff and Jenny McCarthy. "These aren't young, sexy, hip, today, A-list celebrities," Noll-Marsh said. "What 13-year-old knows who Stephen Dorff is?"
But critics of e-cigarette advertising said the sweet flavors are designed to trick teens. "It's pretty clear to the Lung Association that cotton candy e-cigarettes are not targeted at adults," said Erika Sward, assistant vice president of national advocacy for the American Lung Association.
Research has found vaping has fewer risks than traditional smoking, but it's still dangerous -- especially for adolescents. All kinds of nicotine use are unsafe for teenagers because it affects brain development, according to the 2014 Surgeon General's report.
What's unclear is if e-cigarettes will increase or decrease teens' use of traditional tobacco products. The candy flavors, for example, may prevent kids from "real" smoking because e-cigarette users become used to sweet-tasting nicotine, said Michael Siegel, a professor at Boston University's School of Public Health. "The idea of smoking a Marlboro just doesn't appeal to them, and if they try it, it'll taste more disgusting than it normally would," Siegel said.
The CDC study showed cigarette use was down from 14 to 12.7 percent since 2013, though a spokesman told the New York Times that drop wasn't numerically significant. "Clearly, these fears that e-cigarettes are going to lead to an increase in youth smoking are not seen in these numbers," Noll-Marsh said.
The U.S. Food and Drug Administration is in the middle of preparing legislation to regulate e-cigarette sales to minors, the Washington Post reported, but right now, the laws are set at local levels. The American Lung Association, meanwhile, is lobbying for the FDA to enact laws restricting advertisements and prohibiting flavors. But that could be months, if not years, away, Sward said.
© Copyright IBTimes 2022. All rights reserved.
FOLLOW MORE IBT NEWS ON THE BELOW CHANNELS