Tennis Rankings 2016: Andy Murray Closes In On Novak Djokovic; Rafael Nadal, Roger Federer Slipping?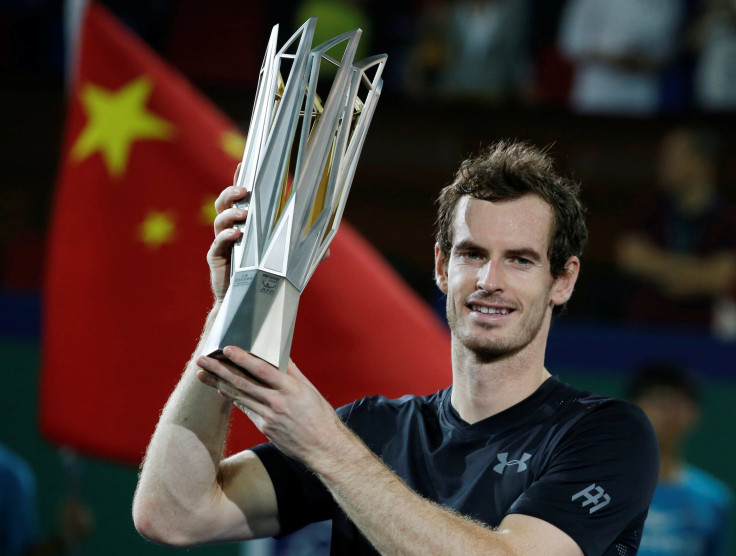 Novak Djokovic, so dominant at the top of the tennis world at the start of 2016, now faces a real battle to hold off Andy Murray for the top spot in the ATP rankings in the final weeks of the season. Murray claimed victory at the Masters 1000 event in Shanghai on Sunday to close the gap to world No. 1 Djokovic to just 2,415 points.
Djokovic's stuttering form since a third-round loss at Wimbledon continued in China with a defeat in the semifinals to the man Murray conquered in the final, Roberto Bautista Agut. And, having been 7,000 points adrift prior to Wimbledon, Murray, who claimed the title at the All England Club, is now surprising even himself by being within striking distance of the world No. 1 spot for the first time in his career.
"I for sure have a chance just now," the 29-year-old said. "I have never had success like I have had the last few months in my career so to keep that going, I'm aware it's going to be a difficult thing to do.
"I need to keep myself motivated and be smart but I believe I can get there. These last few months have proved that to me. I may never get another chance to be No. 1, so I'll give it my best shot to do that while I have the opportunity."
Murray has won 30 of his last 32 matches on tour since losing to Djokovic in the final of the French Open in June. He also claimed Olympic gold in Rio, although didn't earn any ranking points for the triumph. He will now take his 10-match winning streak to Vienna next week, where he will target the 500 points on offer in a tournament that Djokovic will sit out.
The season will then conclude with the Paris Masters and the ATP World Tour Finals, prestigious indoor events that Djokovic has dominated in recent years. But while Djokovic's record at the two tournaments, winning the titles at both for the last three years, is a mighty impressive one, it also means he has maximum points to defend. Thus, if Murray were to win the titles in Vienna and Paris and Djokovic was to fall before the final in the French capital the Scot would be the new world No. 1 heading to London fort the season-ending championship.
There is a sizable gap beneath the top two, with U.S. Open champion Stan Wawrinka almost 5,000 points back of Murray. There has been movement behind Wawrinka, as Canadian Milos Raonic climbed up to fourth, equaling his highest position.
Last week was the first time in 13 years that the top four in the rankings was missing both Rafael Nadal and Roger Federer, and that absent continues this week. After losing his first match in Shanghai to Victor Troicki, Nadal drops to sixth, a place below Kei Nishikori. Roger Federer, meanwhile, who announced in July that he would miss the rest of 2016 because of a knee injury, has dropped a further place to eighth, below Gael Monfils.
ATP Rankings (Oct. 17)
1. Novak Djokovic (12,900)
2. Andy Murray (10,485)
3. Stan Wawrinka (5,820)
4. Milos Raonic (4,690)
5. Kei Nishikori (4,650)
6. Rafael Nadal (4,380)
7. Gael Monfils (3,815)
8. Roger Federer (3,720)
9. Tomas Berdych (3,300)
10. Dominic Thiem (3,250)
11. Marin Cilic (2,895)
12. David Goffin (2,780)
13. Roberto Bautista Agut (2,505)
14. Nick Kyrgiois (2,460)
15. David Ferrer (2,455)
16. Jo-Wilfried Tsonga (2,205)
17. Lucas Pouille (2,106)
18. Grigor Dimitrov (2,035)
19. Richard Gasquet (1,950)
20. Alexander Zverev (1,745)
© Copyright IBTimes 2023. All rights reserved.