Tensions High At North Korea Border To Keep Citizens From Defecting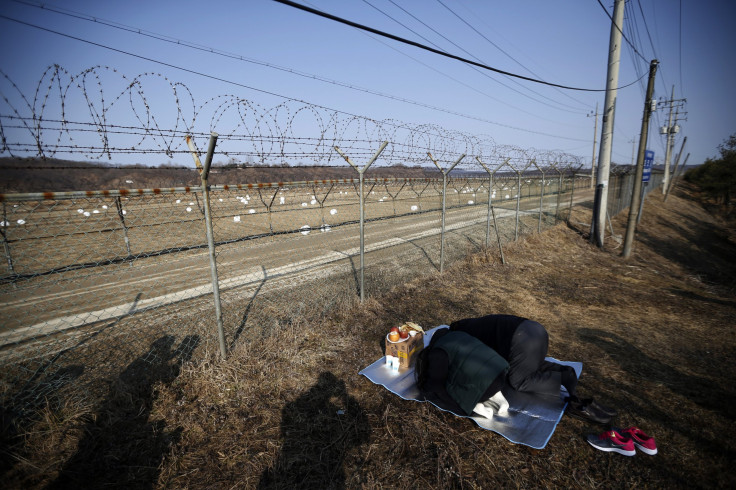 New orders by North Korean authorities instruct border guards to resort to shooting any defectors attempting to leave the country. This recent directive reportedly comes directly from North Korean leader Kim Jong Un.
According to an anonymous source from the North Hamkyung region of North Korea, this has created an even tenser situation at the border for the pariah nation. "An order has been conveyed to the border control posts to severely punish those arrested for preparing or attempting to defect," the insider told Seoul-based North Korea-watcher site Daily NK. "Word has come down that if a defector has been exposed and responds disobediently, or ignores warnings to stop crossing the river, they are to be shot on the spot," the source alleged.
Because of obviously extreme security detail along the South Korean border, known as the demilitarized zone (DMZ), most defectors go north, seeking refuge first by going into China's northeastern province of Jilin by crossing the less guarded Tumen River, which separates the two nations. Some cross into Russia. In an effort to stop these defections, the Tumen River border has seen an increase in surveillance. "The border is in a state of total blockade, even those going down to the Tumen River to fetch water or wash their clothes are very closely watched," the source said. As a result of the added eyes, populations living near border regions are on edge. "They have to be very cautious; they are worried that if they make one mistaken step they will be made an example of."
Such allegations are extremely hard to verify, as much of anonymously sourced information about North Korea is, but a recent report released by the United Nations which claims the frequent use of "arbitrary detention and torture" and "lack of freedom of movement" suggest gives substance the reports.
More than 80 witnesses, victims and experts provided first-hand testimony of the conditions in North Korea over the span of over 240 interviews. The report concluded that North Korea, using land and naval forces and the intelligence apparatus, conducted arbitrary abductions and arrests which were "approved at the level of the Supreme Leader," and have resorted to abducting a number of North Koreans who have managed to leave the country.
"The current atmosphere on the border is so quiet that it is frightening," the source described. "People don't know how long these border crackdowns will last -- it's killing people. They are now saying things like, 'it would just be better if a war broke out.'"
© Copyright IBTimes 2023. All rights reserved.