Terror A La Carte: Tunisia's Informal Street Vendor Economy Said To Be Source Of Terrorist Funding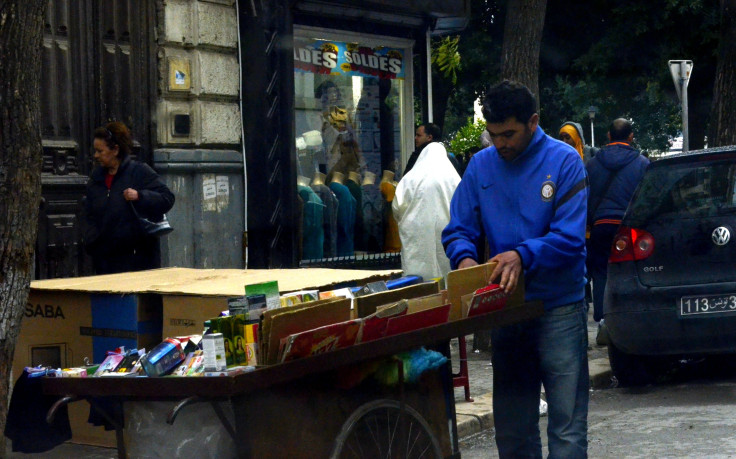 TUNIS, Tunisia – The cigarette peddler stands on a downtown street corner, walled in by a small fortress of stacked cigarette cartons. The cigarettes, he says, come from Algeria. "They're smuggled," he adds, matter-of-factly.
Zied (not his real name) has been selling smuggled cigarettes on the streets of the capital city since Tunisians threw out their longtime dictator Zine el-Abidine Ben Ali in the revolution of 2011. Zied is in his 20s and makes roughly $15 a day selling cartons for about $1.25 less than they go for in stores. He makes no secret that the cigarettes are contraband, and that he is in constant fear of having his business disrupted by the police. "This is forbidden," he says.
Since the revolution, which was itself inspired by a street vendor who set himself on fire after being harassed by police, Tunisia's informal economy has boomed, in part from post-revolution instability prompting increased smuggling across porous desert borders with Algeria and Libya. Its very informality has opened the economy to abuse by nefarious interests – specifically, terrorists looking for ways to avoid having their finances monitored.
"There is a confirmed relationship between smuggling and terrorism," observed Mokhtar Ben Nasser, a retired colonel and former spokesperson for the Tunisian military.
Militants and smugglers work together, Ben Nasser said. Militants offer the smugglers protection, sometimes in the form of extortion, in addition to demand for their supplies. Smugglers provide food, equipment, untraceable cash and knowledge of unguarded routes in the country's interior and across borders.
"Militants and smugglers have shared interests," Ben Nasser said.
In November, an International Crisis Group report drew a clear line connecting smuggling and "jihadist" attacks. The combination of Tunisia's own instability and chaos in neighboring Libya is "increasing the jihadis' disruptive potential and intensifying corruption of border authorities," the report concludes.
Militant attacks have rattled Tunisia's post-revolutionary transition. The downfall of Ben Ali's police state along with the flow of weapons from the 2011 war in Libya contributed to the unstable environment.
In February 2013, Tunisian leftist politician Chokri Belaid was gunned down in front of his home. In July, a political ally of Belaid's was killed in the same manner. Both murders were allegedly committed by militants with Ansar al-Sharia, which authorities say has ties to al Qaeda. Several attacks on security forces have stunned the country, including one where gunmen dressed as security officers set up a roadblock and opened fire on a Ministry of Interior employee, a civilian and then the national guard responders.
The street vendors selling smuggled goods, Ben Nasser said, are evidence of Tunisia's security problem.
While jihadist violence may be a relatively recent phenomenon in Tunisia, funding radical Islamist campaigns through smuggling is not. Al Qaeda in the Islamic Maghreb has been known to smuggle vehicles, arms and people for money. Mokhtar Belmokhtar, a former AQIM leader who went on to found his own spinoff group and attack the In Amenas oil facility in Algeria last year, was famous enough for his cigarette smuggling to earn the nickname Mr. Marlboro.
Such cigarettes and other wares make their way onto the streets of Tunis in larger numbers now partially because the lower prices appeal to down-and-out consumers. Tunisia's unemployment rate is around 15 percent, and the dinar's value is significantly down against the U.S. dollar and the euro. Goods on the informal market are much cheaper. The World Bank estimated that a quarter of the fuel consumed in Tunisia came illegally from oil-producing Algeria, where it is one-tenth of the price.
Zied, the cigarette vendor, says most of the profit goes to middlemen who bring the goods from Algeria. The vendors themselves often know little of the entire operation, least of all where the profits go.
And there are profits. The World Bank report estimated $1.1 billion in informal trade, which is a fraction of Tunisia's total trade but a significant chunk of trade with neighboring Algeria and Libya. The informal economy is officially reported to employ around 40 percent of Tunisian workers.
In 2011, the International Monetary Fund estimated the informal economy to be 30 percent of Tunisia's GDP; that proportion, however, has almost certainly increased as smuggling has become more widespread and the economy has slowed.
Hussien, 32, is also a part of Tunisia's informal economy. He sells kitchen wares outside Tunis' central market from the back of a pickup truck. He likewise pulls in about $15 a day and says his goods come via Algeria and Libya. He doesn't pay taxes for the merchandise and says police can stop him at any time. "You take a risk," he told IBTimes.
In September, police raided the street he works on, arresting dozens. One man set himself, his goods and a police car on fire, according to witnesses and a report by a local radio station. An hour later, police were still chasing vendors and confiscating goods, and the smell of smoke still hung in the air.
In addition to funding violent groups, the informal economy is taking a toll on public revenues and licensed businesses. The World Bank estimates that the government is getting shorted around $760 million in missed taxes, yet it generally turns a blind eye.
"When you find people in the capital selling smuggled gasoline 200 meters from a police station and the police don't do anything, it shows either incompetence or collaboration," Ben Nasser said. "Either is a big problem."
Jamal, a shop owner on Tunis' Charles de Gaulle Street, said customers can't get into his shop because street vendors have crowded the sidewalk. They intimidate both would-be buyers and local businessmen, he said.
"You talk to one, a hundred come," he said, describing the hawkers as gang-like in their organization. A majority come from Tunisia's less-developed interior, he said.
Multiple observers, including financiers with the World Bank and International Monetary Fund, have criticized the excessive red tape entrepreneurs must go through to get into the market.
Still, Jamal complains that given taxes, rent and utilities expenses, he can't compete with the vendors. "It's the competition that's the problem," he said. "When they sell shoes for 10 dinars [about $6] and I sell for 60 [$38], how am I going to sell anything?"
Tariq, a vendor outside Jamal's shop, sells brand-new New York Yankees hats for $5. In stores, they go for around $12. He said vendors would gladly trade costs for security if they could find stable jobs. Tariq said he has been a vendor for 25 years.
Vans from the south come every Monday, Jamal said, to deliver wares to the sellers. He has no idea what else they bring, or where the profits go.
Additional reporting by Mohamed M'dalla.
© Copyright IBTimes 2023. All rights reserved.