"Terrorist" Attacks In China's Xinjiang Province Leave 15 Dead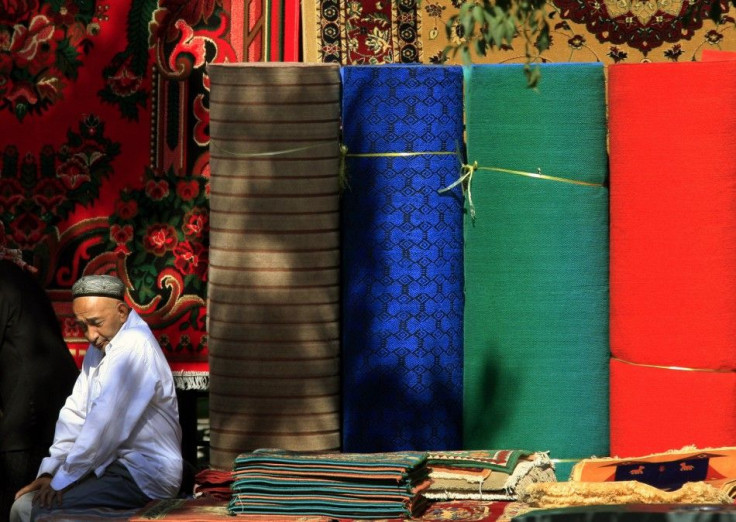 A deadly confrontation between Chinese police forces and a group of so-called "terrorists" occurred in Western China's Xinjiang province, killing 15 people. The incident is the most recent case of violence in the region, which is occupied by mostly Muslim and ethnic Uyghur people.
"Eight terrorists were killed by police and three by their own suicide bomb during a terrorist attack on Friday afternoon," China's state-run Xinhua News Agency reported, citing police reports. Bombs killed an additional four people in the surrounding areas of Aksu prefecture, including two police officials and two passersby.
The report says that the group approached a police officer gearing up for regular patrols in Xinjiang's Wushi county, riding in motorbikes and cars carrying liquid natural gas cylinders. Details of the attacks outside of state-run media reports are virtually nonexistent, but police reports claim it was a terrorist attack.
Aksu is located in the far west of Xinjiang, close to the border of Kyrgyzstan, and was also where violence took place less than a month ago. Three explosions in late January killed at least three people, and an additional six people were shot dead by police. Police said the previous attacks were "organized, premeditated terrorist attacks."
Chinese authorities and media are quick to label such violence as the work of terrorists. China, which is predominantly made up of ethnic Han Chinese, calls such "terrorist" groups separatists. In particular, the governnment says Uyghurs, many of whom are followers of Islam, are motivated by religious extremism and have ties to foreign terrorist groups, particularly in the Middle East. Xinhua says that such groups are responsible for a total of 190 attacks in the area in 2012 alone.
The deadliest confrontation took place in Turpan last June, killing at least 35 people. While most cases are contained to Western China, there was a high-profile case in October of three Xinjiang natives killing themselves in Beijing's Tiananmen Square, when they drove an SUV into a crowd of tourists, killing an additional two bystanders. That had officials worried about increasingly daring "terrorist" activity.
China's top security official, Meng Jianzhu, said that people in the vehicle belonged to the Eastern Turkestan Islamic Movement (ETIM), a group that has been categorized by the United States and the United Nations as a terrorist organization. However controls on media and access in Xinjiang have made it difficult for independent groups or journalists to verify numbers and claims of terrorism.
Uyghur advocates often view such words as the Party's way of silencing minority groups and justifying police violence. Dilshat Rexit, a spokesman for the World Uyghur Congress, wrote in a statement that "the so-called terrorism is China's political excuse for directly shooting dead those who take a stand."
© Copyright IBTimes 2023. All rights reserved.