Tesla (TSLA) Model S Touchscreen Dash: Digital Dashboard And 17-Inch Touchscreen Based On Upgradable UX
Tesla says the Model S' digital dashboard and 17-inch touchscreen are driven by the smartphone industry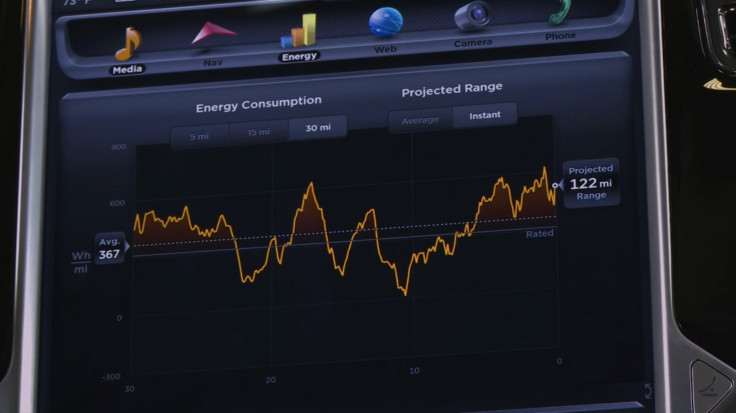 Tesla (NASDAQ: TSLA) equips the Model S with a fully upgradeable touchscreen dashboard instead of the mechanical dials found in most consumer automobiles. Tesla says it chose to use a technology that allows for any new functionality to be easily implemented in the future.
The same goes for Tesla's 17-inch touchscreen display, which is capable of controlling most of the car's functions and features "apps" that a user can choose to customize and display at their discretion. The Tesla 17-inch touchscreen can also open the Model S' all-glass panoramic roof (the largest of any sedan on the market, Tesla says) and give real-time status of the car's doors, lights and turn signals.
Tesla's Brenna Boblett, manager of the user interface (UX) found in the Model S, explained to UX Mag this week that Tesla defines UX as more than just "the feeling that one gets from using a system." Rather, Tesla defines UX as "the car and the software working harmoniously together to create a unique experience that can be felt even before you sit down in the car."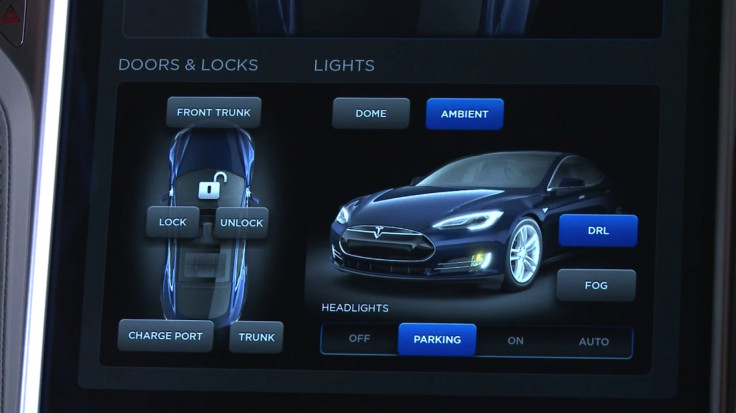 Tesla's touchscreen can change regenerative braking settings on the fly, with standard allowing for the Model S to brake more quickly and recharge its battery faster, while a low setting allows for easier coasting and less charge.
Tesla's Chief Technology Officer JB Straubel said this summer that Linux was chosen as the infotainment center's operating system because of its open-source standard. The Model S touchscreen controls HD radio and terrestrial radio stations, and AT&T-supplied internet connectivity allows for optional control of satellite like XM and Slacker internet radio, as well as Bluetooth connectivity to stream from a driver's smartphone. A tech package equips the Model S with GPS capable of connecting with Google Maps to offer live traffic navigation, along with a full web browser.
Boblett says that Tesla Model S also incorporates a feature called Homelink, "where we added a small detail that a traditional garage door opener couldn't do. When entering your home's geofence, you are presented with a menu that enables you to open the garage."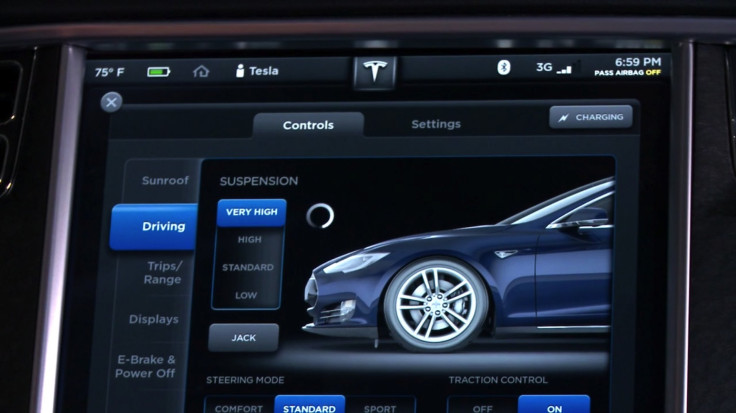 Despite being largely driven by the rapid upgrade cycle found in the smartphone industry, Boblett says that Tesla has to account for a much longer product lifestyle compared to an iPhone or Nexus tablet. However, Tesla can update over-the-air (OTA) just like Google and Apple would for a new version of a smartphone's operating system.
"If you think about the term 'automotive grade,' what does that mean? Basically it means something needs to work for eight years after you've bought the car." Boblett tells UX Mag. "The UI is no different. If you think about the first thing that becomes outdated in a car, it's usually the infotainment system."
Boblett said Tesla considered the color reproduction, resolution and touch response rate of the 17-inch haptic touchscreen, much like a smartphone manufacturer would for their next device. "If the color reproduction is poor or the resolution appears too low, maybe the touch response rate isn't what you expect, or you have to punch the screen to register a button on the haptic touchscreen, then you know the project has already failed."
In fact, as Engadget reported in October, the Model S and upcoming Model X may soon be able to receive third-party apps by the end of 2014, including Google's Chrome browser. Musk said in Germany that Tesla is considering adding an Android emulator to take advantage of the UX's Linux-based platform.
© Copyright IBTimes 2023. All rights reserved.